It's that time of year again– The Super Bowl is just a few days away and all that you are expecting to see that day are greasy, fried and unhealthy foods. Let's try to change that this year, and actually have you feeling good during and after the party!
I know I know, healthy is boring, right? WRONG, I promise 🙂 I rounded up the best of the best, mouthwatering, flavor packed and guilt-free recipes that would be perfect for you to bring to a party and impress a crowd.
AND not only are these recipes vegan, they are also oil-free and made mostly of whole food ingredients, woot woot!
Dips:
Cream Cheese Spinach & Artichoke Dip by Sweet Simple Vegan (that's me!)
This is one of those YOU HAVE TO TRY THIS type recipes. It is perfect for parties, holidays, wild Friday nights in…anytime you can make an excuse to make it, it's perfect for.
Red Lentil Nacho Dip by Strength & Sunshine
Even if your team doesn't win this weekend, at least you have a winning dip. We all know the food is what matters at these events anyway!
Low-Fat Vegan "Cheeze" Dip from Vegannie
A low-fat vegan cheeze dip that is super creamy and decadent without the added guilt.
7 Layer Mexican Dip by Minimalist Baker
Make this dip for neighbors, friends, family or just yourself, whether it's game day or not. You will love the creamy texture, serious cheesiness, fluffy guac and perfect crunch from the veggies. Chips required, obviously.
TIP: Trader Joe's sells oil-free refried beans perfect for this!
Black Bean Dip by Garlic and Zest

Best of all, there's no cooking involved.  Just a little chopping and assembly. Easy! After all, wouldn't you rather spend your long weekend relaxing?
Curried Tahini & Potato Dip by Sweet Simple Vegan (that's me!)
A party dip to impress because it has such a unique and sophisticated flavor! Think curry + hummus, and you have yourself this dip!
Vegan Cauliflower Queso in the Instant Pot by Tasting Page
Your party platter just got that much healthier, without sacrificing any delicious taste!
Peach & Black Bean Salsa by Cadry's Kitchen
This peach & black bean salsa is screaming for a place at your table with its savory/sweet combination. The juicy fruit is sprinkled with cumin, chili powder, and cayenne for a little kick of heat.
Spicy Oil-Free Mexican Hummus by Veganosity
If you love spicy food, and you love hummus, you're going to LOVE this recipe– the best of both worlds in one flavorful, healthy, and easy to make dip.
Spicy Black Bean Guacamole by Tasting Page
There's nothing like guacamole, especially when it is spruced up with black beans for more protein and substance, and a kick of spice!
Super Bowl Snacktime: Squash Queso Dip by Vegan Yack Attack

A chickpea squash dip with a Mexican flair from the cilantro and jalapeños.
Vegan Chili Con Queso Dip by Veggies Don't Bite
Whole foods are the base of this recipe–I'm talking veggies, beans, nuts…so you can sit and eat the whole thing without regret. Well, you may have regret that you ate it all and have none left over, but that's your fault for not making a double batch ?
Thai Green Curry Mango Chickpea Dip by Contentedness Cooking
This Thai Green Curry Mango Chickpea Dip is so light and refreshing, it goes so well with so many things. Just think about sweet potato chips, veggie sticks, fresh homemade bread, and so many more.
30 Second Hummus by Contentedness Cooking
Can you imagine you only need 30 seconds? And it tastes fantastic, vegan, gluten free, oil free.
Finger Foods
Eggplant Meatballs by Sweet Simple Vegan (that's me!)
A hearty and savory flavor-explosion, and definitely THE must make recipe when you need to impress a crowd.
Serve on a toothpick with a drizzle or side of marinara!
Spicy Spiralized Sweet Potato Fries by Strength & Sunshine
Take your fries to a whole new level. These spiralized and baked fries are the ultimate crispy aPLUS gluten-free, vegan, and paleo, perfect to make your super bowl celebration livelier!
Baked Potato Nachos from Fried Dandelions
Instead of chips, this recipe uses small potatoes that are boiled, smashed, and then baked until were crispy– Load loaded them up as if they were nachos, and the crowd will be screaming for more!
Roasted Cauliflower Bites with Vegan Nacho Cheese Sauce by Fat Free Vegan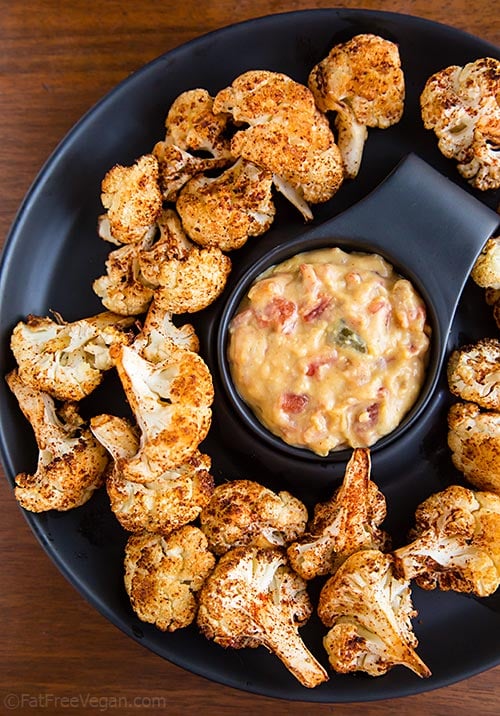 If you're looking for a snack that you can eat without guilt while all of your friends and family are stuffing their faces with chips and guacamole, this is the treat for you.
Deviled Potatoes w/ Cashew Mustard Filling by Conscious Chris

Who needs eggs with all of the creative (and more delicious) alternatives that exist?
Cashew and Herb Stuffed Mushrooms by Delightful Vegans
There's something really comforting about stuffed mushrooms. Perhaps it is the way they sit displaying all the goodness tucked away in a tender shell or maybe it's the colour and scent of the mushroom combining itself eloquently with the goodness inside?
Crispy Tofu Dippers by
You guys: once you cook tofu like this, you'll never want it any other way.
Spicy Baked Breaded Cauliflower Bites with Celery Ranch by Vegan Richa
Crusted with just salt and pepper, some spices, or battered and crisped up with breadcrumbs. These super spicy breaded cauliflower bites will be on fire at your superbowl party!
Baked Cornmeal & Pepita Crusted Onion Rings by Veggies Don't Bite
Crispy, crunchy and full of flavor! These onion rings are a healthy baked oil free version of an all-time favorite. Coating and onion become one melt in your mouth treat!
Sun Dried Tomato Jalapeño Cornbread Bites by Conscious Chris
Instead of doing something traditional, why not spice things up with some Mexican flare?
Jackfruit Taquitos by The Mostly Vegan
The contrast in texture of the crispy corn tortillas with the smoky and savory jackfruit filling is truly reminiscent of a shredded beef taquito. Crazy, but true.
NOTE: The oil in the filling of this recipe can be subbed out for vegetable broth and I would avoid spraying the tortillas with cooking oil entirely to make it a healthier oil-free dish!
Cheese & Onion Roasted Chickpeas by A Virtual Vegan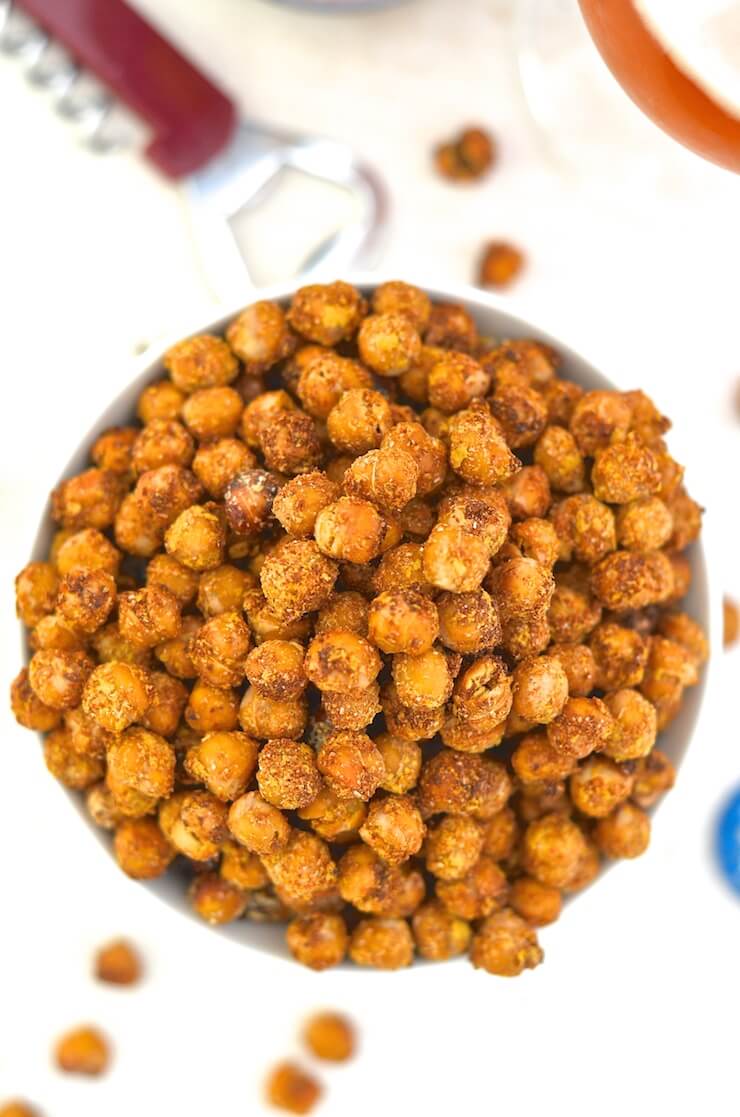 The perfect savoury snack, soup or salad topper, but just a warning, once you start eating them you just can't stop!
Loaded Taco Fries with Lime Crema by A Virtual Vegan
What's not to love about an obscenely large pile of Loaded Taco Fries with a generous drizzle of Lime Crema? Especially when they are healthy, oil-free & 'bury your face in them' delicious……
Superfood Quinoa Stuffed Mushrooms by Contentedness Cooking
Delicious food for the soul and many wonders for your body, could it be any better? These vegan appetizers are hearty, satisfying, flavorful and just so much fun to eat.
Ginger Rosemary Parsnip Fries by Plant Based Recipe
A unique twist on a classic fry, and an easy way to get more of a variety of veggies in!
BBQ Beet Fries by Strength & Sunshine
Stepping away from the traditional potato, you MUST make room for this super veggie showstopper on your plate.
Loaded Potato Skins by Green Evi
These simple, easy and budget friendly potato skins make a delicious finger food for game day.
Spicy Bean Balls w/ Kale by Green Evi
The perfect pick-me-up snack when you crave something simple and savory, but healthy.
Entrees
Vegan Taco Salad Cups by Feasting on Fruit
With crunchy homemade corn cups, romaine lettuce, veggie 'meat', toppings, and a sprig of cilantro, these little cups are an abundance of flavorful veggies all in a one hand-held package
Pita Pizzas by Green Evi 
If you have never come across pita pizzas before, your life is about to change.
Butternut Squash Mac N Cheese by Karl Cooks
Kid-approved and omnivore-approved. So next time you find yourself with a surplus of butternut squash and a shortage on time, whip this up, I promise you will love it.
Meatless Taco Chili by Veggie Inspired Journey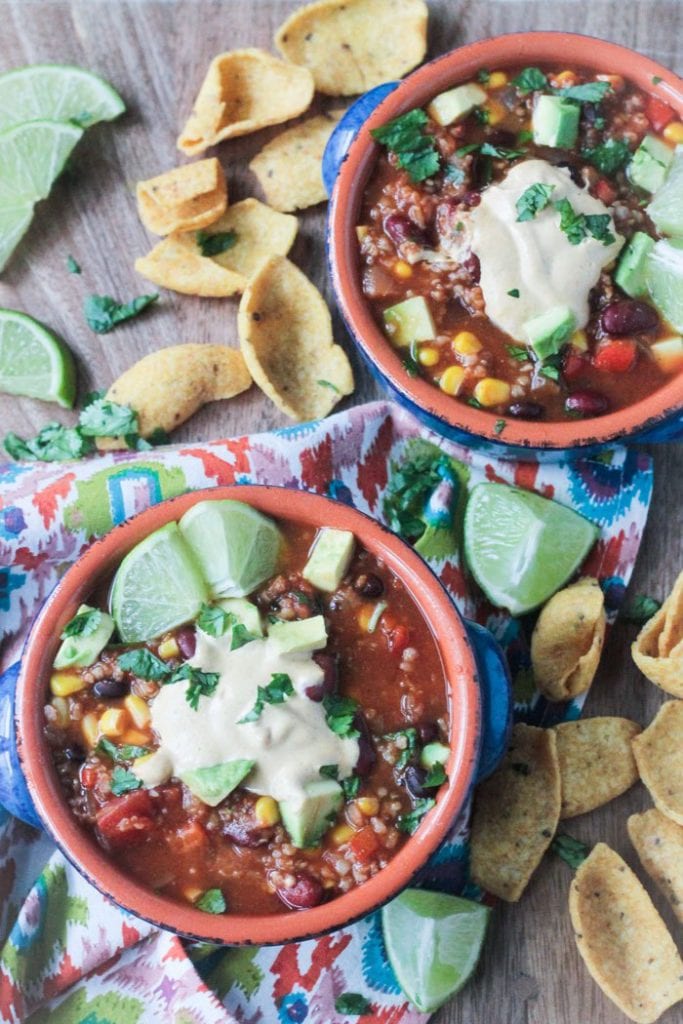 An easy, high protein, high fiber, full of flavor, meatless dish perfect for game day!
I tried to include a little bit of everything depending on what you are in the mood for, and I hope that you are able to try some of these out and let me know what you think. I am not a really a sports gal (I honestly have no clue who is even playing!), but I just hope you have a great Sunday with great food and great company.