A flavor-packed, nutrient dense and protein-rich veggie burger that is the perfect dish to serve at a summer party. It is easy to make and can be prepared ahead of time and frozen for an easy meal!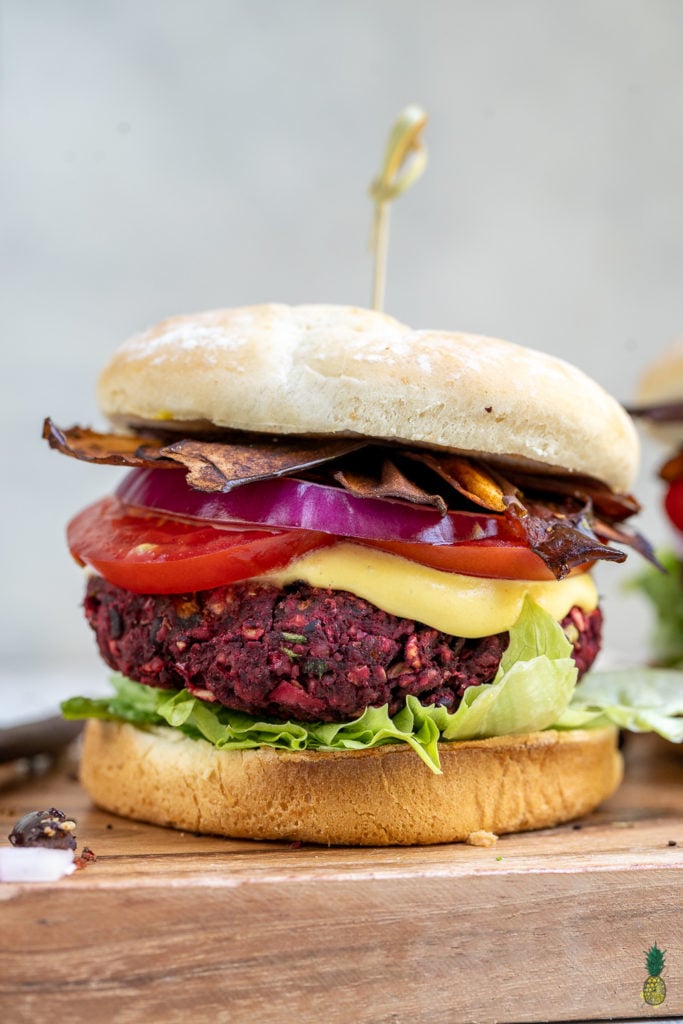 Are you ready for the ultimate veggie burger? I know we are!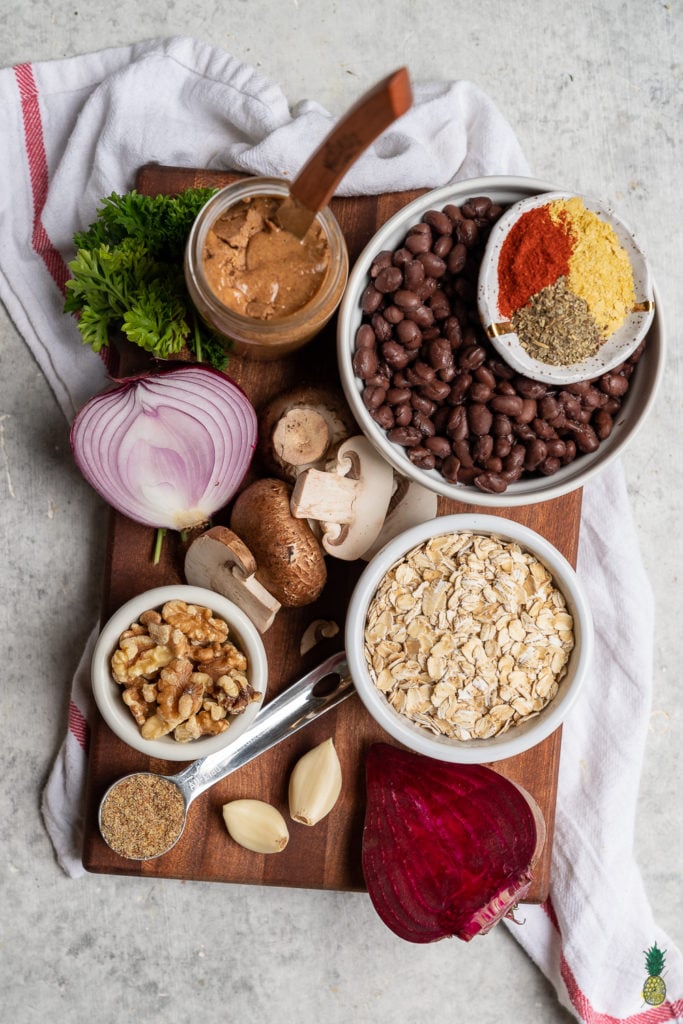 Although this recipe does have quite a few ingredients, we promise that they make all the difference! We think that the ingredients are pretty standard and they are usually ones that we have in our home, so we will definitely have these on repeat!
Also! As it is a new month, it is time for another chopped challenge! As some of you may know, we started doing vegan chopped challenges on YouTube every month with our friend (and now roommate!) Caitlin Shoemaker. We ask for you to vote for ingredients in the comments of the video and then we pick the top 2 from our video and Caitlin picks the top two from hers. It's fun, challenging and exhilarating all at once, and it is definitely one of our favorite recipes of the month now. These really keep us on our toes plus help put our creativity to the rest. For this month's recipe, we were challenged to work with: eggplant, beets, coffee and liquid smoke. We came up with a funky take a black bean beet burgers! We seasoned them up with a coffee rub and then loaded them to the sky with crispy eggplant bacon. The result was pure magic.
Caitlin put together these amazing Eggplant Reubens using the challenge ingredients, so make sure you check it out! We tried these first hand, and they are definitely something you need in your mouth, haha.
To utilize the eggplant in this recipe, we put together Vegan Eggplant Bacon. Yup, you heard that right! We put together two versions too, baked or fried, depending on your preference. It is crispy, salty, fatty (when fried) and just so freaking delicious! Make sure you check it out!
It's amazing how many different ways there are to make veggie burgers! In the past, we've made mushroom burgers, white bean & pumpkin burgers, and even veggie sliders, but these coffee rubbed black bean burgers are next level!
If you make this recipe, let us know what you think in the comments below! + If you post any photos on Instagram, make sure you tag us @sweetsimplevegan and @consciouschris so that we don't miss it, we love seeing your photos!
Print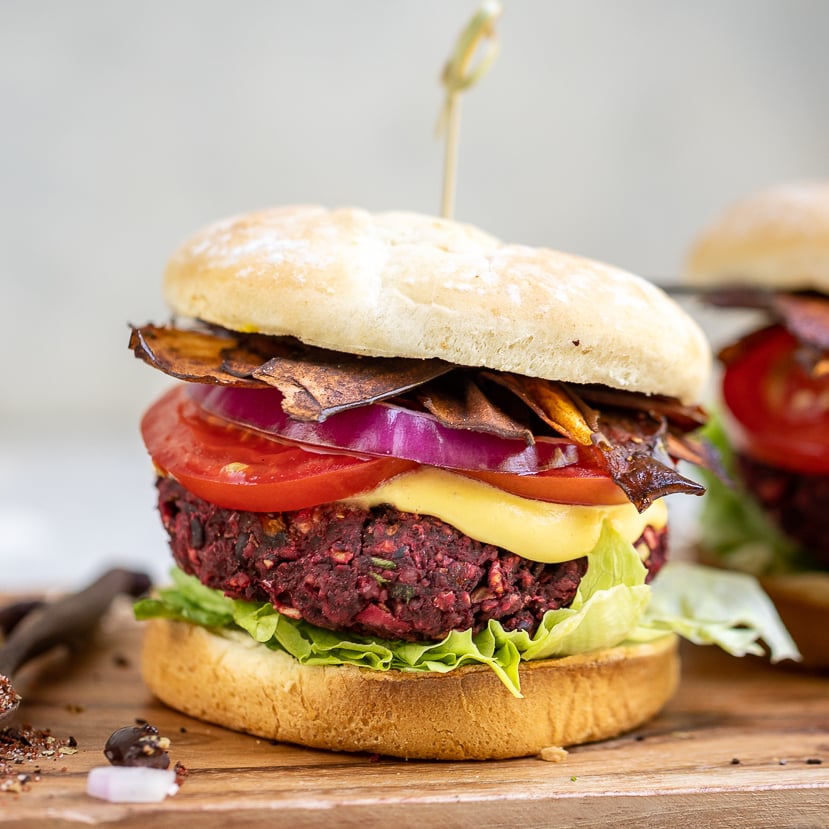 Coffee-Rubbed Black Bean Beet Burgers w/ Eggplant Bacon
---
Author:

Total Time:

1 hour 10 minutes

Yield:

6 burgers
Description
A flavor-packed, nutrient dense and protein-rich veggie burger that is the perfect dish to serve at a summer party. It is easy to make and can be prepared ahead of time and frozen for an easy meal!
---
Black Bean Beet Burger
1

medium beet (or

3/4 cup

cooked and grated)

1

 cup rolled oats

1/2

 cup walnut pieces

1/2

 cup red onion chopped

1/3

 cup mushrooms chopped

1 1/2

 cup cooked black beans, rinsed and drained

2

 tablespoons tahini or almond butter

1

 tablespoon ground flaxseeds

1

 tablespoon nutritional yeast

1

 tablespoon fresh parsley chopped

2

cloves garlic, minced

1/2

 teaspoon smoked paprika

1/2 teaspoon

 Italian seasoning

1/2 teaspoon

salt
Black pepper, to taste
Coffee Rub*
1/2 tablespoon

freshly ground coffee

1 tsp

(packed) golden brown sugar

1/2 teaspoon

freshly ground black pepper

1/2 teaspoon

fine sea salt

1/4 teaspoon

dried oregano

1/4 tsp

paprika
Assembly
Vegan Eggplant Bacon
Vegan cheese sauce or any vegan cheese of choice
Lettuce
Tomato
Pickles
Red Onions
Buns of choice
---
Instructions
First, cook the beet. Heat the oven to 400°F and remove the greens from the beet if present. Wash the beet thoroughly and then wrap the beet in aluminum foil. Place into the oven directly on the rack to roast until easily pierced with a fork, about 50 to 60 minutes. Be sure the opening of the foil is facing up so it does not drip! Carefully remove from the oven and set aside to cool.
Once the beet is cool and easy to handle, shred the beet. You will only need 3/4 cup, so reserve any extras for future use. Shredded beets go great in salads and Buddha bowls.
Pulse the oats and walnuts in a food processor until they are finely ground. Add in the remaining ingredients, including the shredded beets, and pulse until well combined but not mushy. You still want it to be chunky so that the burger has texture; if it is too processed the burger may become mushy after baking. To test it, pinch some of the mixture in between your thumb and index finger. It should hold together. If the mixture is too wet, add more oats. If the mixture is too dry, add water, 1 tablespoon at a time.
Transfer the mixture to a bowl and place it in the refrigerator to set for about 30 minutes. In the meantime, preheat the oven to 375ºF and line a baking sheet with parchment paper or a silicone mat.
Remove the dough from the refrigerator and divide the dough into 6 patties. Each patty was about a heaping 1/3 cup and about ½-inch thick.
Arrange the burgers onto the lined baking sheet. Rub in a generous amount of the coffee rub onto one or both sides of the patty, depending on how much you want to go for! Place into the oven for 25 minutes, flipping halfway through. The patties should be lightly browned. Cool the patties for about 10 minutes before serving.
Assemble the burgers as desired. We served ours on our favorite burger buns with lettuce, tomato, pickles, vegan eggplant bacon, cheese sauce, and red onions. Enjoy!
Notes
Note that you will only use about 1/4-1/2 of the coffee rub.
The nutrition facts are for the burger patty and the coffee rub only.
To cook the patties on the stove, heat a cast iron skill or a medium skillet of choice over medium heat with a tablespoon or two of oil. Once heated, add in the patties (only 2-3 at a time to avoid overcrowding) and cook for about 8 minutes, flipping every 2 minutes. If any pieces break off when you flip the burgers, just pat them back into place. with your spatula. Try not to overcook as they may dry out.
You can store them (after cooking) in an airtight container in the refrigerator for up to a week or in the freezer for one month. To reheat, you can either microwave them in quick 30-second bursts or heat them in a 350°F oven until they are warmed through.
If you would like to make the burger mix ahead of time, you can refrigerate the uncooked burger mix in an airtight container for up to 3 days.
Prep Time:

45 minutes

Cook Time:

25 minutes

Category:

Entree, Burgers

Cuisine:

Vegan
Keywords: Entree, Burger, Lunch, Beets, Black beans, Protein
Nutrition facts label provided by Nutri Fox.
Disclaimer: This page may contain affiliate links, which simply means that we earn a commission if you purchase through those links, but your price remains the same. Thank you for supporting Sweet Simple Vegan!