Introducing the BEST classic vegan lasagna recipe. It's layered with al dente lasagna noodles, creamy tofu ricotta, vegan meat sauce, and a rich vegan cheese sauce. It's the perfect decadent and delicious entree to make for holidays or hearty vegan dinners.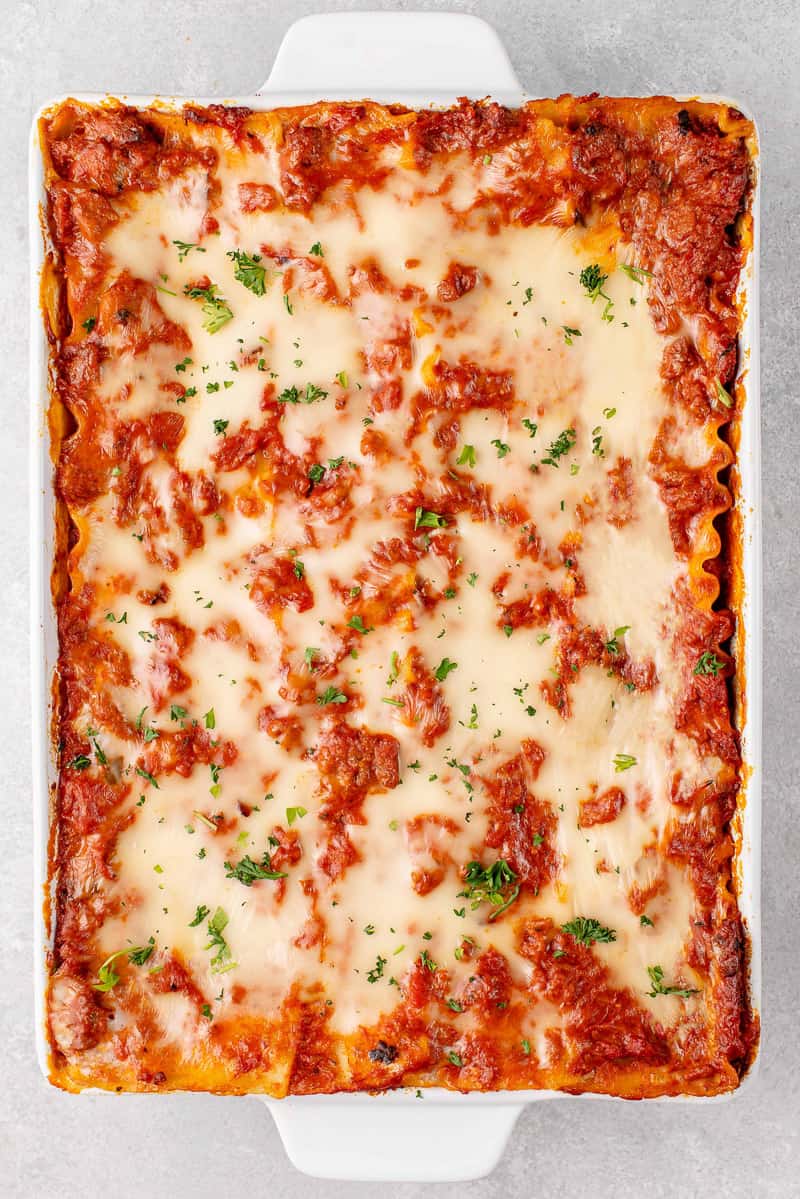 Vegan lasagna is at the top of our list when it comes to the best classic holiday recipes. No one is ever upset to see lasagna on the menu for Christmas dinner, and you won't regret having lasagna leftovers in the fridge, either!
This plant-based lasagna is guaranteed to be a hit with vegans and non-vegans alike (just read the comments!). Plus, we've included possible substitutions, make ahead options, and additional tips to guarantee you make the best lasagna bake! Be sure to check out our Vegan White Lasagna or Epic Vegan Ravioli Lasagna for another variation.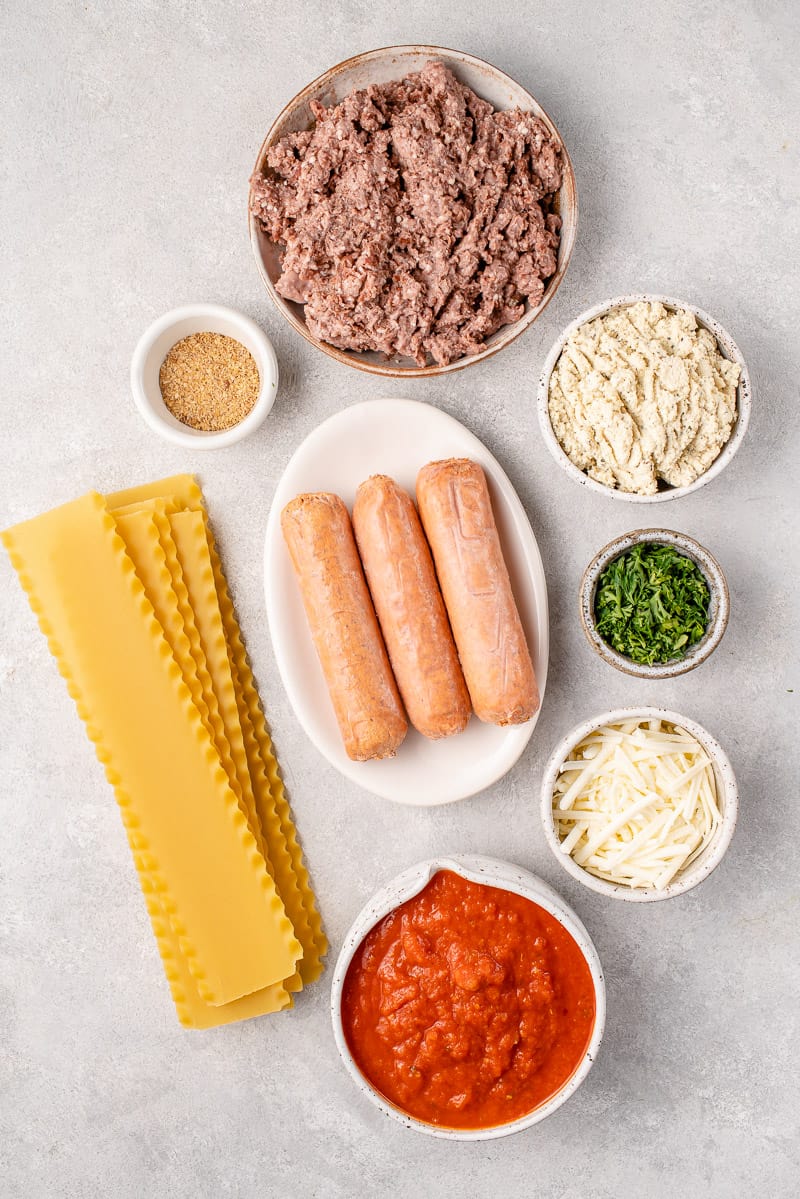 Ingredients You'll Need
Vegan ground beef and sausage: We have made this vegan lasagna using Beyond Meat, Impossible Beef, and Gardein ground beef, and all worked well. Feel free to use your favorite brand or even omit it entirely for a simple vegan cheese lasagna.
Marinara sauce: For this recipe, we like to use our homemade marinara, but you can opt for your favorite store-bought if you are short on time. Most store-bought marinara sauces are naturally vegan-friendly, but some brands add dairy to make it creamy. Always check your labels!
Vegan ricotta: We can't recommend our super simple tofu ricotta recipe enough! You can make it at home in the food processor with just 7 ingredients, including lemon juice, herbs, and other kitchen staples. If you are soy-free, opt for an almond-based ricotta like Kite Hill's Ricotta Alternative.
Vegan mozzarella shreds: Mozzarella is used in both the filling and the final cheese sauce for topping to make this lasagna extra cheesy. Any dairy-free cheese shreds will do.
Flax egg: A flax egg is simply made by combining ground flax seeds and water to form a jelly-like consistency, similar to an egg white. Make sure to use ground flax – whole flax seeds will not absorb the water in the same way.
Fresh herbs: For the best flavor, we highly recommend using fresh parsley and basil. With that being said, you can use 4 teaspoons of each dried herb in a pinch.
Vegan butter: This helps turn the mozzarella into a pourable, savory cheese sauce. If you are out of vegan butter, substitute 2 tablespoons of vegetable oil.
Almond milk: Also helps make the cheese sauce smooth and creamy. Any almond milk will do (try our homemade!) – just make sure it is unsweetened. Or, opt for water.
Lasagna noodles: We tested this vegan lasagna recipe using no-boil lasagna noodles, and it did not cook through correctly. Please only use classic lasagna noodles and take the extra step to boil them before baking. Note: Most store-bought lasagna noodles are naturally vegan, but fresh or authentic varieties sometimes contain eggs.
Equipment Needed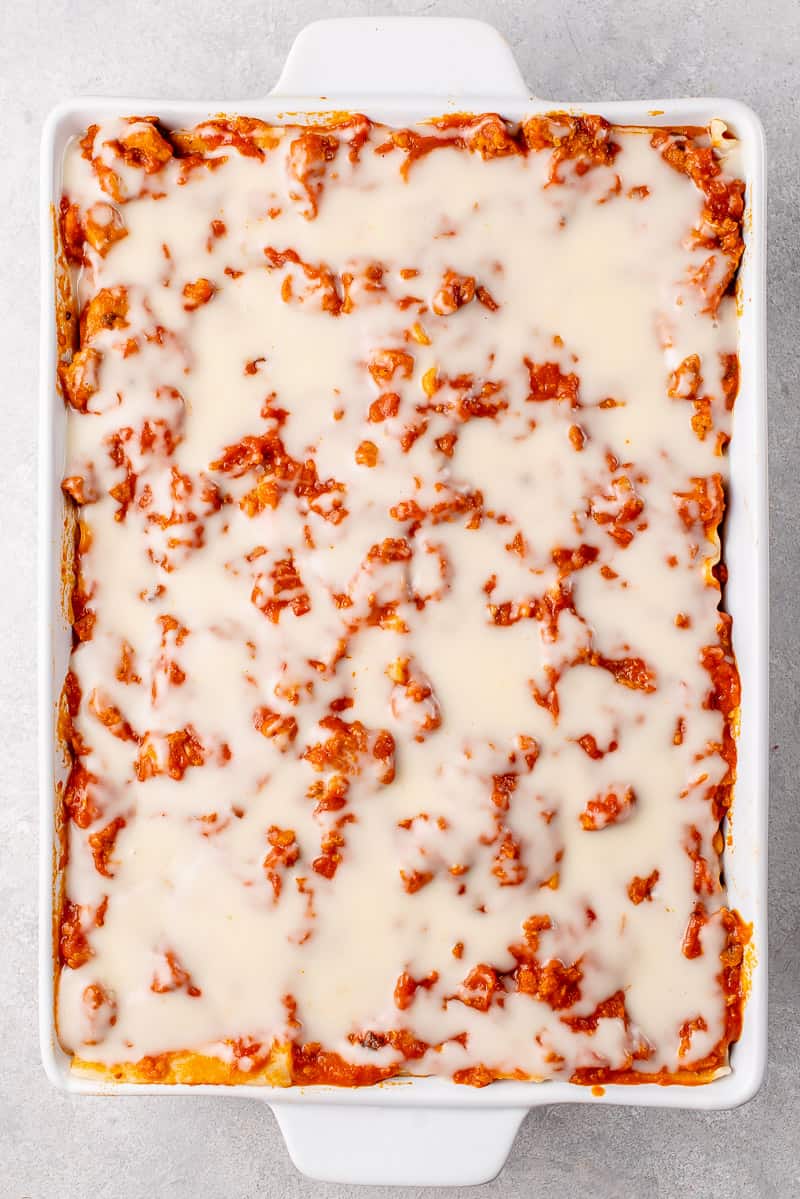 How to Make Vegan Lasagna
Prepare the flax egg. In a small mixing bowl, whisk together the ground flax seed with 3 tablespoons of water. Set aside for 5-10 minutes or until gelatinous.
Cook the noodles. Bring a large pot of salted water to a boil, then add the lasagna noodles. Cook according to package instructions or until al dente. Once finished, drain, rinse with cold water, then submerge the noodles in a bowl of cold water. This will stop the cooking process and prevent the lasagna sheets from sticking together.
Prepare the tomato sauce. In a separate large pot, cook the vegan sausage and ground beef over medium heat until browned, about 5-7 minutes. Once browned, add in the marinara sauce and mix to combine. Turn the heat down to low, cover, and simmer for 8-10 minutes.
Make the vegan cheese filling. Add the ricotta, flax egg, vegan mozzarella, and fresh herbs to a medium-sized mixing bowl and mix until uniform. Set aside.
Layer your lasagna ingredients in the baking dish. Spread a thin layer of sauce on the bottom of the baking dish. Next, layer 4 lasagna noodles lengthwise in the baking dish, overlapping slightly. Spread ⅓ of the cheese filling on top of the lasagna noodles, then top with ¼ of the sauce. Repeat this process two more times, then add the remaining marinara sauce on top of the final layer of noodles.
Whisk together the vegan cheese sauce for topping. In a small pot over medium heat, add vegan butter and allow it to melt. Once melted, add in the vegan mozzarella shreds and non-dairy milk. Whisk together rapidly until the cheese melts completely and a smooth sauce forms.
Bake. Pour the melted cheese sauce over top of the vegan lasagna, then tightly cover with aluminum foil. Bake for 30 minutes, then remove the foil and bake for an additional 15 minutes, or until the edges are golden and bubbly.
Cool and serve. Allow the lasagna to cool in the baking dish for a minimum of 30 minutes before slicing and serving. This will give it a chance to firm up and hold its shape.
Watch how to make this vegan lasagna step by step in our easy-to-follow video tutorial.
Gluten-Free Variation
If you are gluten-free, good news! This vegan lasagna is very easy to make gluten-free. Simply swap the traditional wheat-based lasagna noodles for your favorite gluten-free lasagna. For the most authentic results, we'd recommend Jovial Foods Organic Brown Rice Lasagna.
Beyond Meats ground beef and sausage products are also gluten-free friendly. If you choose to use another brand of vegan ground beef or sausage, avoid brands that use ingredients like vital wheat gluten or gluten-based binding agents.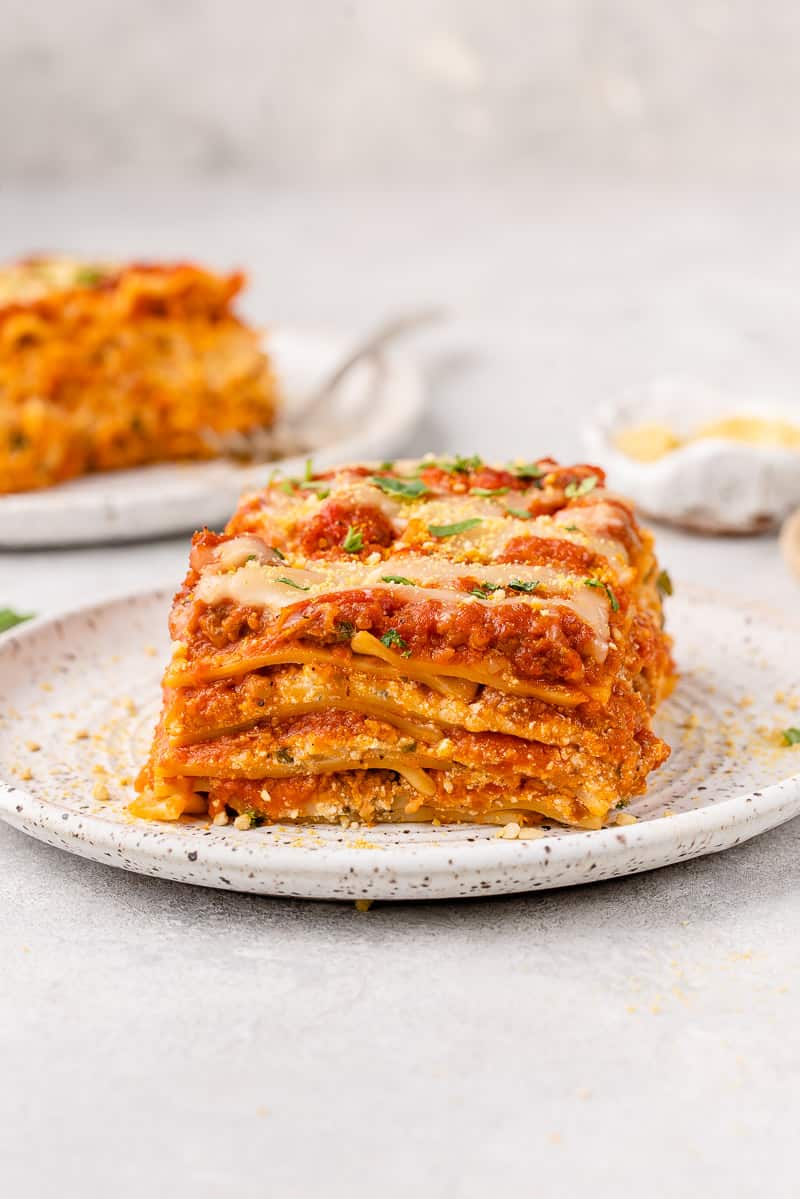 How to Prep and Make Ahead
If you're making this vegan lasagna for the holidays, you may be interested in prepping it in advance to save time and make things fuss-free. To do so, simply follow steps 1-8, top with the final vegan cheese sauce, and tightly cover. Place the uncooked lasagna in the fridge until you are ready to bake. Then, allow the lasagna to sit at room temperature for 30 minutes before baking as usual.
For best results, prep your lasagna no more than 24 hours in advance.
Serving Suggestions
Vegan lasagna pairs well with our Brussels Sprouts Caesar Salad and a side of Vegan Garlic Bread, Garlic Herb Dinner Rolls, or Vegan Pandesal (Filipino Bread Rolls).
Or, if you are serving this lasagna for the holidays, you may enjoy our collection of our favorite 50 Vegan Christmas Recipes.
Storage Instructions
This vegan lasagna will store well and tightly covered in the fridge for up to 5 days or in the freezer for up to 3 months. Use this handy guide by Bon Appetit to learn how to properly freeze and defrost homemade lasagna and other casserole dishes.
To reheat a single serving of lasagna, place the vegan lasagna in a microwave-safe dish and cook until warm. To reheat several servings of lasagna at once, place the vegan lasagna in an oven-safe dish and cover it with foil. Cook at 350 F for 15-20 minutes or until warmed through again and bubbly. To ensure the lasagna does not dry out, feel free to add a splash of water or vegetable broth to the dish before reheating.
Recipe FAQs
Why did my lasagna get watery?
This can happen if you do not pat the lasagna noodles dry before layering them in the lasagna. After removing the noodles from the cold water, gently dry them on a clean tea towel before layering in the baking dish.
What is the correct order to layer a lasagna?
Sauce, noodles, ricotta filling, repeat. Lastly, top with a final layer of cheese sauce. For detailed instructions on how to correctly layer your lasagna, read the recipe card below. 
Should I grease my lasagna pan?
We don't find this to be necessary, but you can certainly lightly grease to prevent sticking.
Do you bake lasagna covered or uncovered?
Both! Start by baking the lasagna covered to prevent it from drying out, then uncover for the last 15 minutes to brown around the edges and melt the cheese. 
More Vegan Pasta Recipes You May Enjoy:
Print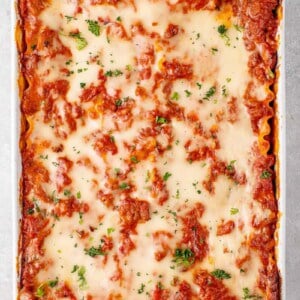 The Best Vegan Lasagna
---
Author:

Total Time:

1 hour 15 minutes

Yield:

12 slices

Diet:

Vegan
Description
Layered with creamy homemade ricotta, vegan meat sauce, and rich cheese sauce, this lasagna will be hit with anyone, vegan or not.
---
Sauce
14 oz

. vegan sausage, finely chopped*

16 oz

. vegan ground beef*

48 oz

. marinara sauce (homemade or store-bought)
Vegan Cheese Filling
1

recipe Easy Tofu Ricotta

1 cup

vegan mozzarella cheese shreds

1

flax egg (

1 tablespoon

flaxseed meal +

3 tablespoons

water)

1/4 cup

finely chopped fresh parsley

1/4 cup

finely chopped fresh basil
Vegan Cheese Sauce 
1 cup

vegan mozzarella cheese shreds

2 tablespoons

vegan butter

2 tablespoons

unsweetened almond milk (or non-dairy milk of choice)
Additional Ingredients
Equipment Needed:
---
Instructions
In a small bowl, prepare a flax egg by adding in 1 tablespoon flaxseed meal and 3 tablespoons water. Mix and set aside to thicken. 
Bring a large pot of water to boil and prepare the lasagna noodles according to package instructions. Once finished, drain, rinse with cold water, and add them to a large bowl filled with cold water. This will prevent the noodles from overcooking and sticking together as we prepare the remainder of the ingredients. Set aside.
As the noodles cook, prepare the sauce. In a large pot over medium heat, add in the vegan sausage and ground beef and cook until browned, about 5-7 minutes. Once browned, add in the marinara sauce and mix through. Bring the heat to low, cover, and allow it to simmer for about 8-10 minutes or until heated through. 
As the sauce simmers, prepare the filling. In a medium-sized bowl, combine your tofu ricotta, flax egg, vegan cheese shreds, and fresh herbs. Mix through until uniform and set aside. 
Preheat oven to 375°F and get your baking dish ready.
Add a thin layer of sauce to the bottom of the baking dish. On top of the sauce, layer 4 lasagna noodles, overlapping slightly. On top of the noodles, spread over 1/3 of the ricotta cheese mixture and then on top of that, add 1/4 of the sauce.
Repeat the process two more times, then, add on the final 1/4 of the sauce. Set aside.
In a small pot over medium heat, prepare the vegan cheese sauce. Add in the vegan butter and allow it to melt. Once melted, add in vegan cheese shreds and almond milk. Whisk together rapidly until a smooth sauce forms.
Pour the sauce over top of the lasagna, then cover it with aluminum foil. Place it into the oven and bake for 30 minutes. After 30 minutes, remove the foil and bake for an additional 15 minutes.
Remove the lasagna from the oven and allow it to cool for at least 30 minutes. Enjoy! 
Notes
You can use one or both of the vegan meats for this recipe, or leave them out entirely. If choosing to omit, you may need to add more sauce as necessary.
Prep Time:

15 minutes

Cook Time:

60 minutes

Category:

Entree

Method:

Oven

Cuisine:

Italian
Keywords: lasagna, dairy-free, italian, entree, casserole, pasta, oven, dinner, sauce
Disclaimer: This page may contain affiliate links, which simply means that we earn a commission if you purchase through those links, but your price remains the same. Thank you for supporting Sweet Simple Vegan!