These vegan snickers bars are made with layers of no-bake vegan nougat, homemade vegan caramel, and salty peanuts, then dipped in a rich layer of dark chocolate. Stash them in the refrigerator and enjoy this dairy-free twist on the popular chocolate candy bar all month long.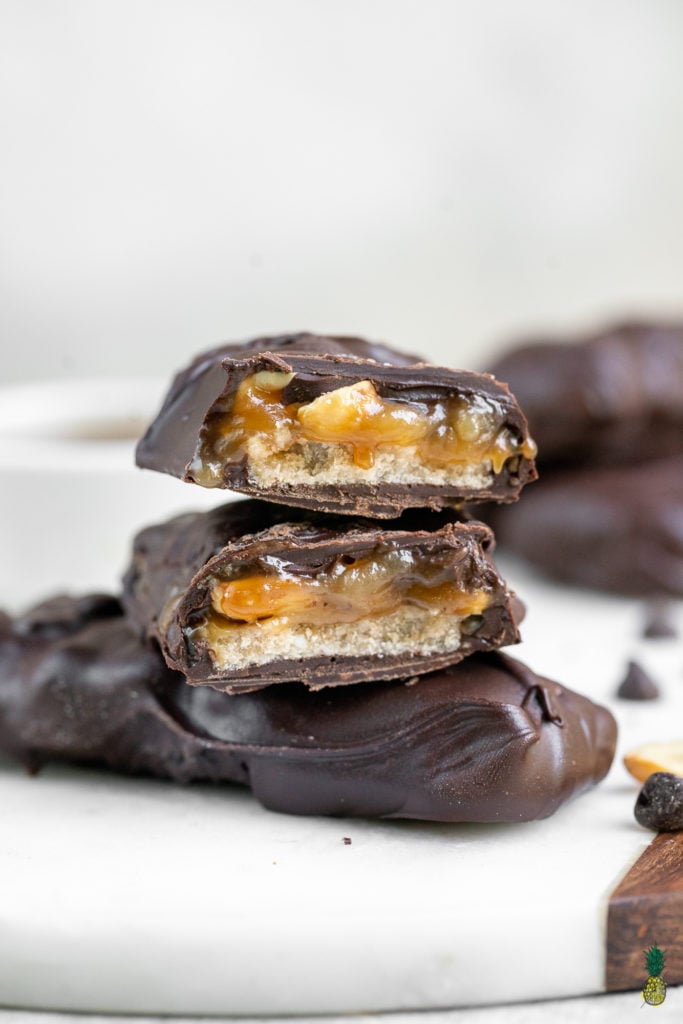 If you're planning a Halloween party, you've come to the right place! Halloween was a big deal in my family growing up, so naturally, I've created a few vegan Halloween treats and snacks to share with you. We celebrated big with the BEST costumes and treats like these super cute Vegan Halloween Cupcakes and spooky snacks like Halloween Edible Eyeballs, Halloween Sushi, Halloween Cookies, and Apple Monster Mouths.
Plus, we can't forget the chocolate candy! In addition to these vegan Snickers bars, try our Chocolate Crunch Bars, Vegan Milky Way Bars, Vegan Take 5 Bars, and Homemade Vegan Chocolate Bars.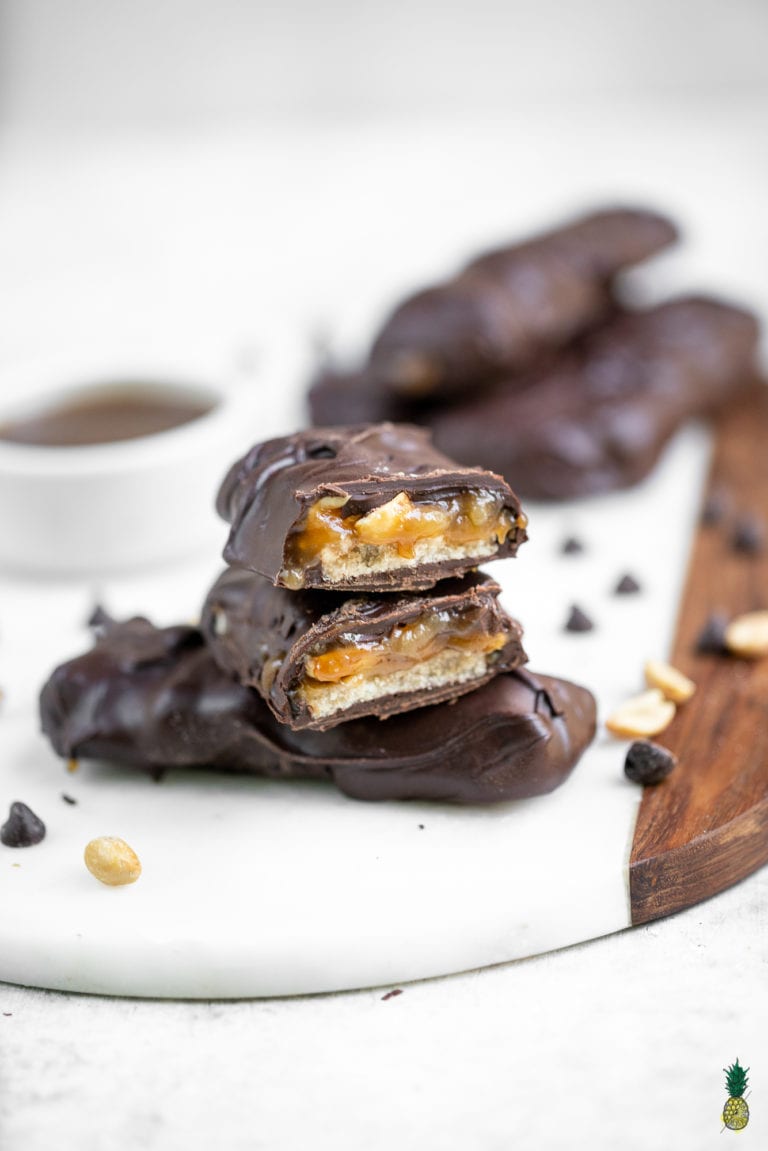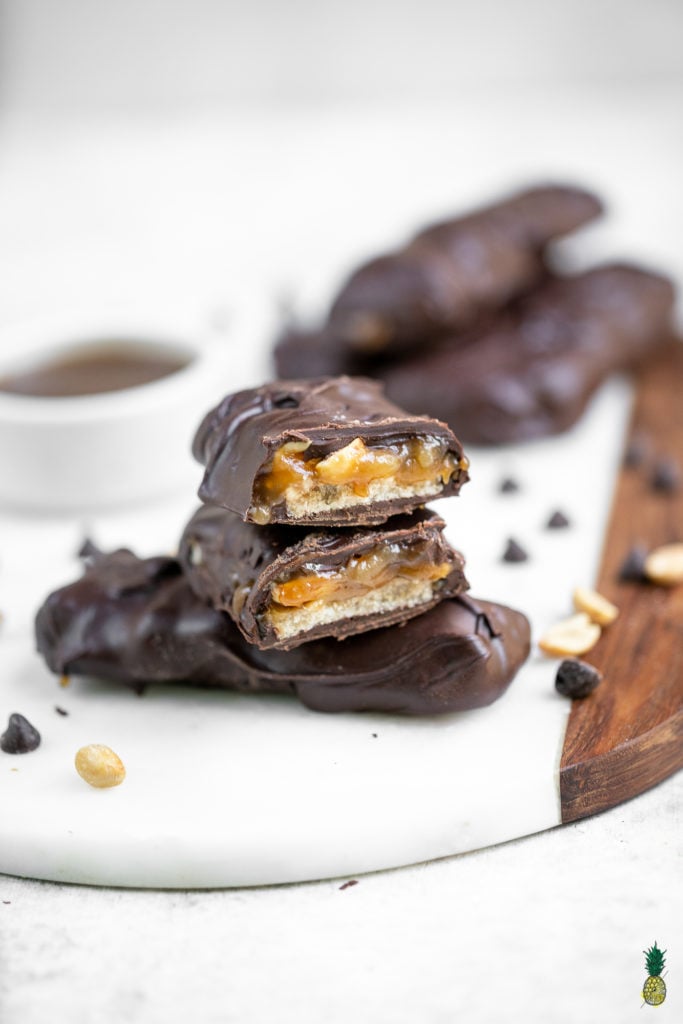 Are Snickers Vegan?
The OG Snickers bars by Mars are not vegan-friendly. The ingredients listed on the nutrition label include milk chocolate, skim milk, lactose, and egg whites.
Since Snickers bars were easily the BEST candy growing up, I knew I had to make my vegan-friendly version for Halloween parties, holiday gifting, and any occasion that requires a vegan candy bar. This homemade vegan alternative is also gluten-free, dairy-free and is completely no-bake.
Vegan snickers bars ingredients:
Salted peanuts: Essential to achieving that nostalgic snickers bar crunch. We love using salted peanuts to balance the sweetness of the caramel and chocolate. If you only have raw, unsalted peanuts, sprinkle sea salt on the caramel layer.
Caramel: We made our own caramel sauce to use in these dairy-free snickers bars and highly recommend it, but if you are short on time or have a favorite store-bought vegan caramel, that will work as well.
Chocolate chips: Use your favorite vegan chocolate chips here. Any will do!
Vegan Nougat: Oat flour, coconut butter, maple syrup, vanilla, and salt make the vegan nougat layer. Make your own oat flour at home by grinding rolled oats in a high-speed blender until flour has formed.
Equipment Needed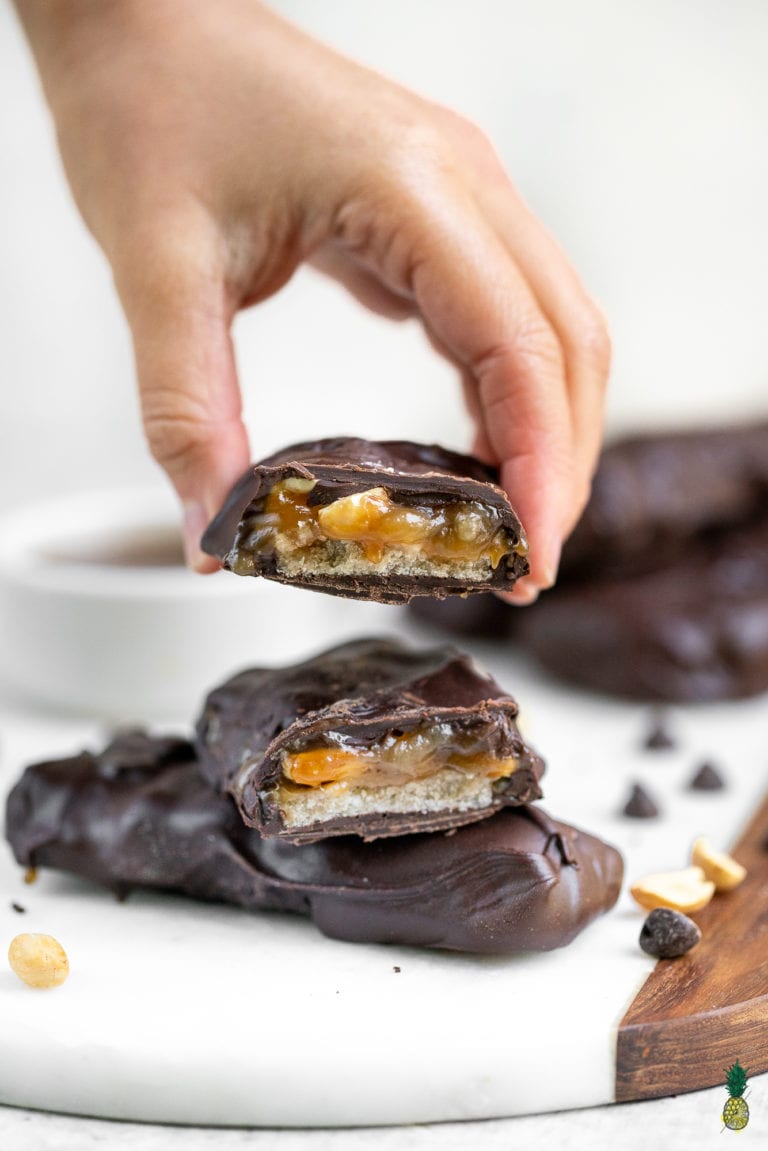 How to make vegan snickers bars
*Note: Prepare your vegan caramel ahead of time. We have a few caramel recipes for you to choose from on the blog. For the most authentic tasting caramel and vegan snickers bars, make our 5-ingredient vegan caramel. For the healthiest option, choose our Easy Date Caramel. Or, if you want to put a peanut butter twist on your vegan snickers alternative, try our Peanut Butter Caramel recipe from our Vegan Apple Galette. All three of these options last in the fridge, so feel free to prep them a few days in advance.
Make the vegan nougat recipe. In a medium bowl, mix together the oat flour, coconut butter, maple syrup, vanilla, and sea salt until well combined. We find this easiest to do with clean hands, but you can also use a silicone baking spatula. Once combined, pour the vegan nougat layer into a lined 8-inch square pan. We only used ½ of the baking pan for our preferred vegan snickers bars thickness.
Add a layer of vegan caramel. No matter which vegan caramel you choose, you'll need about ½-¾ cup of caramel. This does not need to be a perfect measurement – just layer on enough to cover the vegan nougat.
Press in peanuts. Add an even layer of salted peanuts and gently press them into the caramel so they stick.
Transfer to the freezer. Place the pan in the freezer to harden for at least 30 minutes.
Melt the chocolate. While the vegan snickers bar filling is in the freezer, begin to melt the chocolate. Add the vegan chocolate chips into the upper bowl or pot of a double boiler on the stovetop and allow the chips to melt slowly. Mix often with a spatula until the chocolate has completely melted.
Cut the vegan snickers bar filling into individual bars. We cut ours into 6 bars, but cut yours as big or small as you'd like. Try cutting small squares to make mini vegan snickers bars bites!
Coat in chocolate. Using two forks, dunk one vegan snickers bar filling into the chocolate and evenly coat. Allow excess chocolate to drop off, then place on the lined baking sheet to set. Repeat with the remaining snickers bars.
Set in the refrigerator. Place the vegan snickers bars in the refrigerator (or freezer) for about 15 minutes or until the chocolate is hardened.
Enjoy. Allow the snickers bars to sit at room temperature for about 5 minutes to soften before enjoying.
Variations
Use our homemade chocolate bars: Swap the dark chocolate chips for 10 ounces of our homemade vegan chocolate (about 3 bars).
Make these snicker bars peanut-free: If you are allergic to peanuts or simply don't have peanuts in the pantry, swap them for another nut like chopped almonds, hazelnuts, or pecans. You could also omit the peanuts completely if preferred.
Make a vegan peanut butter nougat: Swap the melted coconut butter for runny peanut butter for a peanut butter twist on these vegan Snickers.
Melt the chocolate chips in the microwave: If you don't have the right-sized glass bowl to make your own double boiler, melt the chocolate chips in the microwave in 20 or 30-second bursts, stirring in between until just melted.
Storage and freezing instructions
These healthy vegan candy bars will last for up to 1 month in the refrigerator or 6 months in the freezer. For best results, store in an airtight container or silicone bag.
What Halloween candy can vegans eat?
If you love celebrating Halloween as much as we do, you might wonder which premade candy you can dig into or hand out to Trick-or-Treaters this year.
Here's a quick list of some of the completely vegan Halloween candies (at least in the United States):
Smarties
Skittles
DumDums
Swedish Fish
Jolly Ranchers
Sour Patch Kids
Twizzlers
Justin's Peanut Butter Cups
Other homemade vegan Halloween candy recipes you may enjoy:
Make sure you tag us on Instagram @sweetsimplevegan and @consciouschris and hashtag #sweetsimplevegan if you recreate any of our recipes. We love to see your photos!
Print
Vegan Snickers Bars (Gluten-free)
---
Author:

Total Time:

50 minutes

Yield:

6 snickers bars
Description
Loaded with roasted peanuts, gluten-free nougat, real deal homemade vegan caramel, and melted dark chocolate, these homemade snickers bars are going to change the way you snack. All of the ingredients here are of course vegan-friendly and absolutely delightful. If you're a candy lover, this is the recipe for you!
---
1/3 cup salted peanuts
1/4-1/2 recipe of our vegan caramel (depending on how thick you want it)
1 bag (10 oz.) vegan dark chocolate chips
Nougat
1/2 cup

gluten-free oat flour*

1/4 cup

coconut butter, melted*

3 tablespoon

maple syrup (or liquid sweetener of choice)

1/2 teaspoon

vanilla

1/4 teaspoon

salt
---
Instructions
Line a 

rimmed baking sheet (we used an 8-inch square pan)

 with parchment paper or a silicone baking mat. Set aside.
In a medium bowl, mix together all of the ingredients for the nougat until well combined, using your hands as needed. Pour the nougat layer into the lined sheet and press down tightly until evenly distributed. We only used 1/2 of the baking dish (so the other half is empty).
Begin to evenly spread the caramel onto the nougat layer, and then follow with an even layer of the peanuts. Place the pan into the freezer to harden for at least 30 minutes.
Just before you remove the mixture from the freezer, melt the chocolate. Prepare a double boiler by bringing a small pot of water to a boil. Once it is boiling, reduce the heat to a simmer and place either a fitted glass (or ceramic) bowl or another smaller pot over the water. The key here is to make sure that water does not get into the bowl or pot and mix in with the chocolate. Add the chocolate chips into the upper bowl or pot and allow them to slowly melt, mixing often with a spatula. Once the chocolate has melted, turn off the heat and remove the upper bowl or pot and set aside.
Line a large baking sheet with parchment paper or a silicone baking mat. Remove the baking dish from the freezer and remove the contents onto a cutting board. Cut into small rectangles (we cut ours into 6).
Using two forks, dunk one square into the chocolate and evenly coat. Allow excess chocolate to drip off and then place it on the lined baking sheet to set and continue with the remaining squares.
Place the baking sheet into the refrigerator or freezer to set or about 15 minutes. Allow the chocolate to sit at room temperature for 5 minutes or so to soften before digging in.
Store in an airtight container for in the refrigerator for up to 1 month.
Notes
When we make this recipe, we made it at the same time as our Milky Way bars because they used the same exact ingredients except for the peanuts.
We used half of an 8×8″ pan for this recipe but we would recommend a smaller pan to make thicker and more authentic looking bars.
If you have a peanut allergy, feel free to swap out the peanuts for any nut of choice.
Melt the coconut butter by placing it into a large bowl with hot water. Allow it to sit, stirring often, until it is smooth.
You can make oat flour at home by grinding rolled oats in a high-speed blender until a flour has formed.
If you want to use something in place of the coconut butter, almond and peanut butter work great.
Prep Time:

45 minutes

Cook Time:

5 minutes

Category:

Candy, Dessert

Method:

Stovetop

Cuisine:

Vegan, Gluten-free
Keywords: Snickers, Candy, Chocolate, halloween, gluten-free, vegan, snack, kids
Disclaimer: This page may contain affiliate links, which simply means that we earn a commission if you purchase through those links, but your price remains the same. Thank you for supporting Sweet Simple Vegan!