These homemade chocolate crunch bars are the easiest way to satisfy a chocolate craving! All you need is 2 ingredients and 25 minutes, and you'll be ready to enjoy the best, crispy vegan chocolate bar.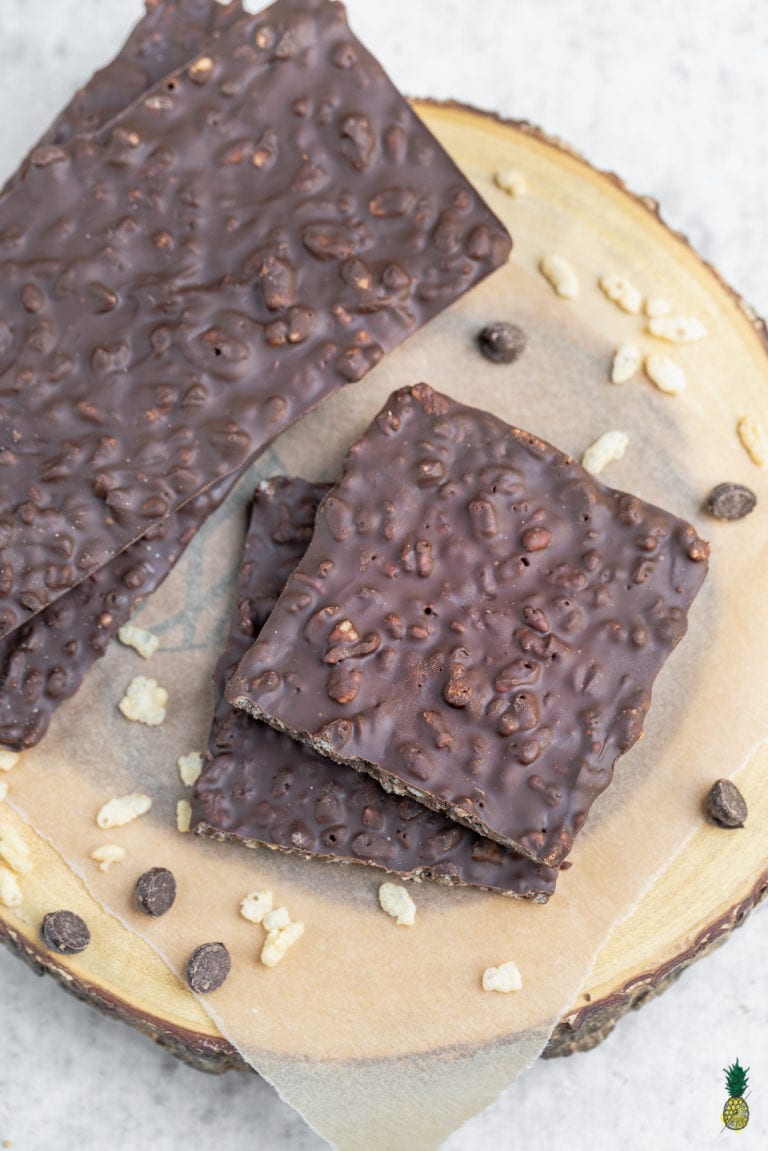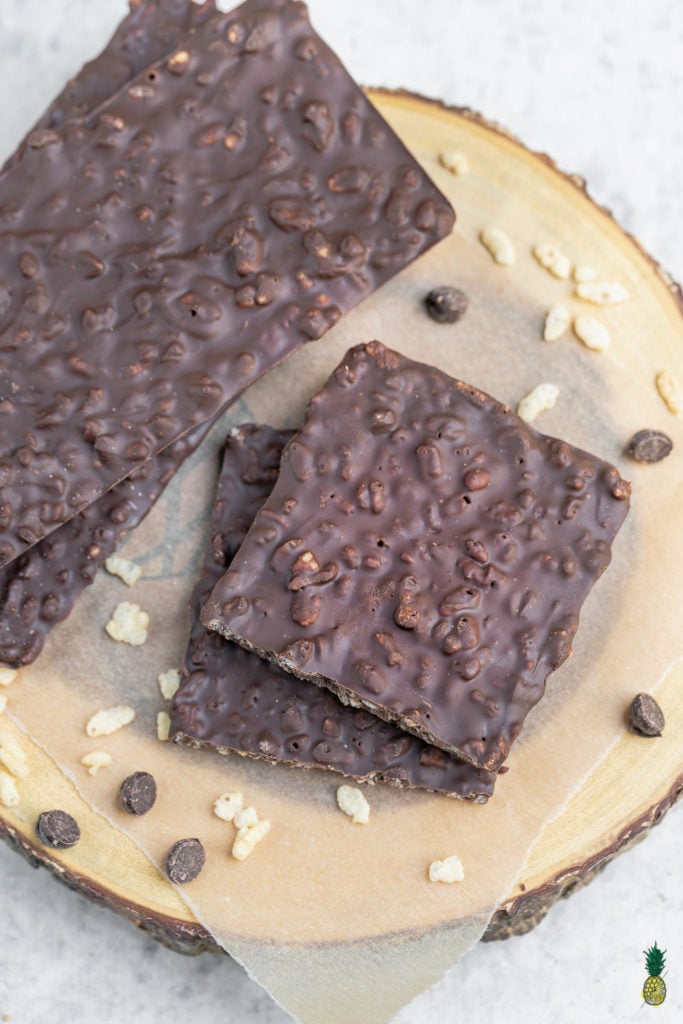 Why you should make your own chocolate crunch bars at home
We're not opposed to pre-made snacks and desserts, especially when they're vegan. They're convenient, fun to try, and a great way to support brands that are putting out plant-based options (check out our favorite spots to eat vegan in Portland and Oakland). But it's no secret that making things at home is almost always healthier and an easy way to avoid weird preservatives and "natural" flavors.
Store-bought Crunch bars contain milk, natural flavors, soy lecithin, and more. If you're looking to avoid preservatives and make a healthy, vegan-friendly chocolate Crunch bar at home, these are for you. You can even make your own homemade vegan chocolate bars with healthy ingredients to melt, too.
The only two ingredients you'll need
Equipment needed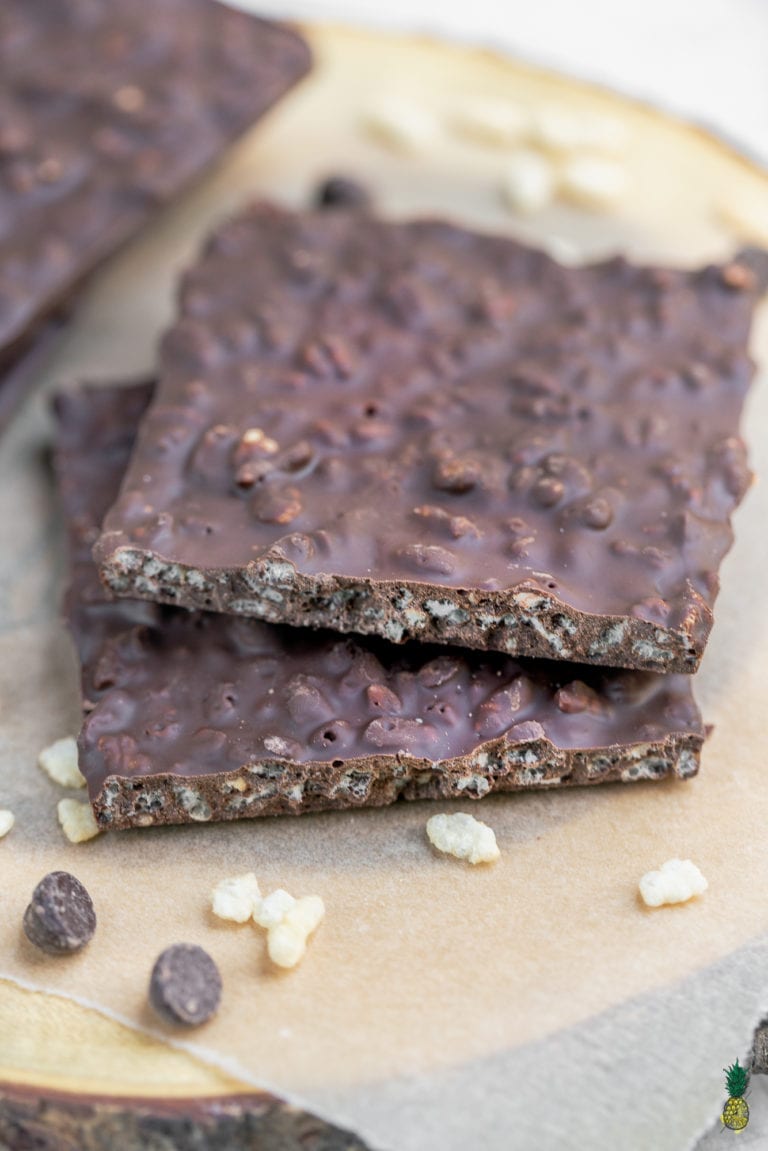 How to make homemade crunch bars
Melt the chocolate. Bring a small pot of water to a boil. Once boiling, reduce the heat and place a fitted glass or ceramic bowl over the water. Add the vegan chocolate chips into the upper bowl or pot and allow the chips to melt slowly. Mix often with a spatula until the chocolate has completely melted.
Add in the crispy rice cereal. Remove the bowl with the melted chocolate from the heat and place it on a heat-safe surface. Pour in the crispy rice cereal and mix until uniform.
Pour into chocolate molds. Pour the chocolate mixture into the molds or onto the lined baking tray. Smooth it out with a spatula until in an even layer.
Set in the refrigerator. Place in the refrigerator (or freezer) for about 10-15 minutes or until the chocolate has set and is firm to the touch.
Enjoy. Allow the chocolate crunch bars to sit at room temperature for about 5 minutes to soften before enjoying.
Variations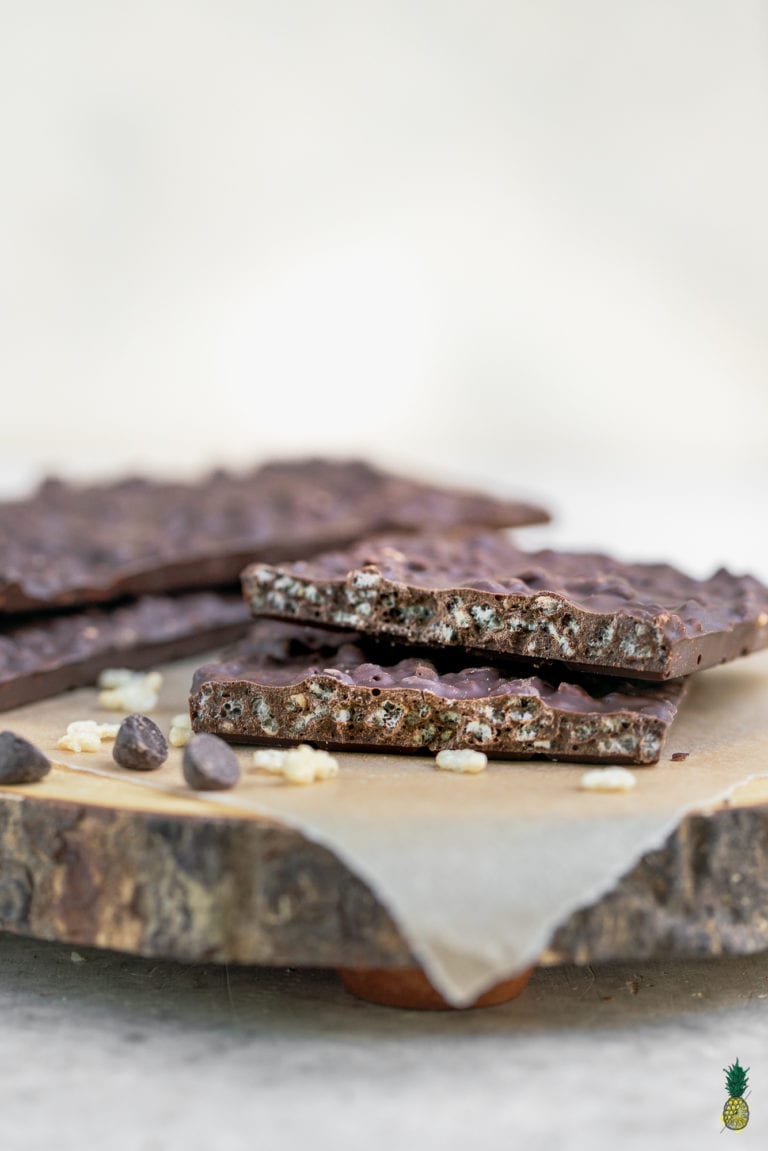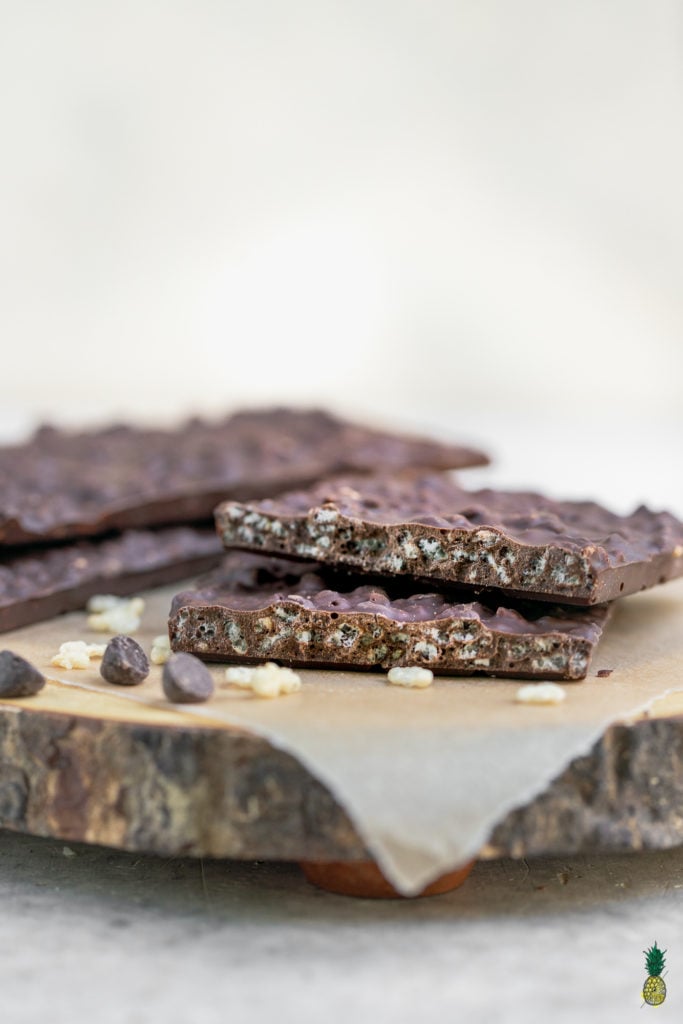 FAQs
Are crunch bars gluten-free?
Yes, both the original Crunch candy bars and this homemade chocolate crunch bar do not contain wheat or other forms of gluten. That said, the nutritional label for the store-bought Crunch candy bars says "may contain wheat." This means that Crunch candy bars are processed in a facility that produces other products that contain gluten, and cross contamination is possible. If you are gluten-intolerant, we highly recommend making our homemade chocolate crunch bars with gluten-free certified ingredients to be safe.
What brand of chocolate chips are vegan?
Several brands of dark chocolate chips available today are "accidentally" vegan, meaning they are naturally made without animal products but likely aren't labeled vegan. The best way to know if the chocolate chips you are looking at are vegan is to look at the ingredients. If the chocolate chips contain milk, it will always say "contains milk" at the end of the ingredient list. Watch out for ingredients like milk, milk fat, and skim milk. Cocoa butter, on the other hand, is vegan! Enjoylife makes a line of allergen-friendly chocolate chips that are all vegan-friendly and easy to find.
Does the crunch bar have peanut butter?
The original Crunch bar does not have peanut butter. If you'd like to make a peanut butter variation, try adding 2 tablespoons of runny peanut butter to the mix.
Is the Crunch bar still owned by Nestle?
The Crunch bar was invented by Nestle in 1938 and is still produced by Nestle everywhere except in the United States. As of 2018, the company Ferrero produces the Crunch bar in the United States.
Storage and Freezing Instructions
Chocolate crunch bars will last for up to 1 month in the refrigerator or 6 months in the freezer. For best results, store in an airtight container or silicone bag.
More vegan chocolate candy bars you may enjoy:
Make sure you tag us on Instagram @sweetsimplevegan and @consciouschris and hashtag #sweetsimplevegan if you recreate any of our recipes. We love to see your photos! 🙂
Print
Homemade Crunch Bars (Just 2-Ingredients)
---
Author:

Total Time:

25 minutes

Yield:

2 bars
Description
All you need to make this classic chocolate bar is 2 ingredients and 25 minutes of your time! These copycat homemade crunch bars are easy to make, delicious, vegan, and taste just like the original without any weird ingredients.
---
1 1/2 cups

vegan chocolate chips*

3/4 cup

crispy rice cereal
---
Instructions
Prepare your chocolate molds or a small baking tray. We used these chocolate molds for the recipe, but you can also use a baking sheet or a pan of choice if you do not mind the chocolate in a different shape. Simply line a baking sheet (or dish) of choice with parchment paper. It is ideal for the dish to be very narrow as it will result in a better thickness. Set aside.
Prepare a double boiler: Bring a small pot of water to a boil. Once it is boiling, reduce the heat to a simmer and place either a fitted glass (or ceramic) bowl or another smaller pot over the water. The key here is to make sure that water does not get into the bowl or pot and mix in with the chocolate. Add the chocolate chips and allow them to slowly melt, mixing often with a spatula. Once the chocolate has melted, turn off the heat and remove the upper bowl or pot.
Set the pot with the chocolate on a heat-safe surface and add in the rice cereal. Mix through until uniform.
Pour the chocolate mixture into the molds or the lined baking tray. Smooth it out with a spatula and set in the refrigerator or freezer for about 10-15 minutes to set.
Remove the chocolate from the molds and allow it to sit for 5 minutes before digging in.
Notes
You can use dark or vegan milk chocolate chips. The latter is more spot on with the original bar, but we used dark.
We used these chocolate molds for the recipe.
Quinoa puffs or another small cereal would work well in place of the rice puffs.
Prep Time:

25 minutes

Category:

Snack, Dessert

Method:

Stovetop

Cuisine:

Candy, Halloween
Keywords: Snack, Dessert, Crunch, Stovetop, Candy, Halloween
Nutrition facts label provided by Nutri Fox.
Disclaimer: The nutritional information shown is an estimate provided by an online calculator. It should not be considered a substitute for a professional's advice. This page may contain affiliate links, which simply means that we earn a commission if you purchase through those links, but your price remains the same. Thank you for supporting Sweet Simple Vegan!