Easy vegan chicken parmesan that's just like the classic Italian dish you know and love. This recipe is ready in under an hour and is sure to be a hit with vegans and non vegans alike.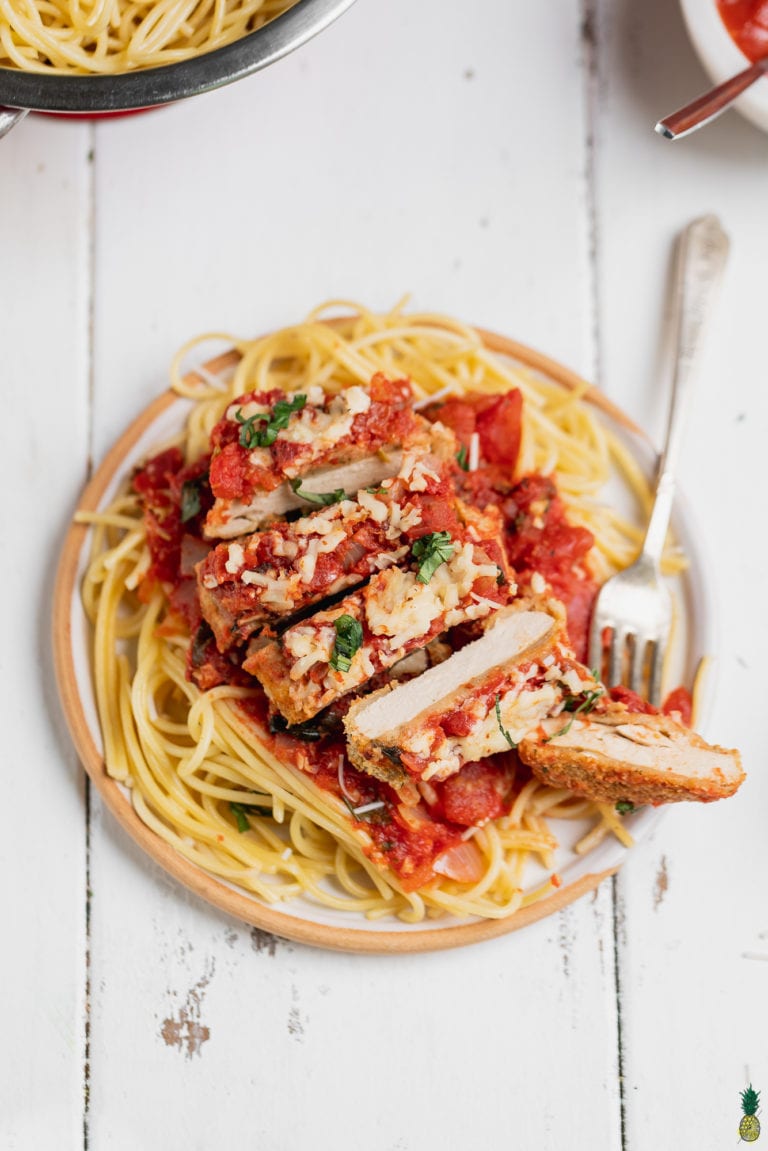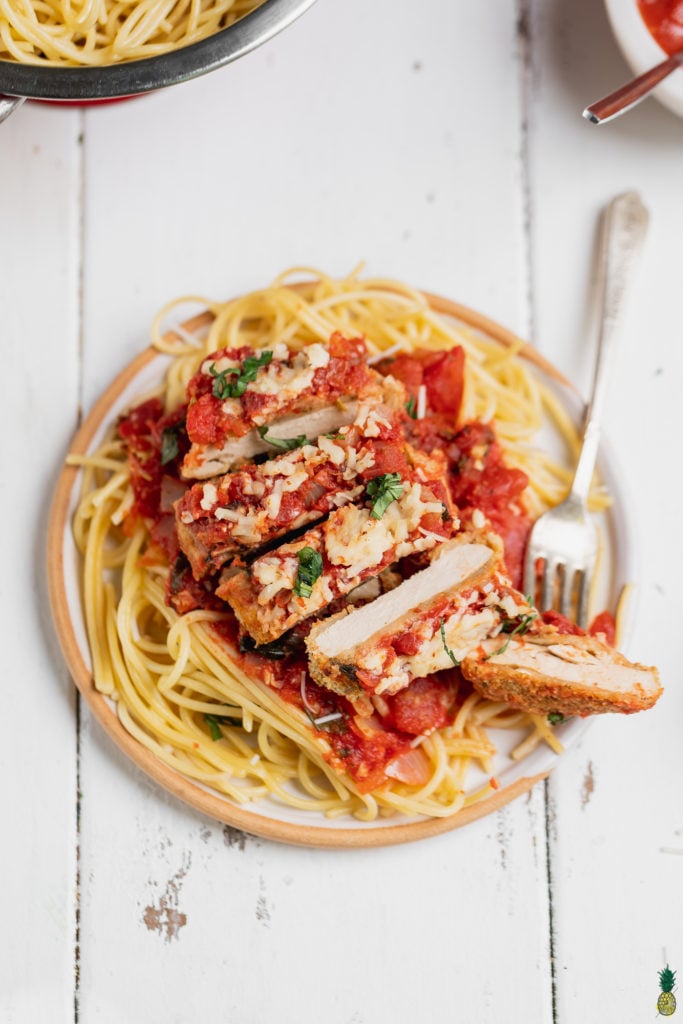 I grew up in an Italian household and Chicken Parmesan used to be one of my favorite dishes. It's cool to be able to veganize Italian classics like this one and have them taste just like I remember. My mom would be proud! Haha but really, I can't wait to make this for my parents when I see them in a few months because this one is going to really hit home for us all.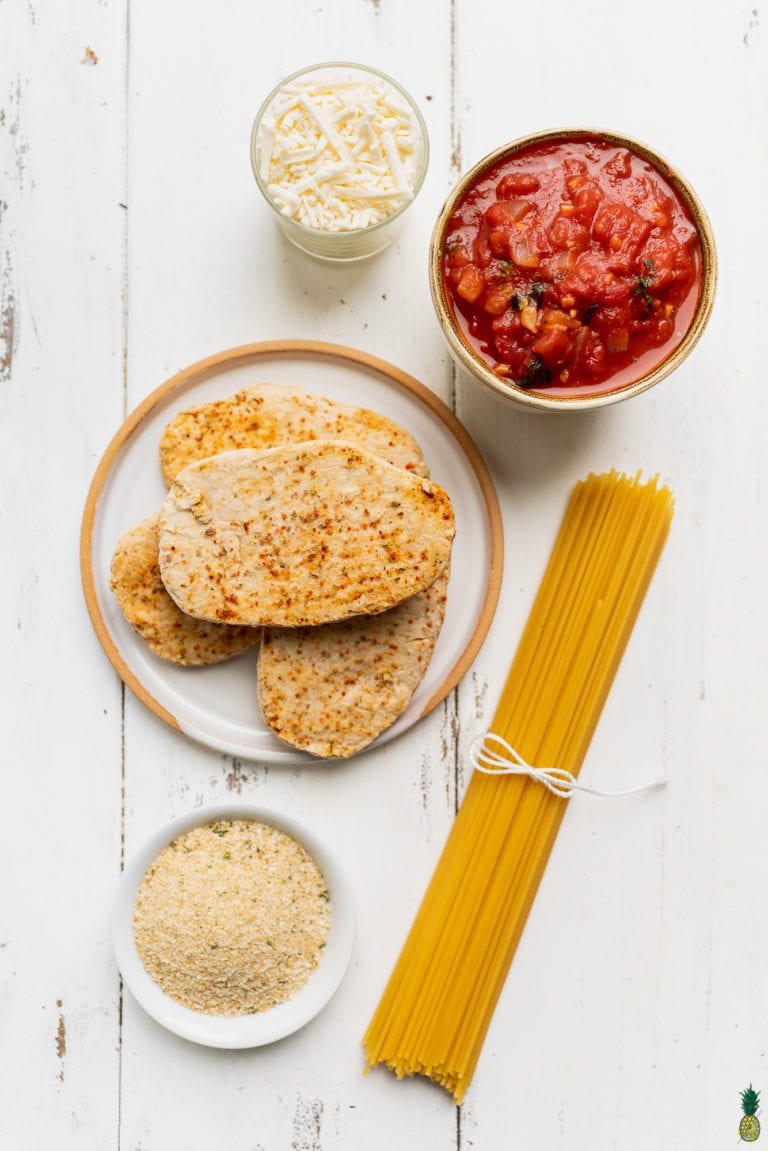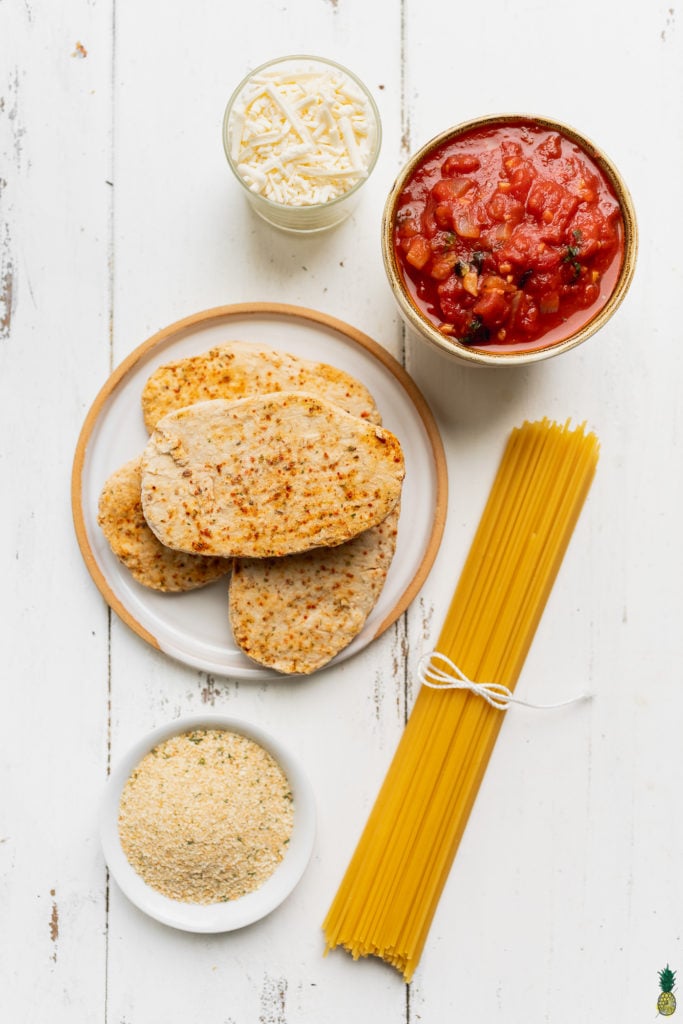 For this recipe, we used the Gardein Chick'n Scallopini, our Homemade Vegan Marinara recipe, and the So Delicious Mozzarella Shreds. We opted for store bought items as we felt that it was the most practical and that tye were the most approachable for our audience.
If you would like to make everything homemade, we do have recipes for Stretchy Vegan Mozzarella Cheese and Vegan Chicken Nuggets (that you can convert into cutlets) if you are interested in that. If you do make everything homemade, high five to that, you are a champ!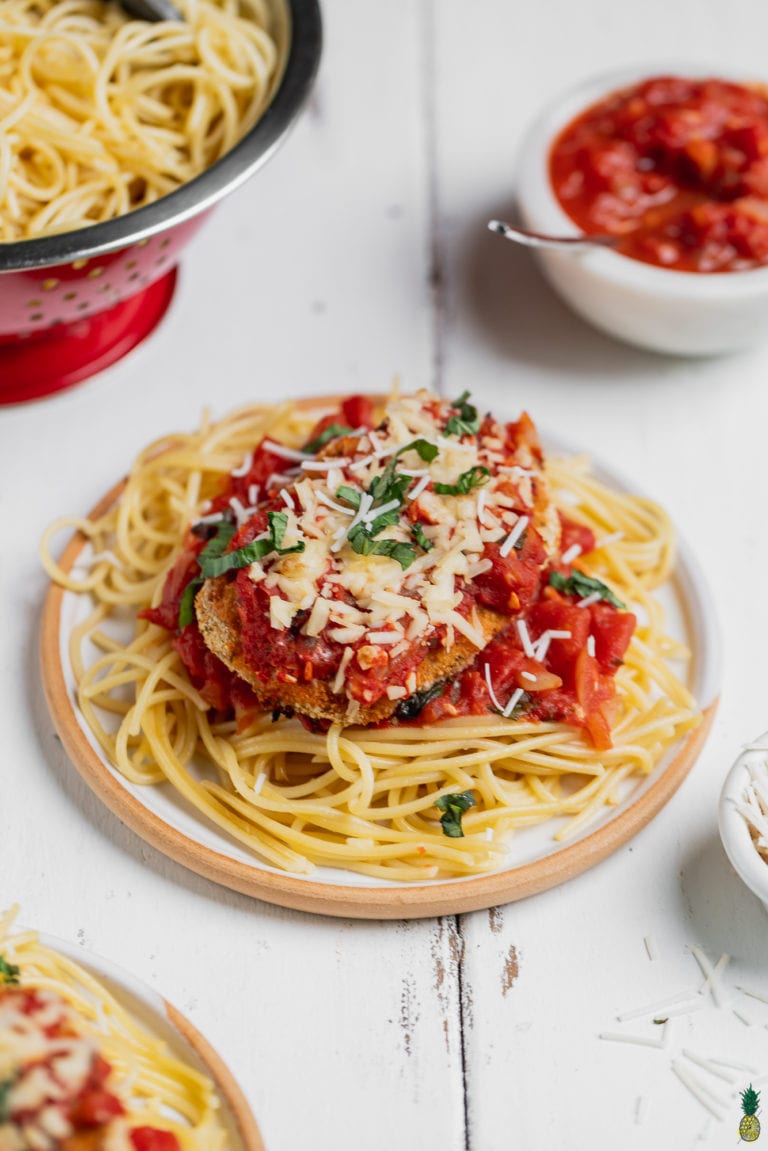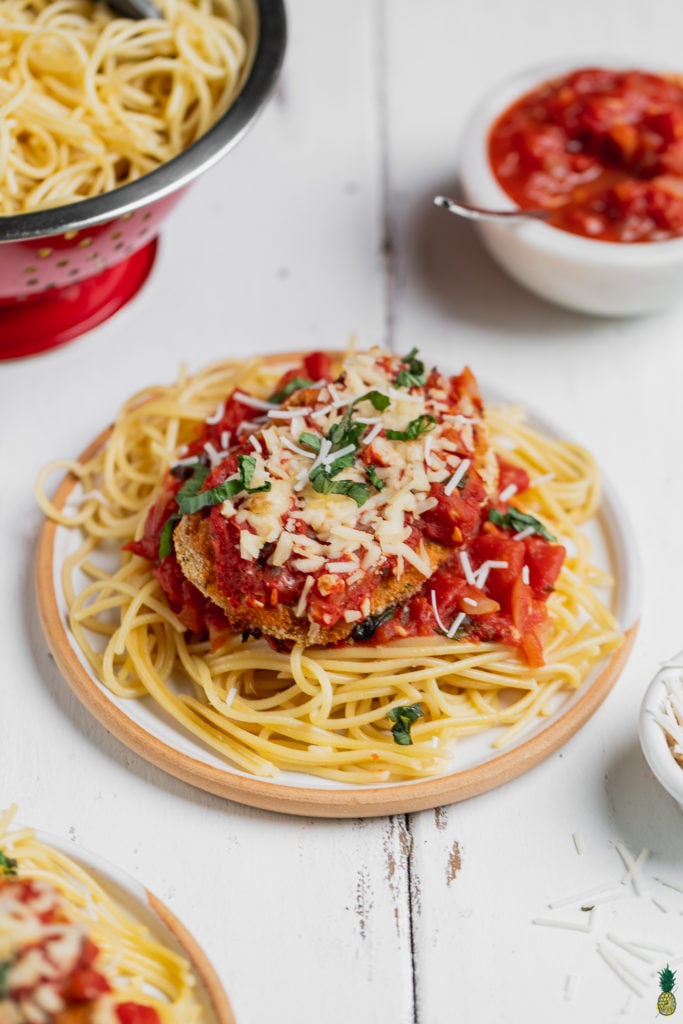 This recipe is a part of our vegan pasta challenge on our youtube channel! It is not live just yet, so stay tuned for it 😉 In the meantime, head to our channel for some other awesome videos!
If you're looking for more vegan pasta recipes, we've got you covered! Check these out:
We hope that you all love this recipe as much as we do! If you make this recipe and happen to snap a pic, make sure you tag us on Instagram @sweetsimplevegan and @consciouschris and hashtag #sweetsimplevegan if you recreate any of our recipes. We love to see and repost your photos!
Print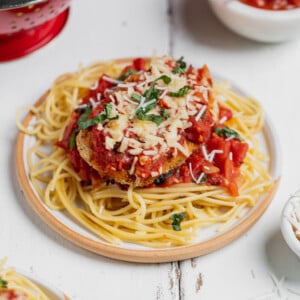 Easy Vegan Chicken Parmesan
---
Author:

Total Time:

50 minutes

Yield:

4 servings
Description
Easy vegan chicken parmesan that's just like the classic Italian dish you know and love. This recipe is ready in under an hour and is sure to be a hit with vegans and non vegans alike.
---
Breaded Vegan Chicken
1

package Gardein Chicken Scallopini (

4

pieces) OR Homemade Seitan Chicken* (see notes)

1/2 cup

 unsweetened almond milk

1/2 cup

 + 

2 tablespoon

s all-purpose flour

1/2

 teaspoon garlic powder

1/2

teaspoon onion powder

1/4 teaspoon

 salt

Pinch of

black pepper

1/3 cup

Italian bread crumbs* (be sure they are vegan; see notes)
Additional Ingredients
1/2

lb. vegan spaghetti noodles of your choice

1/4 cup

shredded basil

1/2 cup

marinara sauce + more for serving

1/4 cup

vegan mozzarella shreds
Vegan parmesan cheese, for garnish
---
Instructions
Preheat oven to 425°F and line a baking sheet with parchment paper or a silicone mat.
In a medium bowl, add in the almond milk, 2 tablespoons of all-purpose flour, garlic powder, onion powder, salt, and pepper. Whisk together until all ingredients are well combined. Set aside. In another medium bowl, add the Italian breadcrumbs and set aside. Lastly, in a third bowl, add the remaining 1/2 cup all-purpose flour and set aside.
Create a breading station: line up the almond milk batter, all-purpose flour, bread crumbs and the lined baking sheet. Also grab 4 forks.
Get the Gardein Chicken ready. Use one set of the forks ("wet-forks") to pick up one piece of the vegan chicken and submerge it completely in the almond milk batter. Shake off any excess and then drop it into the flour. Using the second set of forks (dry-forks), coat it completely in the flour. Pick up the chick'n using the "wet forks" and dunk it back into the batter, shaking off any excess. Drop the chick'n into the breadcrumb mixture and then using the "dry forks", generously coat it. Transfer the breaded chicken onto the lined baking sheet and continue until you have coated all of the vegan chicken. It is important to use the "wet forks" only for the batter and then the "dry forks" only for the flour and bread crumbs as this will prevent clumping and will also create less mess.
Once all of the chick'n pieces are coated, pop them into the oven and bake for 25 minutes, flipping halfway through.
In the meantime, bring a large pot of salted water to a boil. Once boiling, add in the spaghetti and cook according to package instructions.
Remove vegan chicken from oven. Top each piece with 2 tablespoons of marinara and 1 tablespoon of vegan mozzarella cheese. Place them back in the oven and bake for an additional 5-8 minutes, or until the cheese is melty*.
Drain pasta and divide it amongst 4 plates. Add your desired amount of marinara sauce and then top it with the chicken parmesan. Garnish with basil and vegan parmesan as desired. Enjoy!
Notes
It helps to use two sets of two forks, 1 set for the battering and 1 set for the coating. This will help to avoid clumping.
You can also use plain bread crumbs and add in 1/3 tablespoon of Italian seasoning if you cannot find vegan breadcrumbs.
If cheese doesn't melt, you can broil on high for a few minutes to help in the process. Please be very careful and watch your food diligently because it can burn.
If you are going to use our vegan chicken recipe for this, just keep in mind that you will need to make larger pieces. Use that recipe until you have boiled the seitan pieces and then continue with the breading as directed in this recipe. You will also not need to deep fry the chicken (unless you want to).
You will be left with extra batter and breadcrumbs. We tried halving those components of this recipe but it ended up being too little/hard to coat the vegan chicken.
Prep Time:

20 minutes

Cook Time:

30 minutes

Category:

Entree, Dinner

Method:

Oven

Cuisine:

Vegan, Italian
Keywords: Entree, Dinner, Vegan, Italian, Parmesan, Chicken