We are so excited to be sharing this recipe with you all and teaching you how to make the absolute BEST hummus at home.
Homemade hummus is so easy to make and is better than anything you can find in stores…trust us. With just a few simple ingredients and a little bit of patience, you'll be well on your way to a party in your mouth!
From our experience, here are our top tips for making hummus:
Cook some fresh chickpeas, avoid using canned!
Save some of the chickpea cooking liquid (aka aquafaba) for blending instead of water.
Be sure that the chickpeas and aquafaba are ICE COLD before processing them.
Use high-quality and extra smooth tahini– trust us, this makes a HUGE difference.
Roasted garlic is where it is at…and lots of it, too.
We blend our hummus in the food processor for a total of 11 minutes and we definitely recommend the increased blending time to get your hummus extra smooth and super fluffy.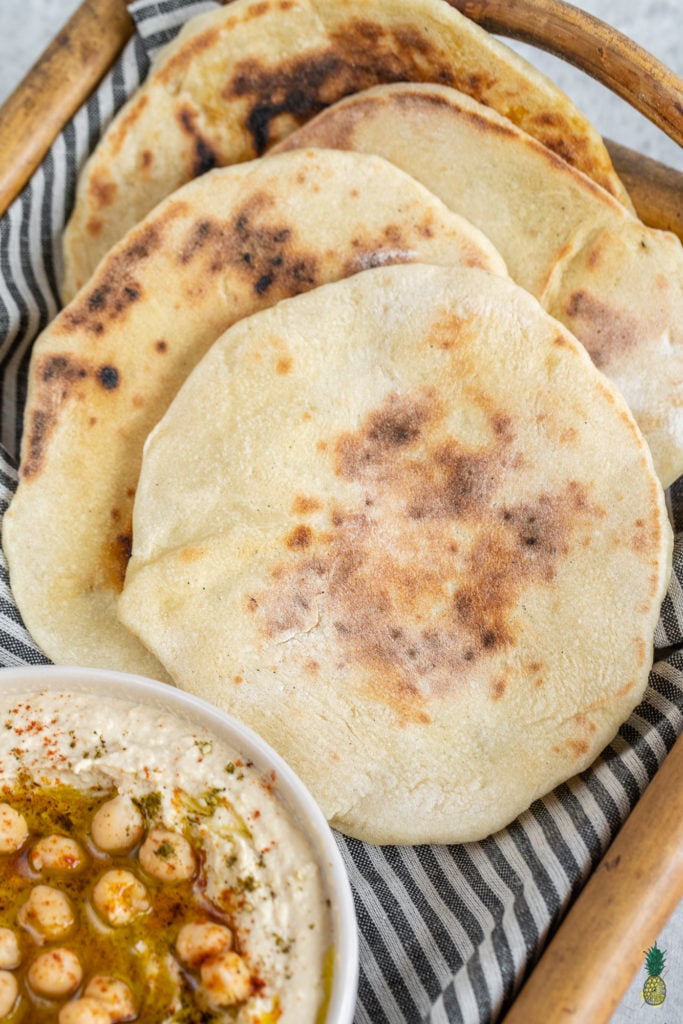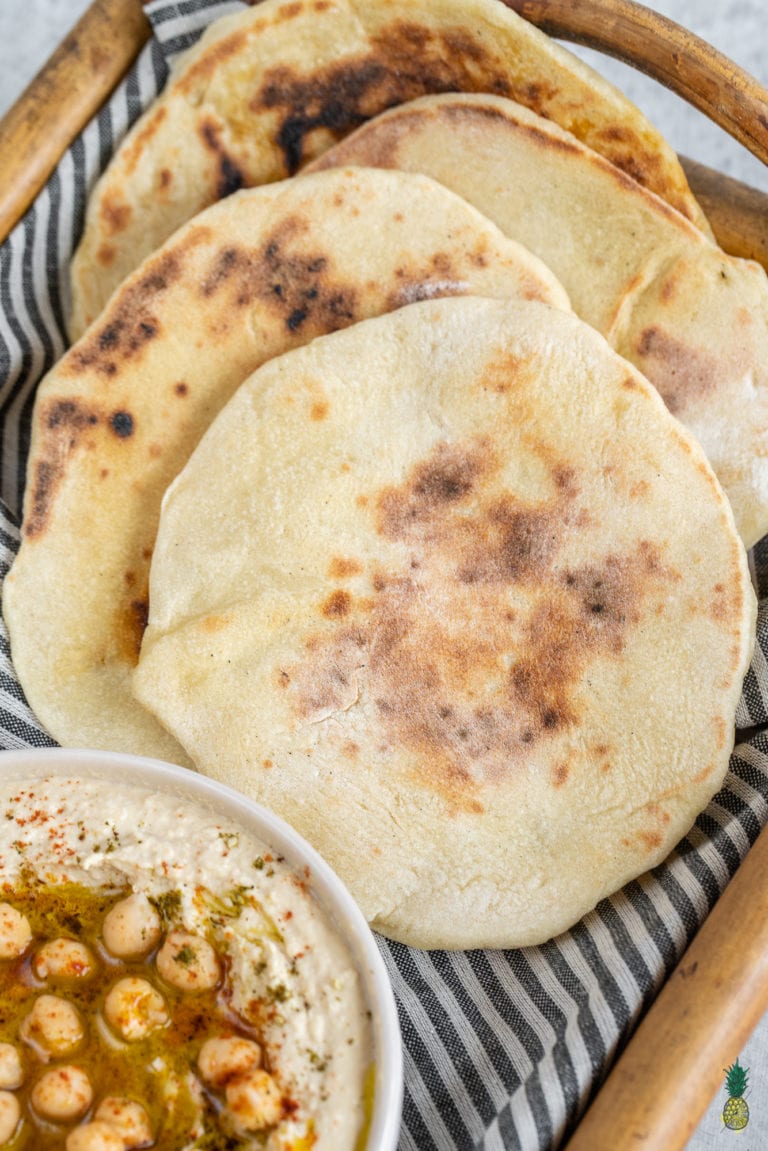 What is hummus without some pita bread, right?
Well, good news! We put together a how-to blog post on homemade pita bread that you definitely don't want to miss. The recipe is pretty simple and requires just 5-ingredients! You can find the full recipe here.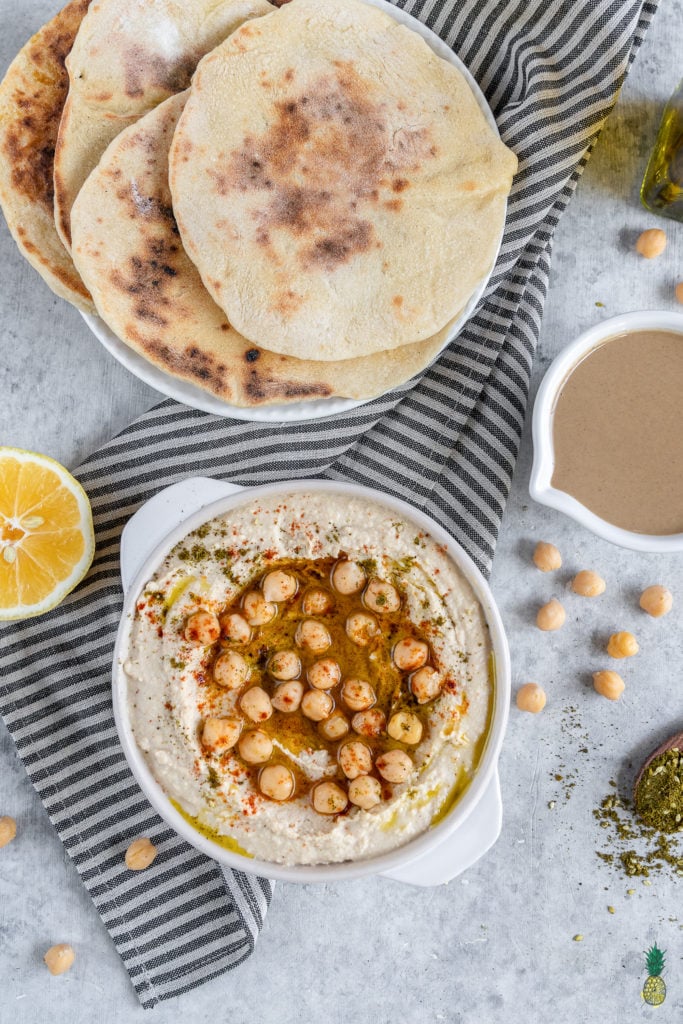 As always, if you make this recipe, let us know what you think in the comments below! + If you post any photos on Instagram, make sure you tag us @sweetsimplevegan and @consciouschris so that we don't miss it, we love seeing your photos!
Print
How To Make The Best Hummus At Home
Author:

Yield:

3 3/4 cups or 15 (1/4 cup) servings
---
Description
Learn how to make the BEST hummus at home. It is SO easy to make and is better than anything you can find in stores. With just a few simple ingredients and a little bit of patience, you'll be well on your way to a party in your mouth!
---
Ingredients
1 1/3 cup dried chickpeas (or 4 cups cooked)
1/2-3/4 cup reserved chickpea liquid (aquafaba)
1/2-1 head of garlic, as desired
1/3 cup fresh lemon juice
1 1/4 teaspoons pink Himalayan salt

1/3-⅔ cup tahini (to taste)
¼ teaspoon ground cumin (optional)
Black pepper, to taste
Pita bread, to serve
Top with:
Olive oil
Smoked paprika
Za'atar
---
Instructions
Place the dried chickpeas in a large bowl and cover them with about 3 times their amount of water. Soak at room temperature overnight or for at least 8 hours.
Drain the chickpeas and place them into a pressure cooker with about 3-4 inches of water. Cook on high pressure for 25 minutes or until very soft. Allow the chickpeas to cool to room temperature.
Reserve about 3/4 cup of the cooking liquid and discard the remaining. Rinse the chickpeas and place them along with the reserved liquid in the freezer for 1 hour to until chilled throughout.
Cut the top off of a head of garlic and place it into a sheet of foil with a drizzle of olive oil. Roast at 350°F for 40 minutes and cool until easy to handle.
Place 3 2/3 cups of the cooked chickpeas in a food processor (save the rest for topping the hummus), along with about half to the full head of the roasted garlic (as desired), lemon juice, 1/2 cup of the cooking liquid and salt. Blend for 3 minutes or until very smooth.
Add the tahini and blend for another 8 minutes, or until very smooth and fluffy.
Add more of the aquafaba if you feel the hummus is too thick and adjust the seasonings and tahini to taste.
Serve the hummus in wide bowls and top it with the cooked chickpeas along with any toppings of choice. We topped ours with paprika, olive oil, and za'atar.
Store the hummus in an airtight container in the fridge for up to 3 days.
---
Notes
Keep in mind the hummus will get thicker in the fridge as it sits.
Nutrition facts label provided by Nutri Fox.
Disclaimer: This page may contain affiliate links, which simply means that we earn a commission if you purchase through those links, but your price remains the same. Thank you for supporting Sweet Simple Vegan!