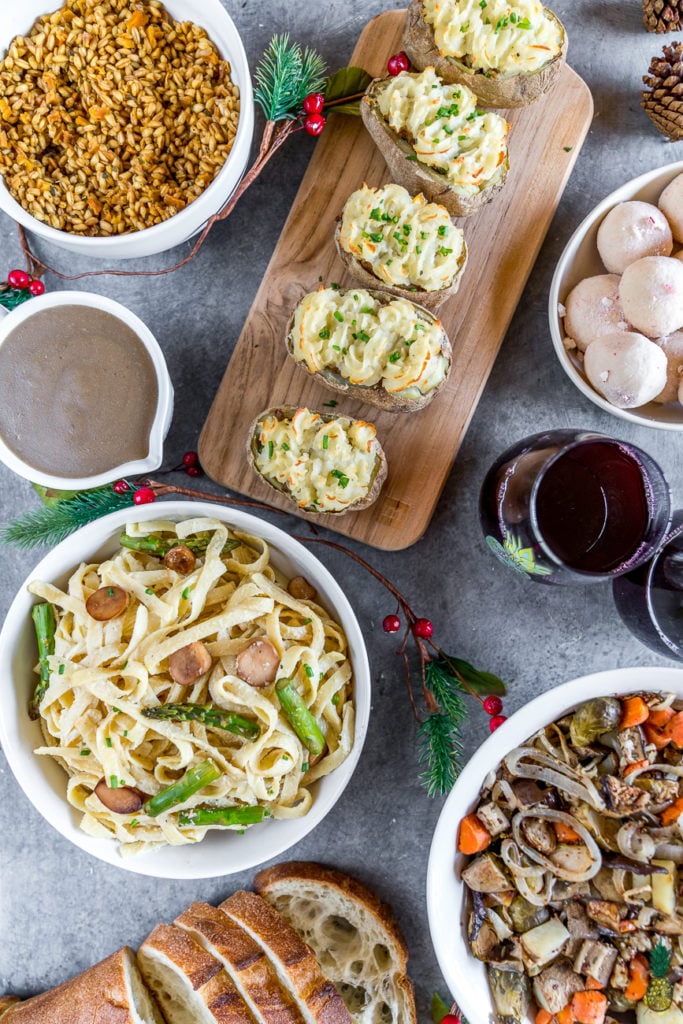 A complete holiday dinner with all of the fixings for under $40! You read that right, feed 4-6 hungry people a hearty and delicious meal without breaking the bank. We partnered up with Whole Foods Market 365 to bring you this epic holiday feast! They made it super easy to find fresh, quality ingredients at affordable prices. Let's do this, shall we? 
The Santa Monica Whole Foods Market 365 opened fairly recently and we were excited to visit the store as we put together our affordable holiday menu. If you are unfamiliar with the concept of the store, it is more value-driven than the traditional Whole Foods Market and focuses on the mission of making fresh healthy foods more readily available and affordable…365 days a year. Whole Foods Market 365 stores offer a simple way to shop for healthy, high-quality food at great prices and helped us cut down the bill on an otherwise expensive holiday menu!
Appetizer:
Our take on a traditional shepherds pie! Instead of using a boring old dish for your pie, we made single-serve potato boats to house this delicious creation. Made with Beyond Meat beefy crumbles, russet potatoes, and some frozen veggies we scored at Whole Foods Market 365, we were able to make 8 of these boats for under $8.00! We paired these with a delicious pre-made brown gravy that was only $2.99! 
Side Dishes:
Let's be honest, what's a meal without some tasty side dishes? This vegetable medley consists of potatoes, brussels sprouts, carrots, eggplant, and onions, tossed in a super tasty mustard dressing and roasted to perfection. All of the vibrant produce was obtained for only $5.00, talk about a steal!
We also made a yummy boxed Pumpkin Pilaf and Vegan Mushroom Gravy from their store that was the perfect additions to our meal. It was as easy as adding water and the spice packet to the pilaf and warming the gravy up for a few minutes, and they both only cost $2.99 each!
Entree:
Now for the most important part of the meal (aside from dessert), the entree! For this recipe, we decided to keep this simple without sacrificing any flavor. We cooked up a creamy cashew alfredo with fettuccine pasta topped with king oyster mushroom scallops and grilled asparagus. We were able to make 4 hearty / 6 regular sized portions for under $10 thanks to the affordable yet quality products available at Whole Foods Market 365.
Dessert:
Finally, for dessert, we made these delectable peppermint melt away cookies that literally melt in your mouth. The sweet dough combined with the fresh peppermint flavor is a true match made in heaven. We made a whole slew of cookies for just $6! 
If you're in the Los Angeles area, we encourage you to head over to Whole Foods Market 365 and pick up all of the fresh and affordable ingredients you need to make this delicious menu!