Creamy, chocolatey, melt-in-your-mouth goodness that is oil- gluten- & refined-sugar free…can I get a what what?
I had tahini leftover from my Curried Tahini & Potato Dip that I made last week, but I wasn't in the mood for another savory recipe. So naturally what do you do when you have leftover nut or seed butter? Well COOKIES, of course 😉
I created a recipe video for these cookies, and I hope you enjoy! Let me know what you think <3
I actually wanted to take some secondary lifestyle shots with this recipe, but my family had gobbled them up way too fast! One of my greatest pleasures in life is being able to share my recipes with all of you all, and with my loved ones in my home. It is like I am sharing my art with them and they are immersed in the love and emotion that went into the making of whatever dish it may be. I don't know if I sound crazy right now (haha!), but I just wanted to share that little bit 🙂
And these are not just any other cookie recipe, this is a cookie that is packed with nutrients– most especially from the tahini (packed with magnesium, Vitamin E, calcium + so much more), turmeric (which helps fight inflammation and may be able to improve endothelial function).
And black pepper in cookies…why?! Well, did you know that black pepper (piperine) can actually boost blood levels (bioavailability) of curcumin from turmeric by up to 2,000%.
If you want to read more on this amazing duo, I would recommend Nutritionfacts.org. It is my favorite resource for nutrition facts run by Dr. Michael Greger. The site is a strictly non-commercial, science-based public service provided by Dr. Greger. With more than a thousand videos on nearly every aspect of healthy eating, he works to provide free updates on the latest in nutrition research via bite-sized videos and articles uploaded every day. I am in no way affiliated with the site, although I would totally love to work alongside Dr. Greger one day (the dream), I simply would just love to share the platform and nutritional knowledge with you all as well.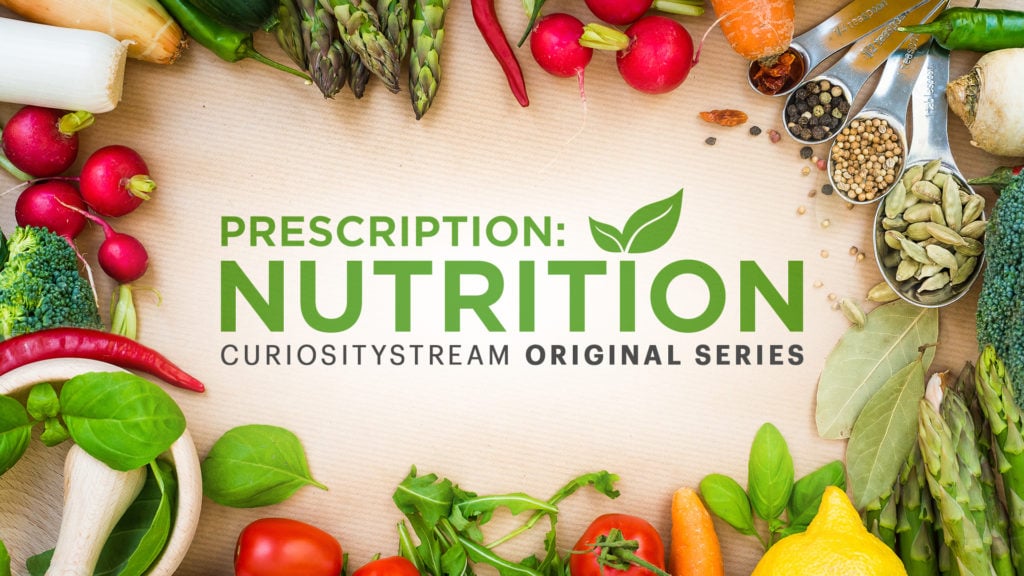 I also wanted to share with you all a new series called Prescription: Nutrition— a 4 part series on the powerful benefits of plant-based eating. I recently learned about it and watched the first episode that aired last week, and let me just say that it is my kind of series, one focused on nutrition and something that I can learn from. OH AND Dr. Michael Greger is a part of this series as well! Not only does it explore the extraordinary health benefits of plant-based diet, it also goes into the amazing revolution taking place on how we approach our relationship with food.
CuriosityStream is giving you all TWO free months on their documentary streaming service with the code "healthyeating", so that your trial will cover ALL of the episodes of the series! Share this with your friends and family, and let us have the knowledge and education go around!
You can see a preview of the series below if you would like 🙂
The series includes the extraordinary health benefits of plant-based diets w/ Dr. Greger, how a diet comprised of whole, plant-based foods can dramatically improve well-being and longevity, how the industrial revolution opened the floodgates for highly-processed convenience foods and how natural, whole grains support longevity and lower the risk of heart disease, new evidence that proves diets high in beans are one of the most important dietary predictors of survival, and a healthy alternative to added sugar, one of the worst ingredients in the modern diet.
The series is available on CuriosityStream – a on demand site for documentaries – and you can watch it from all devices. This post is NOT sponsored, and all opinions shared above are my own! I want to be able to help anyone that is interested learn more about plant based nutrition, and this is a perfect way to do so.
Okay now back to them cookies 😉
Make sure you tag me on Instagram @sweetsimplevegan or twitter @sweetsimpleveg and hashtag #sweetsimplevegan if you recreate any of my recipes, I love to see your photos!
Print
Date-Sweetened Turmeric Tahini Chocolate Chip Cookies
---
Author:

Total Time:

20 minutes

Yield:

16
3/4 cup

gluten-free quick oats

1/2 cup

vegan chocolate chips or chunks*

1/2 cup

tahini

1/3

–

1/2

cup medjool dates, pitted & packed (depending on how sweet you want it, I used 1/3)

3 tbsp

almond milk

3/4 tsp

cinnamon

1/2

–

1

tsp turmeric (depending on your preference)

1 tsp

vanilla extract
Pinch of salt
---
Instructions
Preheat oven to 350 F and line a cookie sheet with parchment paper or a silicon baking mat.
Process the tahini, almond milk, medjool dates, cinnamon, turmeric, salt and vanilla until smooth. Transfer into a mixing bowl and add in the remaining ingredients, stirring well to combine.
Scoop the dough into 10-12 cookies, about 1.5 tbsp each, onto a parchment lined baking sheet, then press down to flatten.
Bake for 10-12 minutes, or until lightly browned.
Remove from the oven and cool before digging in.
Notes
I usually buy my turmeric powder in bulk as opposed to small bottles as it is less money per ounce that way, so I would recommend you do the same if you eat a lot of turmeric 🙂
Since most chocolate chips have refined sugar, you can opt for cacao nibs, chocolate chunks of your favorite sugar free chocolate bar, or just leave it out 🙂
Prep Time:

10 mins

Cook Time:

10 mins
Disclaimer: This page may contain affiliate links, which simply means that I earn a commission if you purchase through those links, but your price remains the same. Thank you for supporting Sweet Simple Vegan!