These Oreo stuffed chocolate chip cookies are a must-try dessert. They are soft, chewy, and ultra-decadent!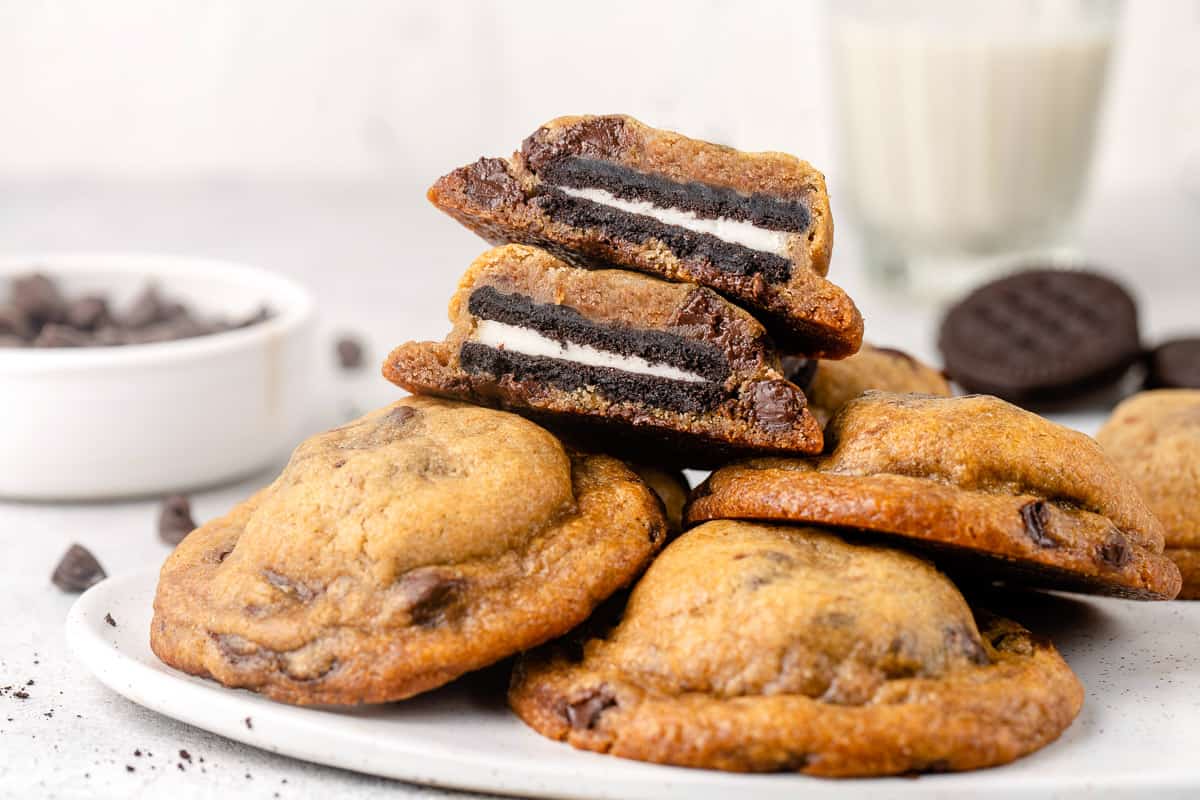 Are you a cookie fan? This recipe is for you! Why choose between chocolate chip or Oreo cookies when you can have both? Let's get baking!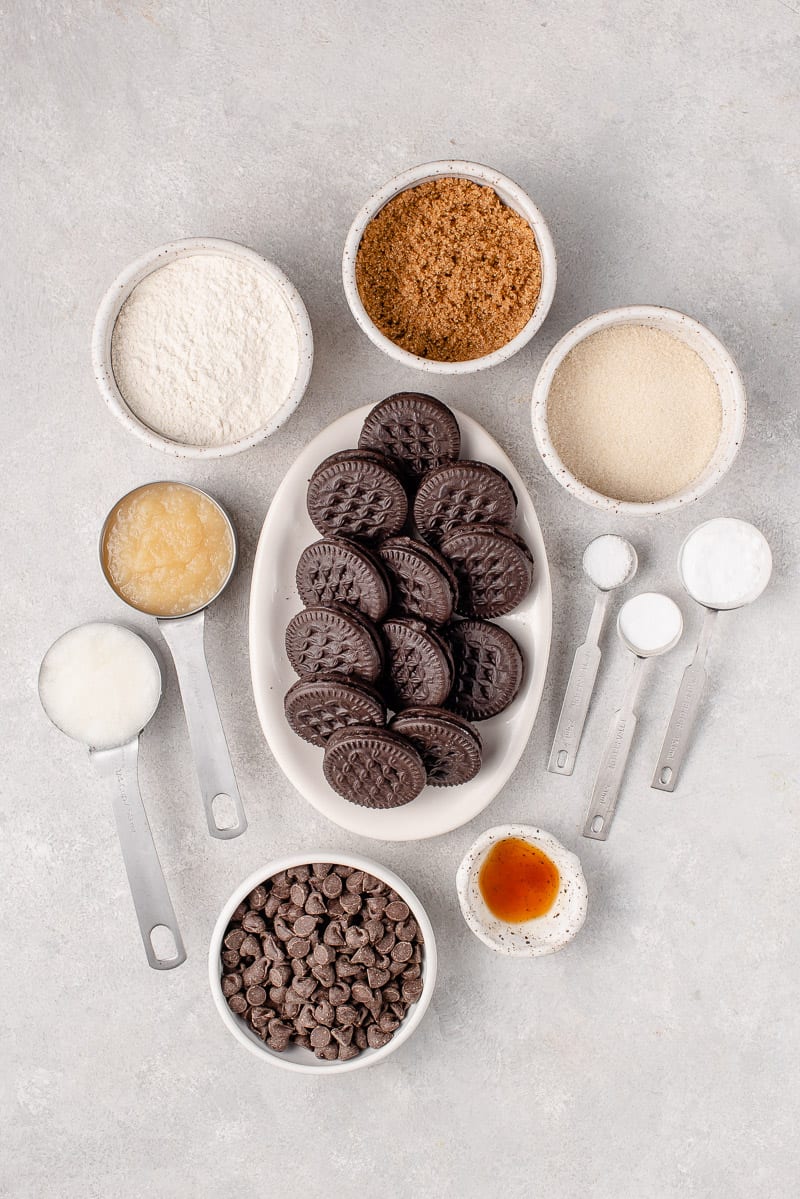 Here's What You Need to Make These Oreo Stuffed Chocolate Chip Cookies:
Chocolate Chip Cookie Dough – We like to make our own cookie dough for this recipe, but if you want to make things super simple, you can also use store-bought vegan cookie dough. If you're taking that route, we recommend EatPastry or Simple Truth.
Oreo Cookies – Of course, to make Oreo stuffed chocolate chip cookies you need Oreos. Oreos are actually accidentally vegan, so you can opt for those, but other brands that also work well here are Simple Truth and Newmans Own.
Oven or Air-Fryer? That is the Question.
These Oreo Stuffed Chocolate Chip Cookies can be made in either the air-fryer or oven. The great thing about using the air fryer is that it gets the outside of the cookie nice and crispy while the inside stays soft and gooey. Also, if you're making this recipe in the summer or when it's really hot outside, you won't have to heat your oven if you're using the air fryer. Another great thing about using an air fryer is that it will cook in less time, and at a lower temperature.
Of course, if you do not have an air fryer, using the oven works well too! The air fryer is just a fun way to take it to the next level.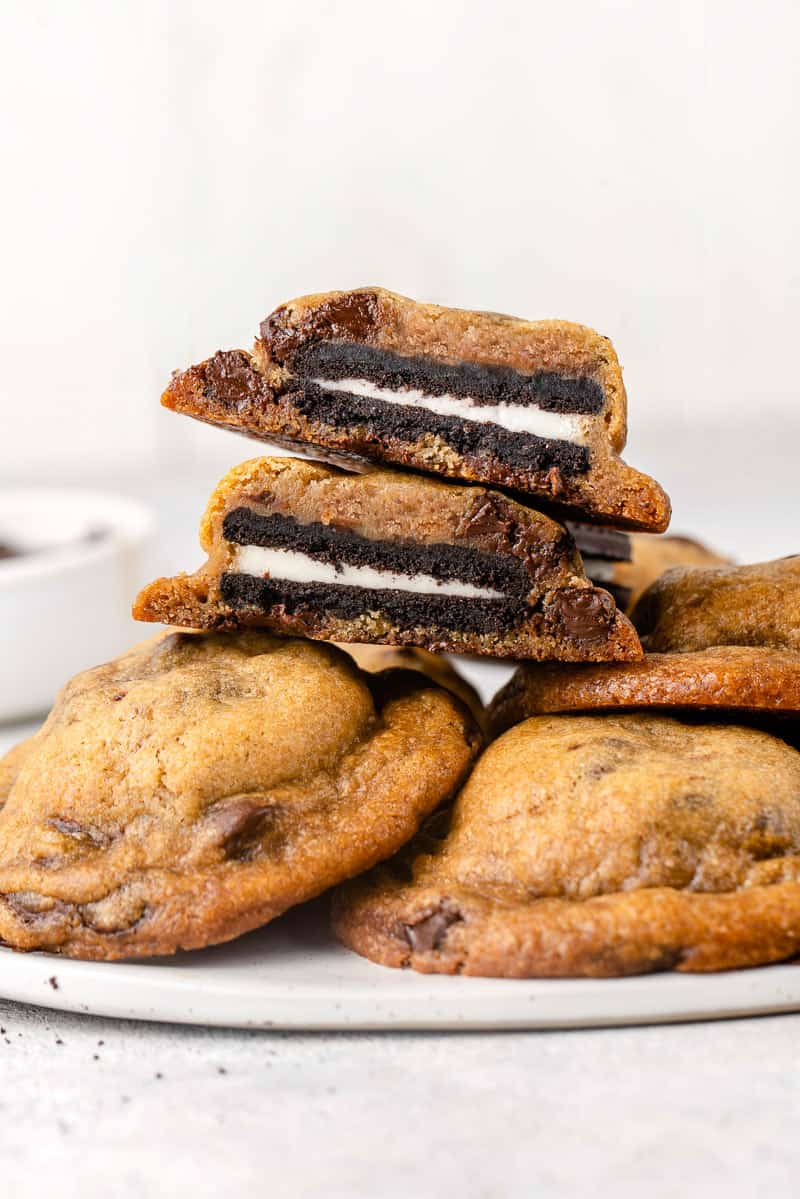 Looking for More Recipes Like This?
Make sure you tag us on Instagram @sweetsimplevegan and @consciouschris and hashtag #sweetsimplevegan if you recreate any of our recipes, we love to see your photos!
Print
Oreo Stuffed Chocolate Chip Cookies
---
Author:

Total Time:

30 minutes

Yield:

18 cookies

Diet:

Vegan
Description
These Oreo stuffed chocolate chip cookies are a must-try dessert. They are soft, chewy, and ultra-decadent! 
---
3/4 cup

refined coconut oil* (see notes)

3/4 cup

granulated sugar

3/4 cup

packed light brown sugar

1/2 cup

unsweetened applesauce

2 teaspoons

vanilla extract

2 1/2 cups

all-purpose flour* (see notes for gluten-free option)

1 teaspoon

baking soda

1 teaspoon

salt

1/2 teaspoon

baking powder

1 1/4 cups

vegan chocolate chips

18

vegan oreo cookies
---
Instructions
In a large bowl, add the coconut oil, granulated sugar, and brown sugar. Using a hand mixer (or a whisk) cream the oil and sugars together until fluffy.
Add in the applesauce and vanilla, and mix well.
Stir in the all-purpose flour, baking soda, baking powder, and salt until a dough forms. Lastly, fold in chocolate chips until well incorporated.
If you are baking them in an oven (air fryer directions below), preheat the oven to 350°F and line a baking sheet with parchment paper or a silicone mat. Keep in mind that this recipe makes 1 1/2 dozen so you will need to bake multiple batches. See notes for freezing options.
Use a 1 tablespoon-sized scooper to create balls of dough. Roll them all out and set them aside.
After you have scooped out all of your dough balls, take 2 dough balls and flatten them (one at a time) in your palms). Place one of the flattened pieces of dough in your hands, then place an oreo on top, and then add the second piece of dough on top. Gently begin to form the dough around the oreo cookie until it is completely covered. Continue with the remaining dough, you should end up with around 18. 
Oven-Baked: Place this onto your lined baking sheet and continue with the remaining cookies, placing them about 2 inches apart. Bake for 13-15 minutes, or until the edges are golden brown.
Air Fryer: Line the air fryer with foil and place the cookies in, at least 2 inches apart as they will spread out. Air fry at 325°F for 6-7 minutes, or until golden brown. Keep in mind that the first batch in the air fryer will take the longest. The subsequent batches will bake 1-2 minutes faster, so check on them regularly to prevent burning. 
The cookies will seem soft but don't worry, they will firm up while they cool. Allow the cookies to rest on the baking sheet for 1 minute after removing them from the oven or air fryer, and then carefully transfer them onto a cooling rack using a spatula. Cool until set and then dig in!
Notes
We opted for refined coconut oil in order to avoid the coconut flavor. Unrefined coconut oil will have a coconut flavor so just keep that in mind! You can use equal amounts of vegan butter in its place as well. 
We originally made this recipe with melted coconut oil but from your feedback, we updated this recipe on 5/22/21 to use room temperature coconut oil instead. This way, there is no longer the need to chill the dough and it speeds up the prep time so you can eat your cookies much sooner! 
If you would like to make these gluten-free, we recommend the Bob's Red Mill 1:1 Gluten-free Baking Flour. We tested this recipe with it and it was successful!
If you would like to save this dough for later, you can freeze it! Line a baking sheet with parchment paper and place your mounds of stuffed dough on top. You can line them up close together since you are not baking them. Chill for 30-60 minutes (the longer the better). Remove the dough mounds from the trays and transfer them to a freezer-safe bag. Be sure to keep note of when you freeze them + what time and temperature you need to bake them at! Since the dough is frozen, it might require 1 to 2 minutes or even longer for baking.
Store baked cookies in an airtight container for 1 week.
Prep Time:

15 minutes

Cook Time:

15 minutes

Category:

Dessert

Method:

Oven or Air Fryer
Keywords: Dessert, Cookie, oreo, sweet, stuffed, chocolate chip, snack
Nutrition facts label provided by Nutri Fox.
Disclaimer: This page may contain affiliate links, which simply means that we earn a commission if you purchase through those links, but your price remains the same. Thank you for supporting Sweet Simple Vegan!