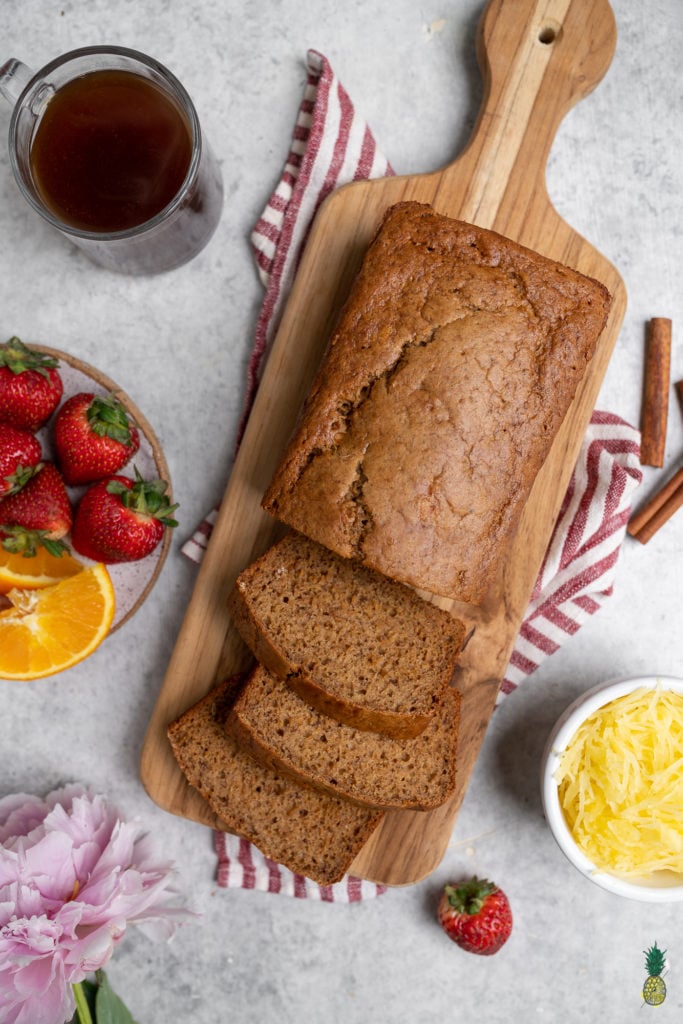 Spaghetti squash….bread? Yes, you read that right!
Zucchini gets all of the attention when it comes to bread, so we decided to highlight another less popular, but equally important, member of the squash family!
Spaghetti squash is often used in savory dishes, in place of spaghetti noodles for a low carb alternative, but today we are going to show you just how versatile this squash is and use it to make a sweet dessert-like bread! Plus it is easy to make and is ready in less than an hour.  
As some of you may know, we started to do vegan chopped challenges on YouTube every month with our friend Caitlin Shoemaker. We ask for you to vote for ingredients in the comments of the video and then we pick the top 2 from our video and Caitlin picks the top two from hers. For this month's recipe, we were challenged to work with: spaghetti squash, miso paste, aquafaba, and mango.
Our first thought? YIKES. We were terrified and honestly thought that this was going to be impossible to do. However, after about a week of recipe testing and the bouncing back and forth of ideas between Chris and I, we did it. We came up with a dish that we think would blow this one out of the water: Spaghetti Squash Bread topped with a Mango Miso Caramel.
What Caitlin put together was Toasted Coconut Baked Donuts that she topped with fried spaghetti squash, a mango glaze and a salted caramel sauce made with miso. If you don't already know, Caitlin is actually our roommate as well, so we got to try these first hand and let me tell you, these were the bommmmb.com. You definitely need to head over to her page to try them out.
Make sure you tag us on Instagram @sweetsimplevegan and @consciouschris and hashtag #sweetsimplevegan if you recreate any of our recipes, we love to see your photos!
Print
Easy Spaghetti Squash Bread w/ Aquafaba (Vegan + Oil-Free)
Author:

Prep Time:

20 minutes

Cook Time:

45 minutes

Total Time:

1 hour 5 minutes

Yield:

12 slices

Category:

Bread, Baked Goods, Dessert

Cuisine:

Vegan, Oil-Free
---
Description
A deliciously satisfying sweet bread made with spaghetti squash ready in just about an hour. Get ready for a new sweet take on this ingredient!
---
Ingredients
Wet Ingredients
1 flax egg (1 tablespoon flaxseed meal + 3 tablespoons water)
1 cup spaghetti squash, packed
1/2 cup aquafaba (chickpea brine aka liquid from canned chickpeas)
¼ teaspoon cream of tartar
½ cup mashed banana
1 tablespoon apple cider vinegar
1 teaspoon vanilla extract
Dry Ingredients
1½ cups all-purpose flour
3/4 cup coconut sugar
2 teaspoon baking powder
1 teaspoon cinnamon
1/2 teaspoon cardamom
1/2 teaspoon baking soda
1/2 teaspoon salt
Optional: ¾ cup chocolate chips or nuts
Pairs well with
Nut butter
Vegan cream cheese
---
Instructions
Preheat the oven to 400°F and prepare a bread pan by either lightly oiling it or lining it with parchment paper.
Prepare the flax egg by mixing together the flaxseed meal and water in a small bowl and setting it aside for 15 minutes to thicken.
Place the spaghetti squash, whole, into the microwave for 2 minutes. Remove and carefully slice it in half lengthwise. Scoop out and discard the seeds and inner pulp, and then transfer it into a large baking dish, cut sides down. Add about 1-inch of water into the dish and place it back into the microwave for 5-7 minutes, or until soft and cooked through. Remove from the microwave and transfer the spaghetti squash to a large place or cutting board, being careful not to burn yourself! Once it is cool enough to handle, use a fork to gently pull the squash flesh from the peel and to separate the flesh into spaghetti-like strands. Measure out 1 cup of strands (packed) and set aside. Store any extra squash in the refrigerator for other uses (it pairs well with spaghetti sauce).
In a medium bowl, mix together all of the wet ingredients except for the aquafaba. Add in the prepared flax egg and mix until everything is well incorporated. Set aside.
In a separate large bowl, mix together togeher all of the dry ingredients. Add in the wet ingredients and mix until everything is uniform.
In a separate large bowl, add the aquafaba and cream of tartar and whip with a hand mixer or a standing mixer on medium speed for 5 minutes. Increase the speed to medium-high and whip for another 5-8 minutes, or until firm peaks form. Gently fold the aquafaba mixture into the batter, being careful not to over mix it so it remains fluffy.
Pour the batter into the prepared bread pan and bake for 45-50 minutes (ours was ready in 45).
Remove from the oven and allow for the bread to cool for at least 30 minutes before serving.
---
Notes
The nutrition facts do not take into consideration the optional chocolate or nuts.
Keywords: bread, aquafaba, dessert, spaghetti squash, oil free
Nutrition facts label provided by Nutri Fox.
Disclaimer: This page may contain affiliate links, which simply means that we earn a commission if you purchase through those links, but your price remains the same. Thank you for supporting Sweet Simple Vegan!