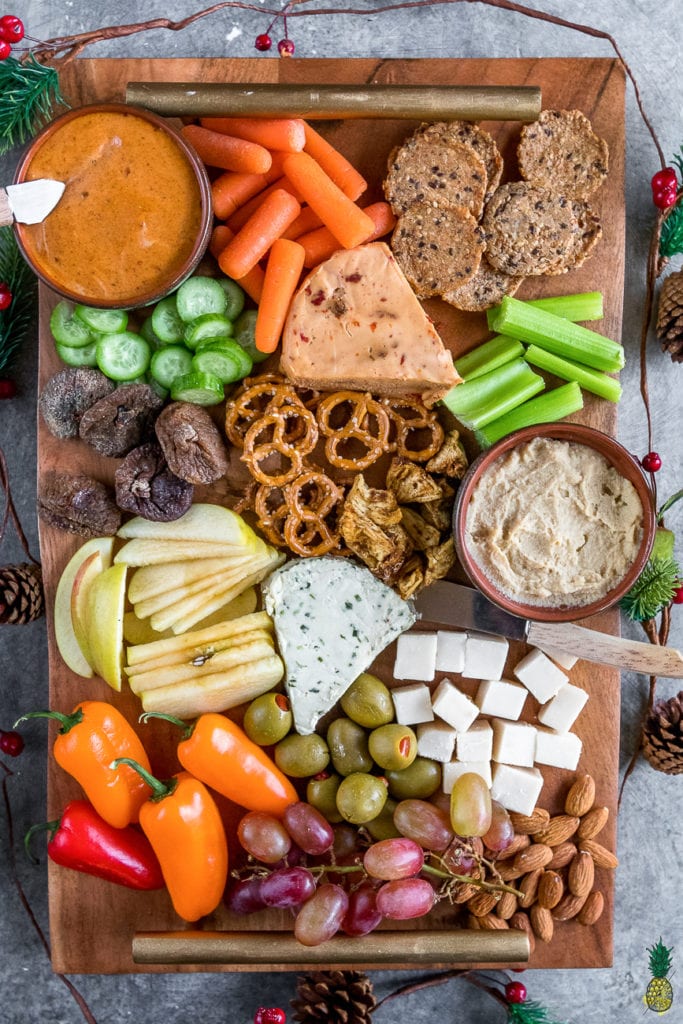 It's that time of year again! The Holiday season is among us, and as vegans, it's our responsibility to get creative and impress all of our omnivore friends and family with really really yummy foods. Today we will be sharing some ideas on how to make the perfect holiday party platter to bring to all of your upcoming holiday parties and events.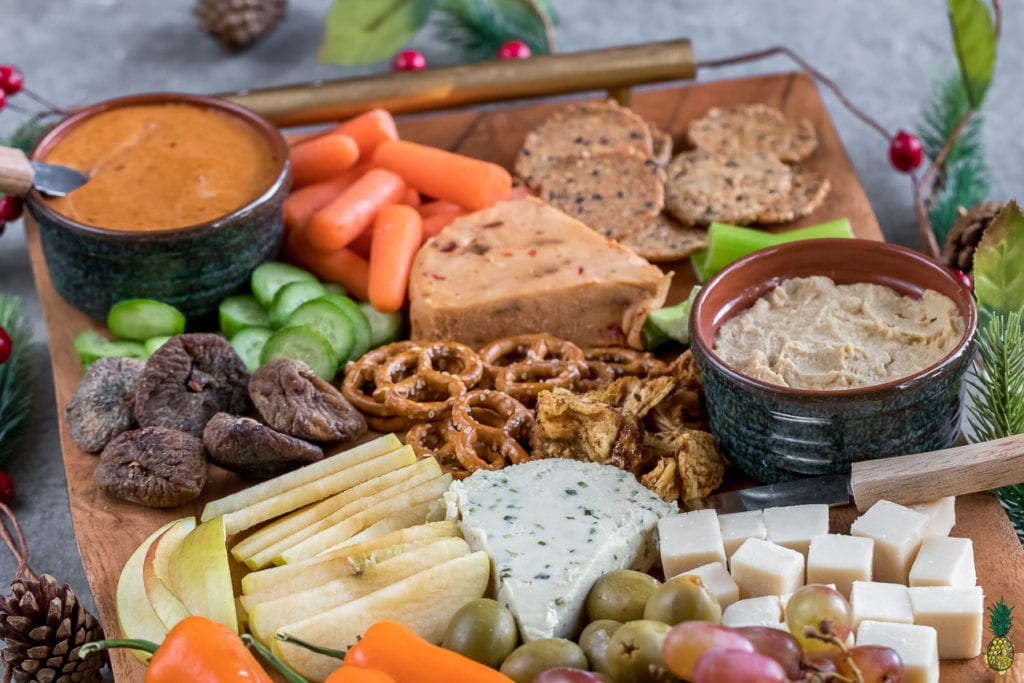 Cover all bases
The ideal holiday party platter consists of a diverse flavor and texture profile. We always aim to not only highlight everything from sweet, spicy, savory, salty, etc. but also include a wide variety of textures to complement those flavors such as soft, creamy and crunchy foods.
The options are endless, and below are some suggestions of what you can include!
Sweet
Raisins
Apples
Pears
Grapes
Dried Figs
Dried Pineapple
Candied Nuts
Chocolate
Savory
Dips & Spreads
Savory Nuts

Almonds, Cashews, Peanuts, etc

Veggies

Carrots, celery, sweet peppers, etc.
Salty
Pretzels
Crackers
Chips
Olives
Pickled Veggies
Spicy
Hot Peppers
Pepperchinos
Spicy nuts
Quality matters
It is likely that the platter you put together will be the first thing your guests will dig into at your party, so make it worth their while. I'm not saying you have to make everything from scratch or spend a ton of money on the ingredients, but aim to include good quality items and fresh ingredients that you know would bring the holiday party platter to the next level. Think fresh fruits and veggies, yummy vegan cheeses, dried fruits, and nuts, along with simple and delicious dips to pair them with. Many items can be purchased and placed on your board right out of the package or fresh from the store. Others, with some simple ingredients and a few minutes of prep, can be whipped up in no time!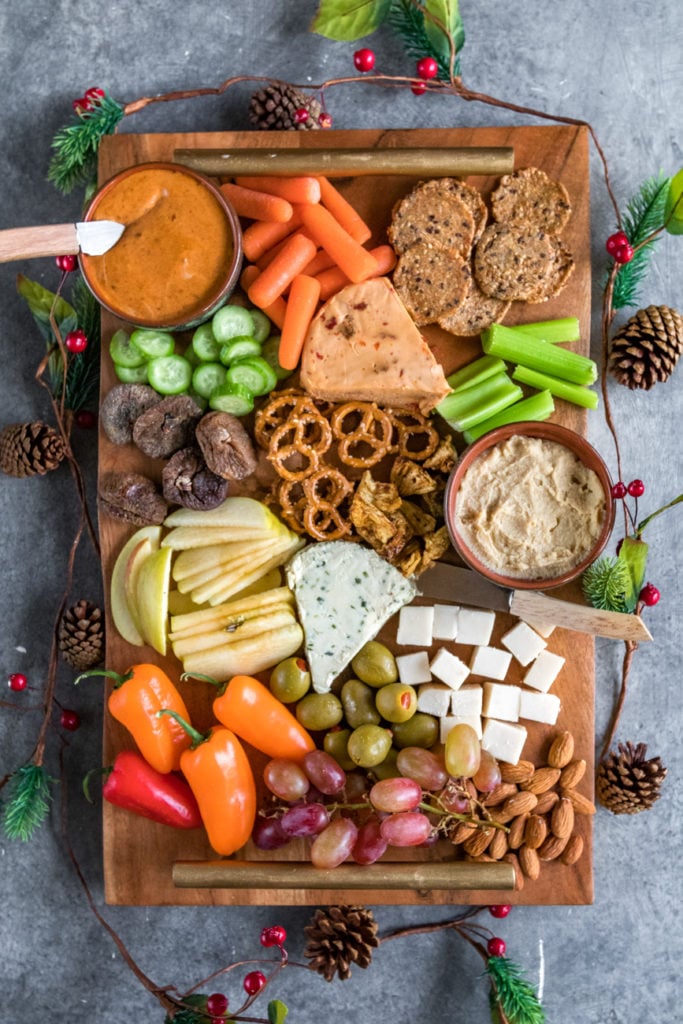 Eat with your eyes
Think of your board as a blank canvas and the party platter as an art piece. There is really no right or wrong way to arrange what goes on it, and the more colorful, diverse and abundant your holiday party platter is, the better. Be sure to include lots of brightly colored fruits and veggies along with some more neutral tones mixed in there to create a platter no one will soon forget. Shapes and textures are important too, so be sure to mix up the way you prepare each item on the board to keep things fun and festive!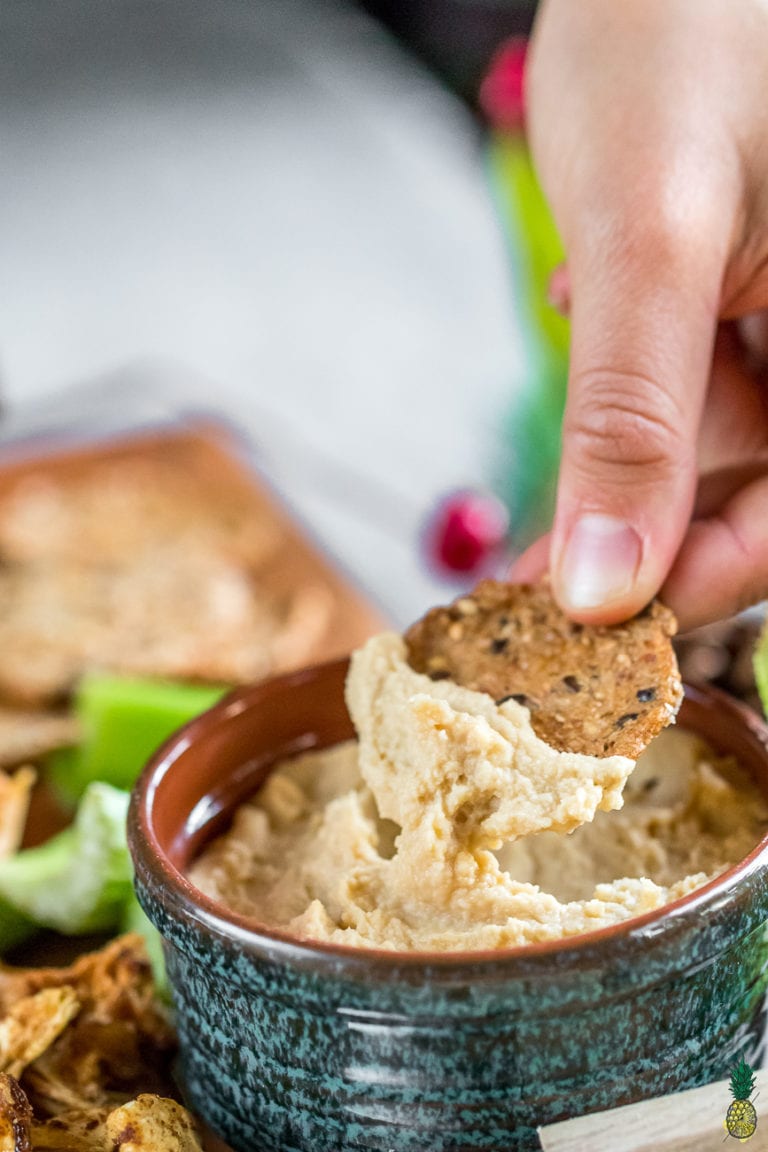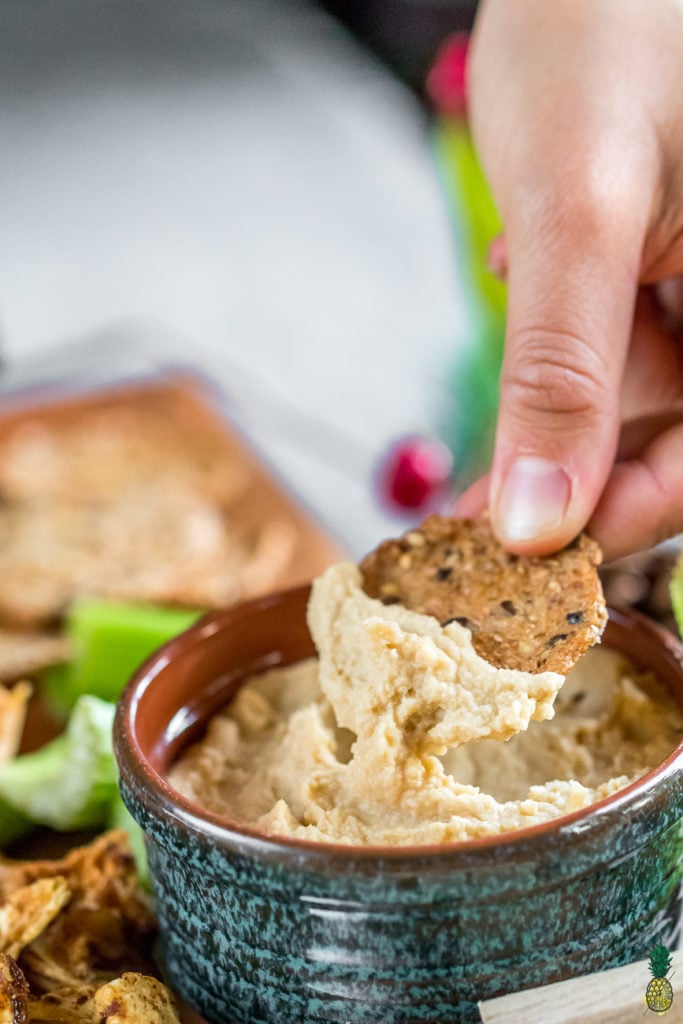 Dip dip, hooray!
Who doesn't love dips? Dips (and cheeses) are the stars of the show when it comes to party platters, and can make or break the quality of the spread. We highly suggest you consider making a dip at home to ensure it is fresh and made from quality ingredients! You can check out all of our dip recipes here. If you are unable to make a dip from scratch, be sure you purchase a quality product that you have had experience with before, to ensure it is up to your standards!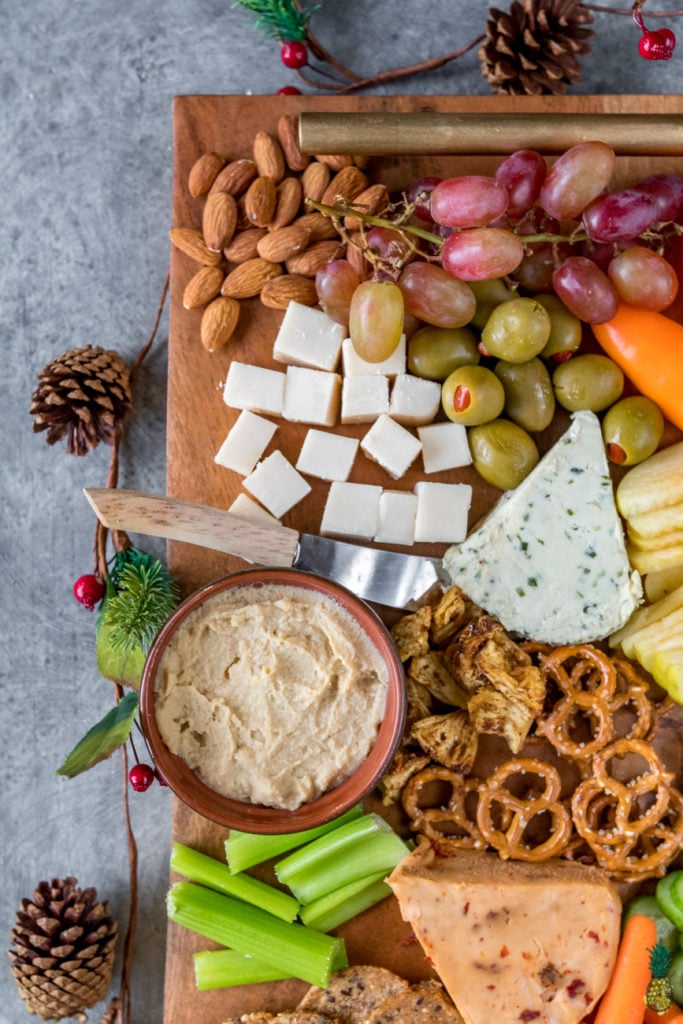 Bite-sized is key
Holiday party platters are meant to be finger foods so we aim to make it so that everything is 2-3 bites max! We want our guests to still save some room for the main dish that we will be serving later on in the party so with bite sized foods they won't be too full!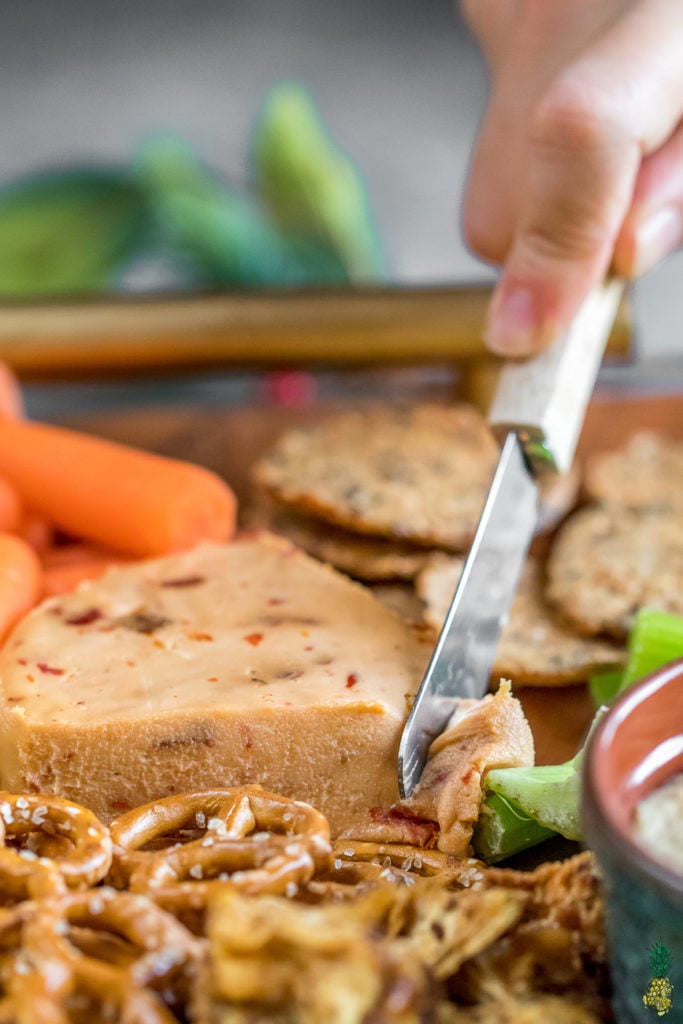 Get (vegan) cheesy
In our day and age, the vegan cheese options seem endless. Not only that, the quality and flavors are better than ever before. We try to include varying cheese types and textures to make it interesting, so we suggest including a soft cheese (usually requires the use of a cheese knife and a vehicle to serve it on such as a cracker or raw veggie) and also hard cheeses (those that can be diced and served with toothpicks or can easily be picked up by hand).
If vegan cheese is not common in your area yet, fear not! There are thousands of recipes you can find online to make your own, and here is a great resource to start with.
Step outside of your comfort zone
Don't be afraid to include flavors and textures you are either unfamiliar with or not personally a fan of. We try to keep it not only interesting for our guests and their experience, but also diverse enough to please everyone. We know that our taste preferences are different than that of our guests, so we want to be able to accommodate everyone!
We hope you have a wonderful time putting together your holiday party platters! Make sure you tag us on Instagram
@sweetsimplevegan
and
@consciouschris
and hashtag #sweetsimplevegan if you put one together, we'd love to see your photos! 🙂