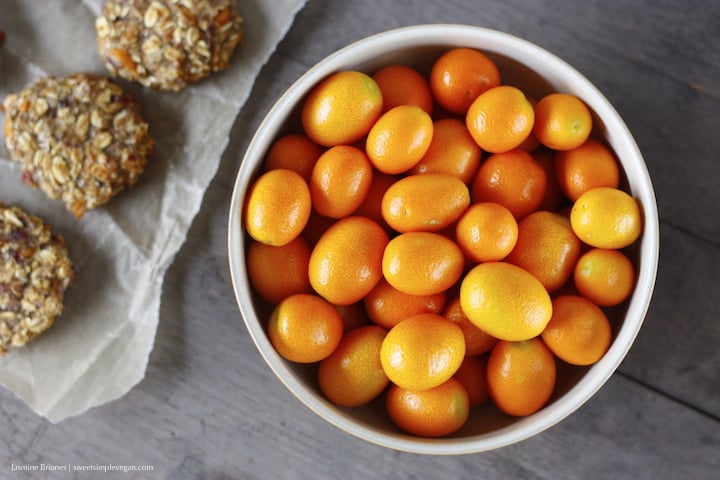 Two weeks ago I received a beautiful package from Melissa's Produce that contained the star ingredient of this recipe: kumquats.
I was so excited for the goodies I received, but the excitement had faded, as I had soon realized that I had no idea what I was going to do with four pints of kumquats. I had tried a kumquat about 2 years ago, but I really did not enjoy the sour flavor. But hey, that was 2 years ago, why not try them again? Yeah, I guess they tasted a lot better than I remember, and they are definitely manageable, but heck no I wouldn't be able to put the whole four pints down before they go bad.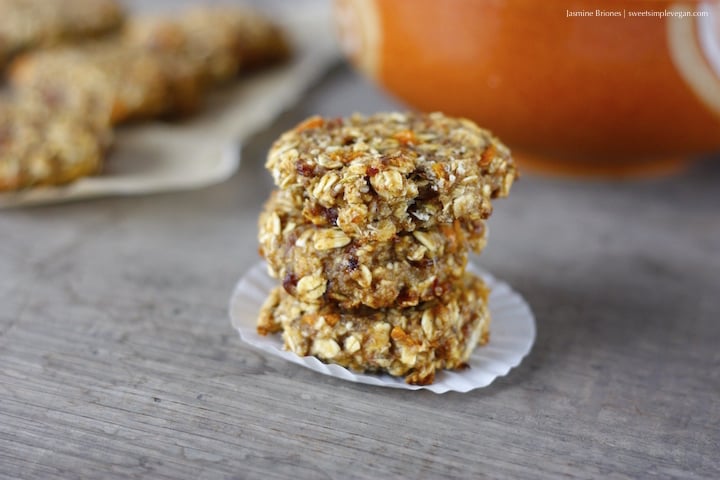 These babies needed a little sweetness, so I played around in the kitchen, and this recipe was born. With the addition of dates, and a small handful of ingredients I had in my pantry, I now know how I am going to eat all of these kumquats. Cookies it is.
And what do you know, these cookies have benefits too! I mean c'mon, if you've been on my page previously, you know I'm going to consider the nutrition of this all.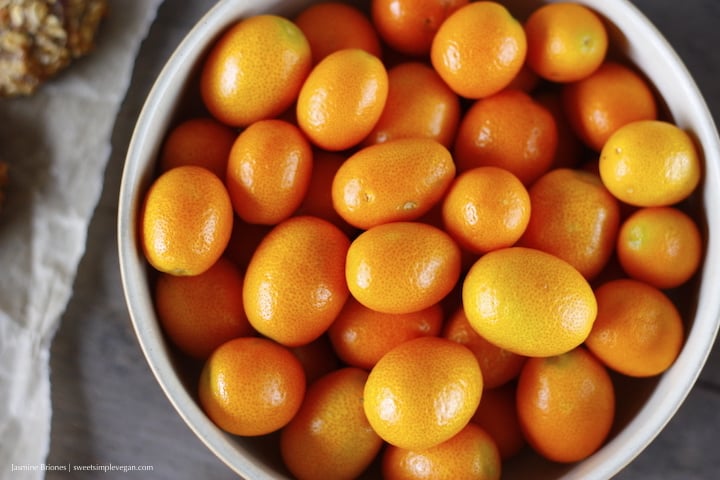 Kumquats: antioxidant protection, cancer prevention, and a rich source of minerals. Kumquats are filled with essential oils, fiber, potassium, calcium, Vitamin C, beneficial fats, and vitamin A.
Medjool Dates: These teeny bites of caramel-y goodness are jam packed with minerals, vitamins, and health-benefiting phytonutrients. They are said to aid in controlling heart rate and blood pressure, are loaded with dietary fiber, and help prevent LDL cholesterol absorption. They also contain vitamins A, K, B6 as well as copper, magnesium, manganese, niacin, pantothenic acid, and riboflavin.
Bananas: Help the brain function at its best. They supply potassium to our body (and the brain), which maintains out oxygen levels and strong signals between cells. They are also said to stimulate serotonin production, as they contain tryptophan, which elevates your mood and keeps your mind stable and bright!
Coconut: Said to be beneficial in that it lowers cholesterol, improves digestion, stabilizes glucose levels and even fights off viruses. It is also a very good source of B-complex vitamins such as folates, riboflavin, niacin, thiamin, and pyridoxine.
Chia Seeds: Rich in antioxidants, fiber, protein, and essential fatty acids, particularly Omega-3's. Essential fatty acids are known to make cell membranes more flexible and efficient to allow for nutrients to be more readily available, for nerve transmission to increase in efficiency, and ultimately for improvement of brain function.
Vanilla: Contains vanilloids, which activate receptors to reduce inflammation and improve mental performance. It contains essential B-vitamins such as niacin, panthothenic acid, thiamin, and riboflavin and small amounts of minerals such as calcium, potassium, magnesium, manganese, iron, and zinc.
Cinnamon: An ingredient great for our aging brains! Simple smelling cinnamon can boost cognitive processing and overall brain function. Cinnamon is also a great anti-inflammatory agent.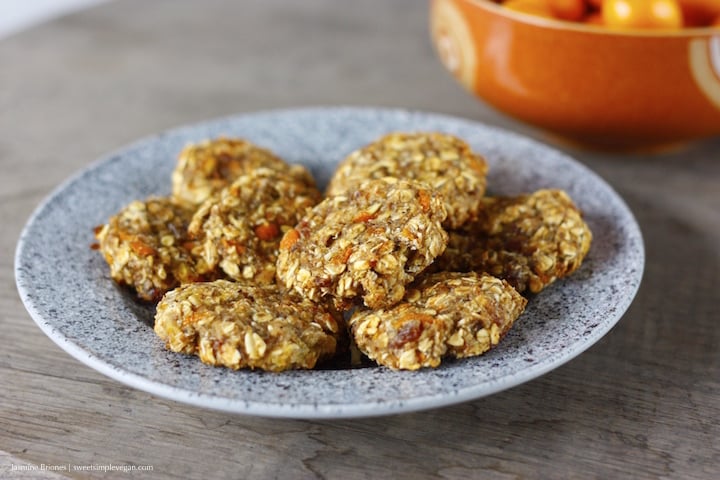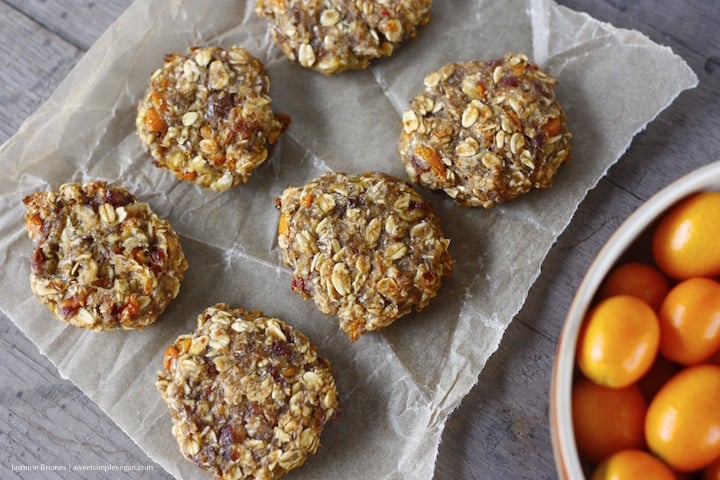 These cookies are calling your name! Not only are they vegan, but they are also: gluten-free, oil-free, refined sugar-free, low fat, nut-free and easy to make!
Make sure you tag me on Instagram @sweetsimplevegan or tweet @sweetsimpleveg and hashtag #sweetsimplevegan if you recreate any of my recipes! I love to see your photos!
Print
Kumquat Coconut Oatmeal Cookies (Gluten, Oil and Refined Sugar-Free)
---
Author:

Total Time:

42 minutes

Yield:

14-16 cookies
---
Instructions
Preheat oven to 350 F and line a large baking sheet with parchment paper or a nonstick baking sheet.*
Grind chia seeds and mix with 3 tbs water. Set aside to thicken.
Place the kumquats and dates into a food processor and run until chopped into small bits.
Add in the bananas and chia gel and run until smooth.( It will be a bit chunky but no worries!)
In a large bowl, mix in the remaining ingredients, then add in the wet mixture. Mix until uniform.
Using a 2-3 tbs cookie scoop (or try 1/2 of a 1/4 cup measure), divide cookies. Roll into balls and place onto the baking sheet. Press down until 1/2″ thick and about 1.5″ wide.
Place into the oven for 20 minutes. Remove, flip, and bake for another 12 minutes.
Cool for 10 minutes and serve with almond milk.
Notes
Foil does not work unless you oil it, so I suggest using parchment or a silpat!
Prep Time:

10 mins

Cook Time:

32 mins

Category:

Dessert

Cuisine:

Vegan, Gluten-free
Disclaimer: This page may contain affiliate links, which simply means that I earn a commission if you purchase through those links, but your price remains the same. Thank you for supporting Sweet Simple Vegan!