Learn how to make an easy and delicious butternut squash ravioli. The nutty and earthy flavors of butternut squash combined with creamy tofu ricotta make for the perfect, decadent fall-flavored filling that everyone will love.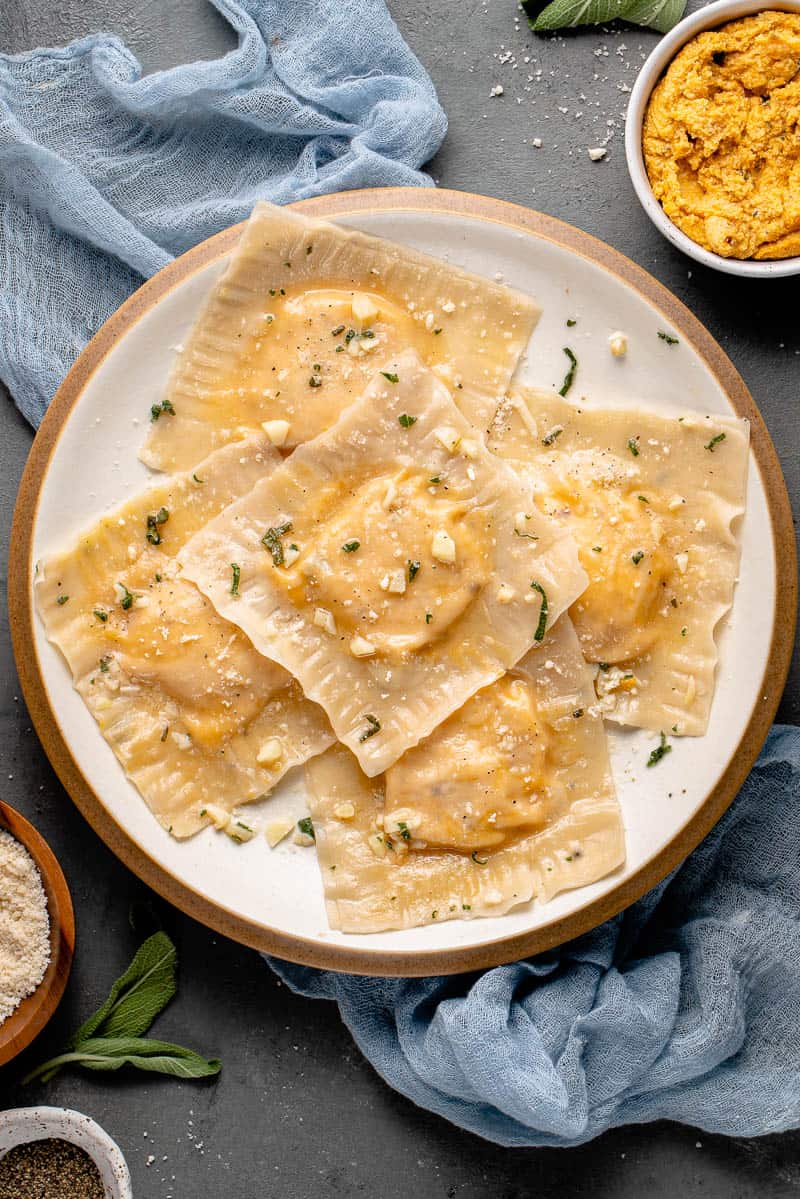 What You Need to Make This Butternut Squash Ravioli
Filling
Butternut Squash: This root vegetable packs both an earthy and nutty taste. When roasted, it gets soft and creamy and complements the taste of this filling perfectly. If you don't have butternut squash on hand, you can swap it out for acorn or delicata squash.
Shallot: This will provide a sweet and delicate taste to our filling with a hint of garlic with a less intense flavor than an onion.
Oil: We use avocado oil to drizzle on our squash and shallots for this recipe before roasting them in the oven. Avocado oil can withstand high heat, which makes it ideal for this application. For other high-heat oils, you can also use sunflower oil and olive oil.
Brown Sugar: It may seem odd to add brown sugar to a savory dish like this one, but adding sugar here helps deepen the other flavors in the filling. If you're looking for organic brown sugar, we recommend this one.
Vegan Parm: The addition of vegan parmesan cheese to this recipe adds a nice bit of flavor and some saltiness. If this is your first time trying vegan parmesan, you're in for a treat. It's spot on to what I remember parmesan tastes like. We prefer to use the parm-style shreds over parm crumbles. If you need recommendations, we like this one.
Tofu Ricotta: We use our homemade tofu ricotta cheese recipe as the base for this filling. It's super easy to make and requires just a few simple ingredients. If you would instead not make your ricotta, Kite Hill makes a prepackaged one that you can mix the above ingredients in. Admittedly, we haven't tried it with this, so we do recommend using our recipe.
Herbs: Add additional fall flair to the filling by pulsing in fresh rosemary, sage, and thyme. If you don't enjoy any of these herbs, feel free to omit them based on your preferences.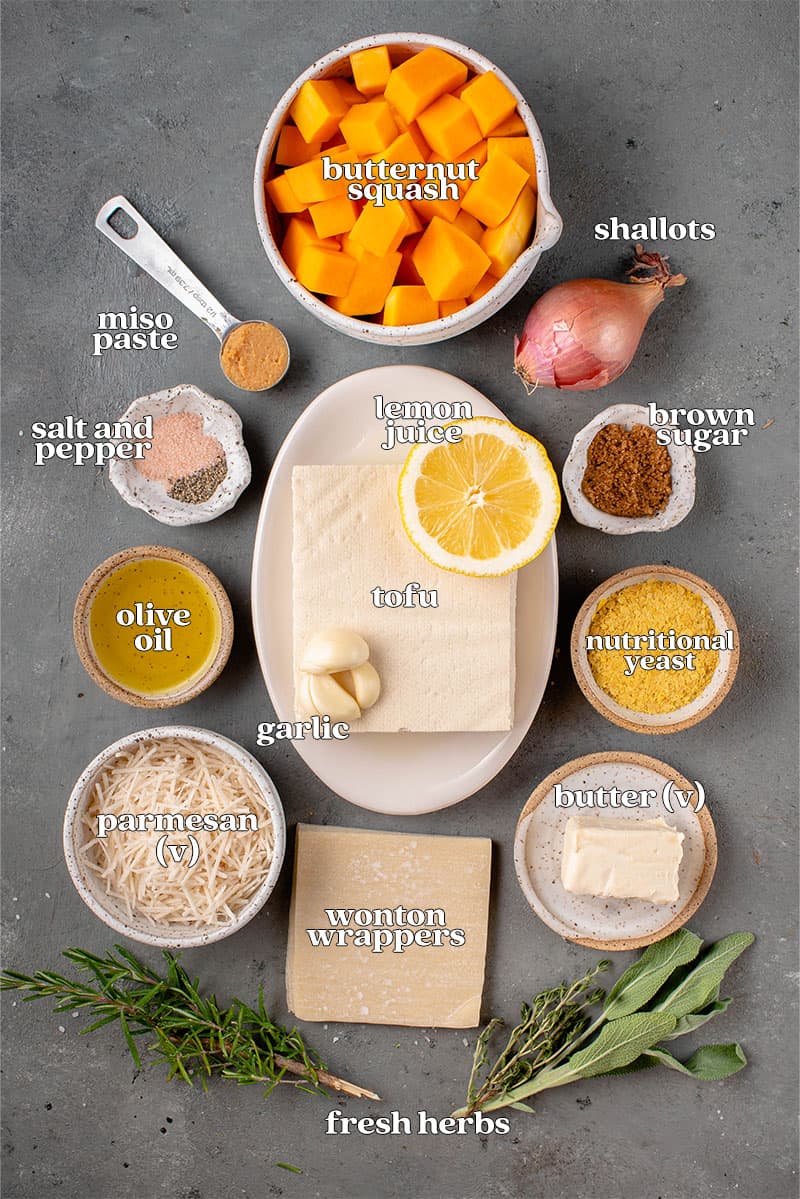 Sauce
Vegan Butter: If you're looking for an excellent vegan butter to use for this recipe, we like the Country Crock Plant Butter. If possible, use stick butter over a tub of spreadable butter. Instead of dairy, plant butter is made from a blend of oils but still packs the same flavors of the butter you're familiar with.
Garlic: You can never have too much garlic. Feel free to use as much or as little garlic in this sauce as you see fit.
Sage: The perfect fall herb, sage complements this butter sauce perfectly. If you're unfamiliar with using sage leaves, they are earthy with a subtle pepper flavor and have undertones of lemon, eucalyptus, and mint.
Additional Ingredients & Tools
Wonton Wrappers: We are making things easier by using wonton wrappers instead of using fresh pasta dough for this recipe. It has the same texture and flavor as pasta dough without the effort of making it from scratch. We like to use Twin Dragon wonton wrappers since they are certified vegan. 
A Fork: To seal the wonton ravioli, we use a fork to make ridges in the dough. You can also use a ravioli cutter tool to close them, but a fork does the trick perfectly well. 
Large Pan: To prepare our sauce and then toss our ravioli in it. If you're looking for high-quality non-stick pans, we love the Caraway Home pan set. 
Food Processor: This is used to prepare the ravioli filling. If you don't have a food processor, you can also mash everything in a bowl and mix it well or use a blender. If you're in the market for a food processor, we have this one. 
Large or Medium Pot: To boil your water and cook up the ravioli!
Wonton Wrappers Vs. Fresh Pasta Dough
The decision to use wonton wrappers over fresh pasta dough was an easy one for us. The main reason is the ease of using the wrappers over making fresh dough. Wonton wrappers are already pre-cut and ready to use right out of the package and replicate sheets of pasta perfectly as they are made with similar ingredients. With fresh pasta dough, you need a pasta roller or pasta machine and about an hour of time to dedicate. If you feel ambitious, we have a fresh pasta recipe and a homemade ravioli recipe for you to try. Thankfully, both wonton wrappers and fresh pasta dough cook in boiling water in about 2-3 minutes.
Exploring Flavors
If you have found yourself on this post and the fall season has come and gone, don't worry! This recipe is versatile and can be adapted based on the season. You can change up the sauce and use marinara, alfredo, vegan brown butter, or even a dairy-free cheese sauce. If you don't want to use the butternut squash filling, you can use our tofu ricotta cheese recipe as is, or use it as a base and different herbs and flavors as you see fit. Whichever way you decide to prepare your ravioli, it will make the perfect main course.
Tips for Making Your Ravioli
Don't overfill your ravioli. Use 1 tablespoon or 1.5 tablespoons in each ravioli. Adding too much filing could cause your ravioli to explode when sealing.
Remove all air bubbles. When sealing your ravioli, make sure there are no lingering air bubbles. If there are, the ravioli can fall apart while cooking. 
Seal it well. Make sure you put deep grooves into the dough to make sure the ravioli is fully sealed before cooking. 
Don't over cook. Wonton ravioli will cook very quickly, so make sure you don't over cook it. 
Prevent Sticking: Stir the ravioli once in the pot will also help prevent sticking. To remove the ravioli from the boiling water we recommend using a slotted spoon.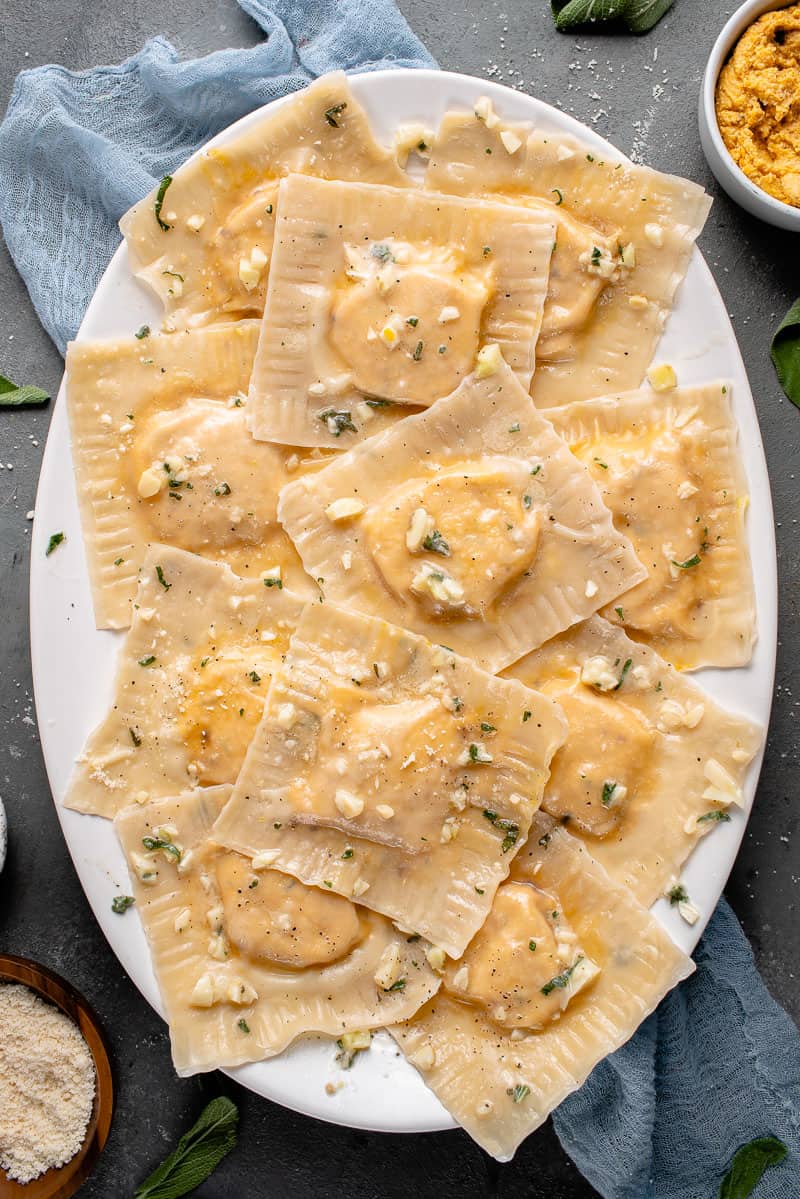 Looking For More Pasta Recipes?
Make sure you tag us on Instagram @sweetsimplevegan and @consciouschris and hashtag #sweetsimplevegan if you recreate any of our recipes, we love to see your photos!
Print
Easy Butternut Squash Ravioli
---
Author:

Total Time:

50 minutes

Yield:

38 ravioli

Diet:

Vegan
Description
Learn how to make an easy and delicious butternut squash ravioli. The nutty and earthy flavors of butternut squash combined with creamy tofu ricotta make for the perfect, decadent fall-flavored filling that everyone will love.
---
Ravioli
2 cups

diced small butternut squash

1

medium shallot, roughly chopped into large chunks (about

1/3 cup

)
Avocado oil
Salt and pepper

14 oz

. firm tofu, drained

3

cloves garlic, minced
Juice of

1/2

small lemon

1/2 cup

grated vegan parmesan 

2 tablespoons

olive oil

2 tablespoons

nutritional yeast

1/2 tablespoon

packed brown sugar

1/2 tablespoon

white miso paste

1 1/2 teaspoon

chopped sage, stems removed

1 teaspoon

chopped thyme, stems removed

1 teaspoon

chopped rosemary, stems removed

1/2 teaspoon

salt

1/8 teaspoon

black pepper, to taste
Optional: pinch nutmeg

3.5

-inch square wonton wrappers (about 76) or Homemade Vegan Egg Pasta
Sauce
8 tablespoons

vegan butter

6

cloves garlic, finely minced

5

fresh sage leaves, finely chopped
Salt and pepper
Freshly grated vegan parmesan, for serving
Equipment
---
Instructions
Preheat the oven to 425°F and line a baking sheet with parchment paper or a silicone mat.
To a large bowl, add the butternut squash, shallot, a drizzle of oil, and a large pinch of both salt and pepper. Pour this mixture onto your baking sheet and spread into a single layer, then transfer to the oven to roast for 40-45 minutes or until cooked through. Once cooked, cool for 10 minutes.
Transfer everything on the baking sheet into a food processor along with the firm tofu, garlic, lemon juice, grated vegan parmesan, olive oil, nutritional yeast, brown sugar, white miso paste, thyme, and rosemary, salt, black pepper, and a pinch of nutmeg. 
On a clean surface, lay out 8 of the wonton wrappers. Using a pastry brush, wet around the edges of each wrapper.
Scoop 1 tablespoon of filling into the center of half of the wrappers. Take one of the unfilled wrappers and lay it on top of the filled ravioli. Gently press down the edges to seal, being sure to remove any excess air from the center. Using a fork, seal the ravioli.
Repeat process with remaining wrappers and filling. We suggest only using 8 at a time as they will dry out if they sit too long and be harder to seal. 
Set the ravioli aside as you prepare your sauce.
In a large pan over medium-low heat, melt the vegan butter. Once melted, add in the garlic, and sage, plus a pinch of salt and pepper. Cook for 3-4 minutes or until fragrant, then remove from heat.
Bring a large pot of salted water to boil. Add in about half a dozen of the ravioli and cook for a few minutes, or until they float to the top and the wrapper is tender. Remove the ravioli from water with a slotted spoon and transfer to the sauce. Mix gently or use a spoon to scoop sauce on top of the ravioli to coat. They are very delicate so be careful! We recommend removing the ravioli from the saucepan and setting them aside on a separate plate to clear the pan to make it easier to mix the next batch in the sauce.
Continue cooking the ravioli and coating them in sauce, being sure to cook them in small (half dozen) batches so they don't overcook or break.
Serve warm with a sprinkle of parmesan and an additional pinch of black pepper. Enjoy! 
Prep Time:

30 minutes

Cook Time:

20 minutes

Category:

Entree, Pasta

Method:

Stovetop
Keywords: butternut squash, pasta, entree, fall, sage, herbed, dinner
Disclaimer: This page may contain affiliate links, which simply means that we earn a commission if you purchase through those links, but your price remains the same. Thank you for supporting Sweet Simple Vegan!