We thought it would be fun to round up our favorite products in a gift guide if you need ideas on what to get for your family and friends this holiday season or if you want to check new things out for yourself 🙂 Most of these products we have tested ourselves and love, and others we have had our eye on for a while and are going to purchase this holiday season. Enjoy!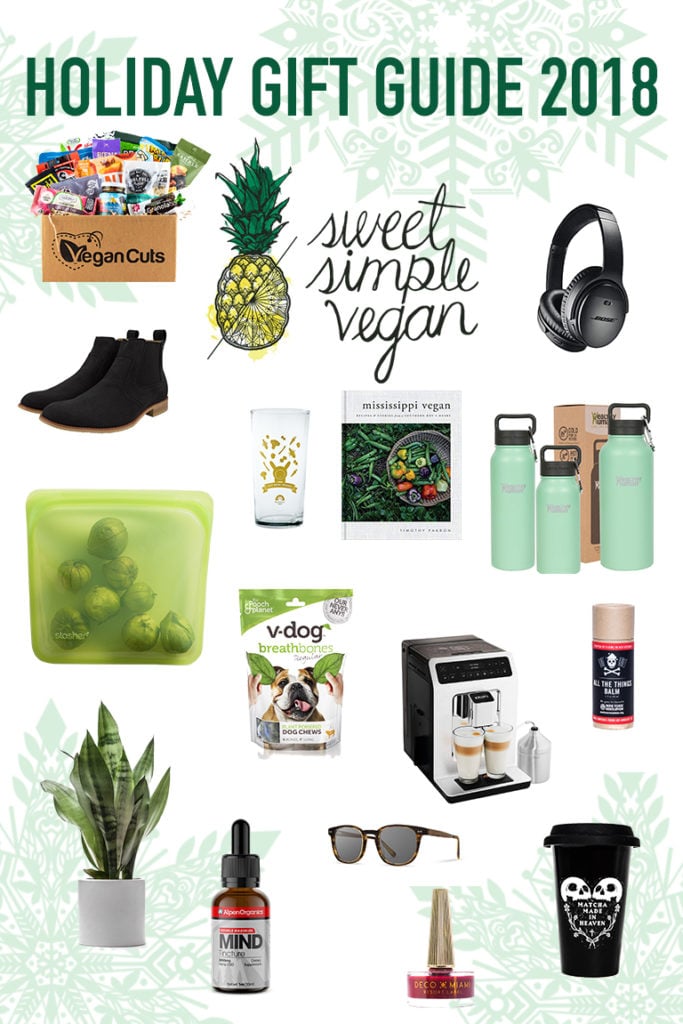 Home & Kitchen
KRUPS – We recently got a KRUPS coffee maker in our kitchen and it has changed the game for us. We try our best to drink coffee at home to save money, but it just isn't the same for us as going out for a nice latte. Well, our new coffee maker changed the game for us and we will gladly drink coffee at home. We have their one-touch coffee maker which is on sale now, and they have so many other options available in various price ranges as well.
Plants from The Sill – Our roommate introduced us to this brand earlier this year and after her experience with them, we are pumped to take a leap and purchase a plant of our own from them. They have created a seamless plant shopping experience and make things SO MUCH easier for us, especially since are new to the whole plant care thing. Every plant comes with simple care instructions, a money-back guarantee and direct access to our team of plant experts to answer any and all questions. How cool is that? (Discount code: use "YAY20" for 20% off and free standard shipping on orders over $75)
Wallygro – A vertical gardening solution for the resourceful plant lover. Their products are made from 100% recycled plastic and they are perfect for any space in need of a pop of greenery! They've got wall planters, drip irrigation, hardware, garden tools, and more! (Discount code: Use "THANKFUL" for buy one get on free on multi-packs today only)
Meaningful Paws Eat More Veggies Glass Cup – I think this is something that all vegans will appreciate! The "Eat Your Veggies" cup is not only adorable but also stylish and chic
Imperfect Produce – Give the gift of fresh fruits and veggies this holiday season and help fight food waste at the same time! Imperfect Produce works to acquire the "ugly" and overstock produce that grocery stores don't want and offer them at a fraction of the price! We've been getting a medium sized organic box for the past few months and absolutely love it! (Discount code: Take 50% off your first box with the codes "consciouschris" or "sweetsimplevegan")
Eco-Friendly
Reusable Utensils – Help keep single-use plastic out of the hands of your favorite people this year. These reusable utensils are durable, eco-friendly, and come in a sweet carrying case to easily take on the go. We bring ours everywhere we go and can't recommend them enough as an inexpensive gift!
Healthy Human – Reusable water bottles and tumblers to help you stay hydrated in style and create less waste in the process. Their products keep your favorite beverage cold (or hot) two times longer than traditional mugs and plastic one-and-done disposable cups, are all 100% BPA-free with 100% premium food grade 18/8 Stainless Steel, are sweat free (don't leave a ring of moisture on your surfaces). We have been using their products for years now and could not recommend them enough! (Discount code: Use "SWEETVEGAN10" for a discount on Amazon until 12/31/18)
Zero Waste Kit – Our friend Marina is developing Zero Waste Kits and her campaign on Kickstarter is now live! She created these kits to "take on the world like a zero waste badass" and help reduce and eliminate our reliance on single-use plastics. The kit comes with a jar, koozie sleeve, reusable utensil, straw and straw cleaner, napkin, a knife, and produce bags. You can learn more here.
Reusable Straws – Whether you prefer Glass Straws or Metal Straws, both are a great idea when it comes to decreasing your footprint and waste output. Disposable straws are usually made from plastic and plastic never breaks down. As time goes by plastic will separate into smaller and smaller pieces, but never completely biodegrades. In the U.S. alone, 500 million straws are used every single day. You can check it out more here. Taking your reusable straws around with you will help you say no to straws and get rid of this problem for good.
Stasher Bags – A thoughtful gift that's good for the planet, Stasher bags are durable and reusable zip-lock style bags that are perfect for storage, packing meals on the go, and more! (Discount code: use "holidaystash" this weekend for 25% off + $1 from ever sale this weekend will be donated to 5 Gyres, which empowers action against the global health crisis of plastic pollution through science, art, education, and adventure.)
Health & Beauty
Alpen Organics – High-quality CBD tinctures and lotions ranging from low to high dosages. Perfect for reducing anxiety, keeping you calm, and focused! (Discount code: use "sweetsimplevegan" for 30% off!)
Deco Miami Vegan Nailpolish – A small business vegan, cruelty-free, and 8-free nail polish brand that is woman-owned and based in Miami, FL. Don't let all of those attributes fool ya, all of their products are also super trendy and chic! They have everything from bright to bold colors, as well as dark shades as well if you're not into color! (Discount code: Get 30% off everything with the code "Holiday30" OR 40% off orders of $40+ with the code "Holiday40")
Bare Bones Body – A vegan, cruelty-free and non-toxic body care started by our good friend Monica. All of the items are handcrafted (with love) using minimal ingredients in Los Angeles. From deodorant, to shave serum, tattoo balm and more, Bare Bones has got everything you need and their products will show you just how awesome non-toxic products can be. PLUS 100% of profits are donated to the nonprofit program Non-Toxic Revolution, which aims to inform, educate, and inspire young people to revolt against the dangers of toxic chemicals in their environment & food supply, especially those linked to the development of cancer.
Face Masks – Something that we like to do every week is have some "us time" and wind down. This can mean a bath, relaxing music, a movie, and more often than not, face masks! Not only do these help us "zen out" and relax, but they also leave our skin feeling awesome for that day and the rest of the week. Seriously, they work wonders for our skin. Our two favorite brands are Franklin & Whitman and BioClarity! Both are having holiday sales as well so be sure to check them out 🙂
Schmidt's Holiday Deodorant Bundle – Schmidt's has some of the best natural deodorants on the market and we were stoked to see that they came out with a holiday bundle. The pack includes 3 deodorants: Holiday Spice (with notes of orange, clove, and cinnamon), Oh, Christmas Tree (with scents of spruce and hemlock) and Snow Day (Unscented). It is a simple and practical gift that I think would be appreciated, and it is also great for holiday gift baskets!
Vegan Makeup – There are a ton of makeup brands out there and sometimes it is hard to navigate through them and determine what is vegan. Luckily nowadays there are a ton of brands that are choosing cruelty-free and vegan! Here are a few of my favorites: Au Naturale, 100% Pure, Cocokind Skincare, Inika Organic, Hush + Dotti, Juice Beauty, Axiology and Pacifica Beauty 🙂 You can find a list of more cruelty-free brands here.
Cookbooks & Ebooks
Planting Our Roots (Our Vegan Ebook) – What you will find in this ebook – 40 brand new recipes, including veganized Filipino and Italian classics we grew up eating such as: pancit, caponata, kare kare, giambotta, afritada and more! Our vegan stories along with that of our parents, ingredient info and cooking tips and our kitchen "must-haves"! (Discount code: Use "SSV50" for 50% off until 12/31/18)
Cookbooks – We know there are a ton of vegan cookbooks out there. We have a bunch here, but some of our favorite cookbooks we recommend are Mississippi Vegan, Vegan Yack Attack, and Hot For Food!
Clothing, Shoes & Accessories
Kindom Shop – Jasmine's cousin Claire launched an eco-friendly and sustainably made clothing brand in Los Angeles called Kindom Shop. Think high-fashion meets eco-friendly. They have everything from tops to dressed and bags! (Discount code: use BLFR50 for 50% off entire store)
Beet x Beet – If you're looking for vegan apparel and accessories, this is the spot! A small and woman-owned business in Los Angeles that is helping people "wear their message", practice activism through apparel, and raise consciousness around the choices we make every day. Plus all of their apparel is ethically and sustainably made, organic when possible, and eco-friendly. We have the pleasure of knowing Jacky from when we lived in LA and we have nothing but love for her and her brand! (Discount code: use "TOFURKY30" for 30% off)
Noize – Accessible and stylish outwear that is 100% cruelty-free and vegan! If you're looking to keep your friends and loved ones warm this winter look no further! Noize offers a wide variety of coat and jacket styles for both men and women. We both just got some winter coats from this brand and we're so happy with them. We are now fully ready to brave the winter in the PNW! (Discount code: You can use "sweetsimplevegan" for 15% off)
Jewels by SJB – An are an eco-conscious brand that has the goal of connecting the world of high-quality jewelry with veganism. They use recycled sterling silver, 14k gold fill metal and genuine gemstones in their pieces and ship in eco-friendly packaging! Plus, a portion of the proceeds from every piece is donated to animals and humans in need. I love all of my pieces from the brand and I would highly recommend them. (Discount code: You can use "sweetsimplevegan" for 10% off)
There are a ton of awesome vegan shoes on the market today and these companies make it SO easy to be stylish and cruelty-free. Below is a list of our favorites:
Shwood – Sleek and stylish sunglasses that are also available in RX. Shwood offers styles made entirely of wood, and some that have simple wood accents. I've been purchasing Shwood sunglasses for the past several years and can't recommend them enough!
Gift Boxes
Vegan Cuts Subscriptions – The gift that keeps on giving! VeganCuts offers monthly snack and beauty boxes loaded to the brim with cruelty-free goodies that vegans will love! The snack box that I curate for Vegan Cuts comes packed with between 10-15 unique vegan-friendly products ranging from chips and chocolate to bars and beverages. The beauty box offers up 5-7 different products each month including skin care items, cosmetics, nail polishes and more! You can gift a VeganCuts Snack Box for as low as 18.95 per month!
Treat Yo-self / Self-Care Items
Bose Headphones – We each own a pair of the QC 35 II noise-canceling over-ear headphones from Bose, and are obsessed with them. We've had ours for about a year and a half now and use them every day! They're perfect for the gym, an airplane, long car rides, and beyond!
Pranamat – The perfect gift for someone who wants to unwind and show themselves some love after a long day. A Pranamat is a self-massage mat designed to increase your vital energy, relax the body and mind, and create feelings of joy and harmony in your everyday life. We've been using our Pranamats for a couple of years and can't image life without them now!
Go Macro Bars – Something that our pantry is always stocked with? Bars! One of our favorites is Go Macro Bars. Go Macro is a family-owned and operated company who is dedicated to promoting a healthy and sustainable lifestyle. All of their ingredients are 100% plant-based and come from organic and non-GMO certified growers who follow sustainable farming practices. My favorite bar of theirs is the Protein Pleasure (Peanut Butter Chocolate Chip) and we would highly recommend it!
Dry Brush – One of Jasmine's favorite self-care items is her dry brush. It's great for exfoliating the skin, sweeping away dead skin cells, improving the appearance of skin, stimulating the lymphatic system and for a self-massage. It's something she swears by and told me that it must be included here because more people need it in their lives!
Madame Shugah Cookies – Some of our favorite cookies made with love by our homegirl Madame Shugah! These cookies are vegan, gluten-free, soy-free, and suuuuper tasty too! She's an LA local but can ship nationwide! Give the gift of Shugah this holiday season, your friends and family will thank you! (Discount code: use "sweetsimplevegan" for 25% off your first order)
Taza Chocolate – This brand makes organic, stone ground chocolate that is unrefined, minimally processed and packed with bold flavors and textures. They were actually the first U.S. chocolate maker to establish a third-party certified Direct Trade Cacao Certification program! Their chocolate is fair trade, ethically sourced and so dang good. We recommend both their Classic Hot Chocolate Mix as well as their Winter Warmer Sampler!
R.E.D.D. Bars – These healthy superfood energy bars are too good to be true.Ever since we had our first R.E.D.D. bar last year, we can't get enough of them! Although we usually gravitate towards their Peanut Butter and Chocolate Bars, all of them are good! We think that their variety packs are the best way to go for holiday gifts, they have a little bit of everything!
Gifts for the Creator
Skillshare – The gift of a skillshare subscription is perfect for the creative people in your life! Skillshare offers thousands of courses on a wide range of topics ranging from photography and video editing to online marketing, music, and beyond. We've been using Skillshare for years now and have learned so much!
Adobe Programs – If you have someone special in your life that is into graphic design or video and photo editing, a subscription to the Adobe Creative Cloud could be a total game changer for them. Subscriptions ranging from $10-$50 a month will give your special someone access to super powerful programs to take their digital content to the next level!
For Your Pup:
Bean Goods – Doxie-friendly apparel for you and your pup! We've been rocking Bean Goods ever since we've had our little man Berry and love their clothes so much. (Use code BERRY for a discount!)
Travel Water Bowl – Perfect for on the go pups and pup-owners! These collapsible travel water bowls and convenient and perfect for hiking, long car rides, and the dog park! We've had Berry's since we first adopted him and have gotten some great use out of it!
Center Console Car Seat – Berry recommends this more than anything else! He absolutely loves his center console car seat for car rides long or short. It's perfectly snug and comfortable for him on rides when he normally would have some anxiety. Even when this seat is in the house he will try and sleep in it! They are available in different sizes for small and medium dogs.
Alpen Organics Pet CBD – For dogs with stress and anxiety, like Berry, this pet-friendly CBD is perfect to help calm nerves. It is virtually tasteless so even the pickiest dogs will have no problem licking it right up! (Discount code: use "sweetsimplevegan" for 30% off!)
Vdog Breath Bones – An all vegan dog food and treat brand, V-dog offers Breath Bones that berry absolutely adores. They have small and large ones to suit the needs of any size dog. We promise your dogs will love them too, and they really do help with stank-breath!
Water Fountain – Never worry about stagnant water in your pets bowl again. These water fountains for pets keep the water flowing perfectly
Gifts for Music Lovers
Band Merch – Something that we just cannot resist is band merch. We love supporting the artists we love and band merch has become an integral part of our wardrobe haha. We have found that different bands work through different platforms (and sometimes multiple platforms), so your best bet would be to go to their band's website or Instagram and look for their merch links/info there. Some of the common platforms used are Merch Now, Merch Limited and Merch Connection.
Spotify Subscription – Give the gift of commercial-free music 😉 But seriously, Spotify is something that both Jasmine and I use every single day and I don't know what we would do without it. From the gym to our car and even in our office, we are always streaming music through Spotify and it is how we get access to all of the music from our favorite bands.
Concert Tickets – or even a gift card to a concert ticket provider's website! Some of our best memories (individually and as a couple alike) have been at live concerts. They are so much fun and such a great experience, especially if you are a big fan of the artist you are going to see.