As you may have already seen from our last two blog posts, Chris and I are starting a "Leftover Series" here on our blog and on our Youtube channel which will essentially be us showing you how to use up common leftovers. We hope that this series will not only help reduce food waste but that it will also help everyone get more bang for their buck and save some money! We have rounded up vegan recipes below from our blog + other awesome vegan blogs for you to get some ideas to use up your leftover rice. Enjoy!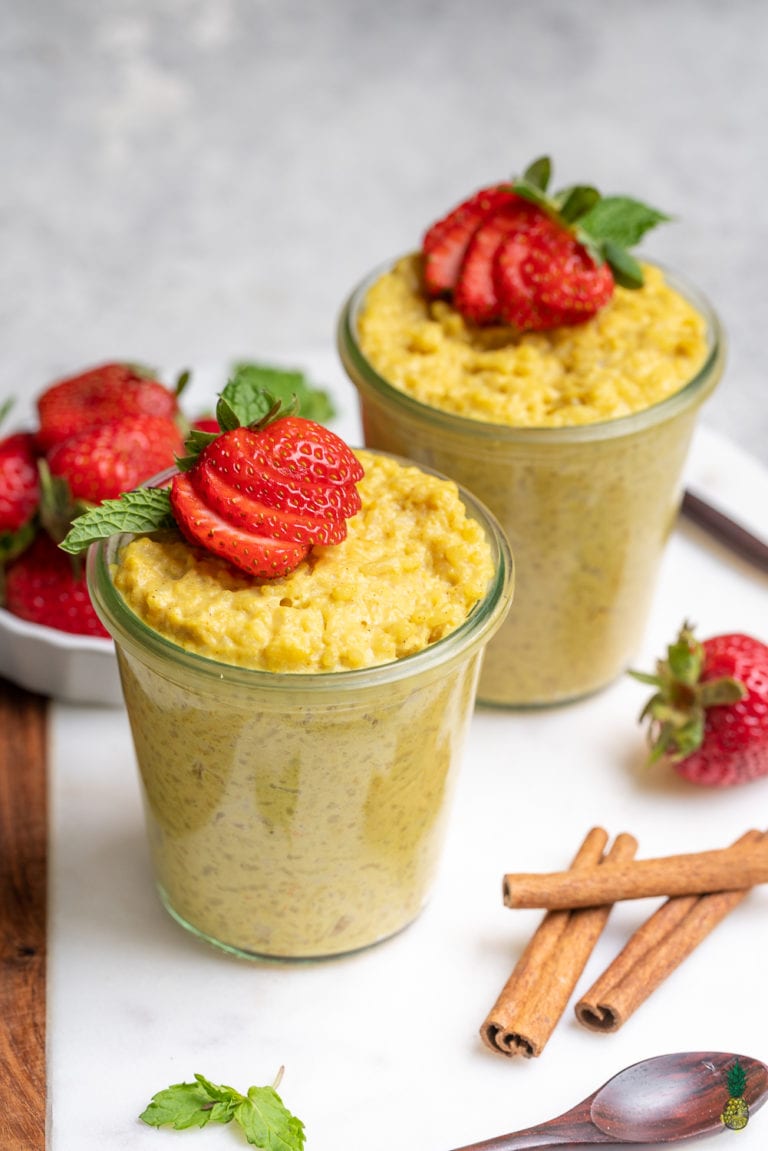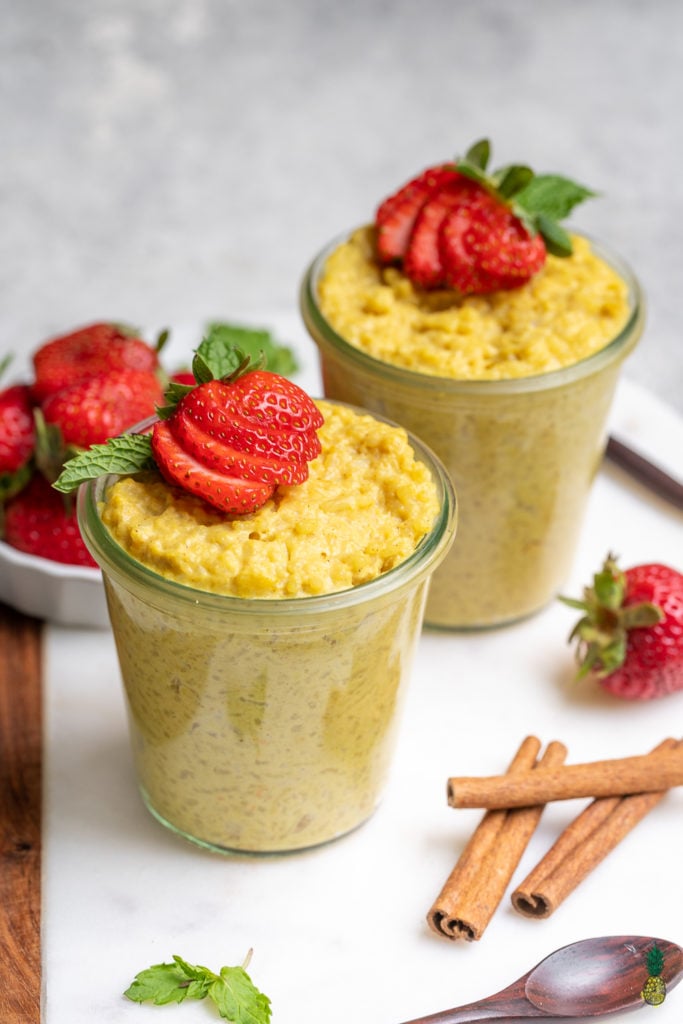 This golden milk rice pudding makes for a perfect healthy dessert or breakfast. Cooked rice, almond milk, sweetener + spices. This rich and creamy rice pudding is the perfect way to use up leftover rice at home!
An all vegan egg fried rice that is easy to make, ready in less than 30 minutes, plus is the perfect way to use up any leftover rice you have! It is high in protein, healthy and satisfying, even non-vegans will love it!
Learn how to make some delicious vegan watermelon tuna and serve up your leftover rice as the base of this beautiful bowl!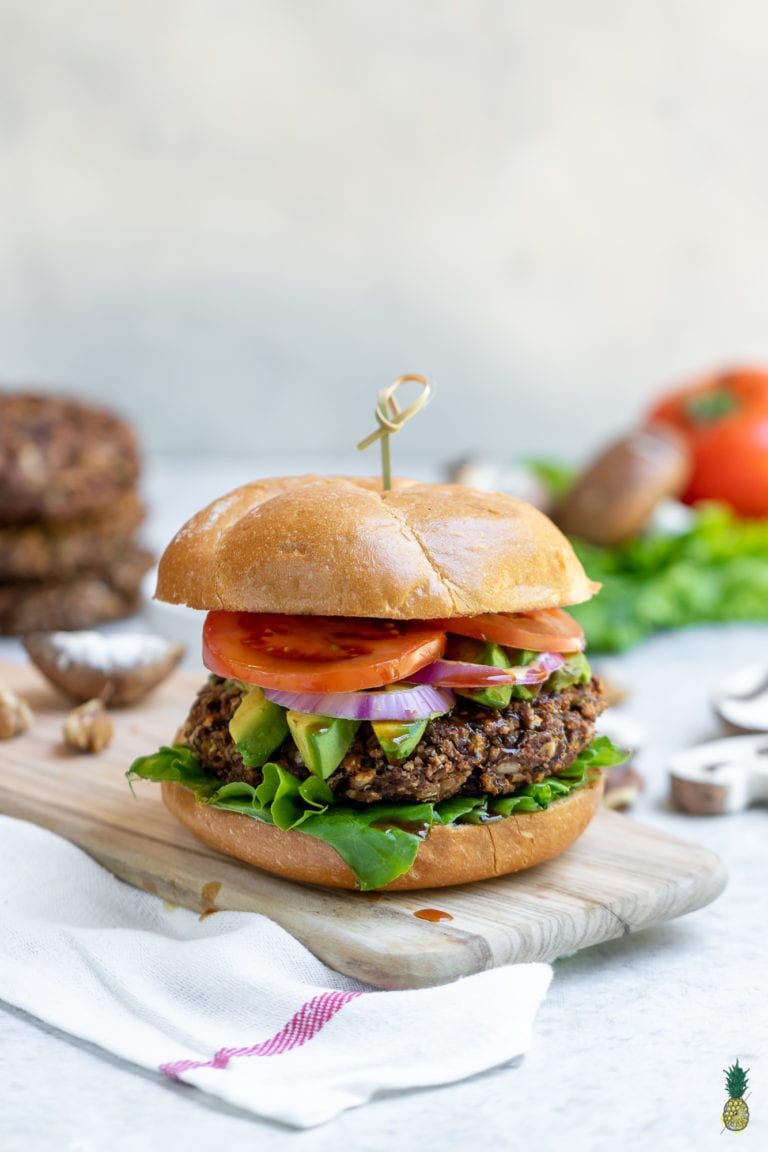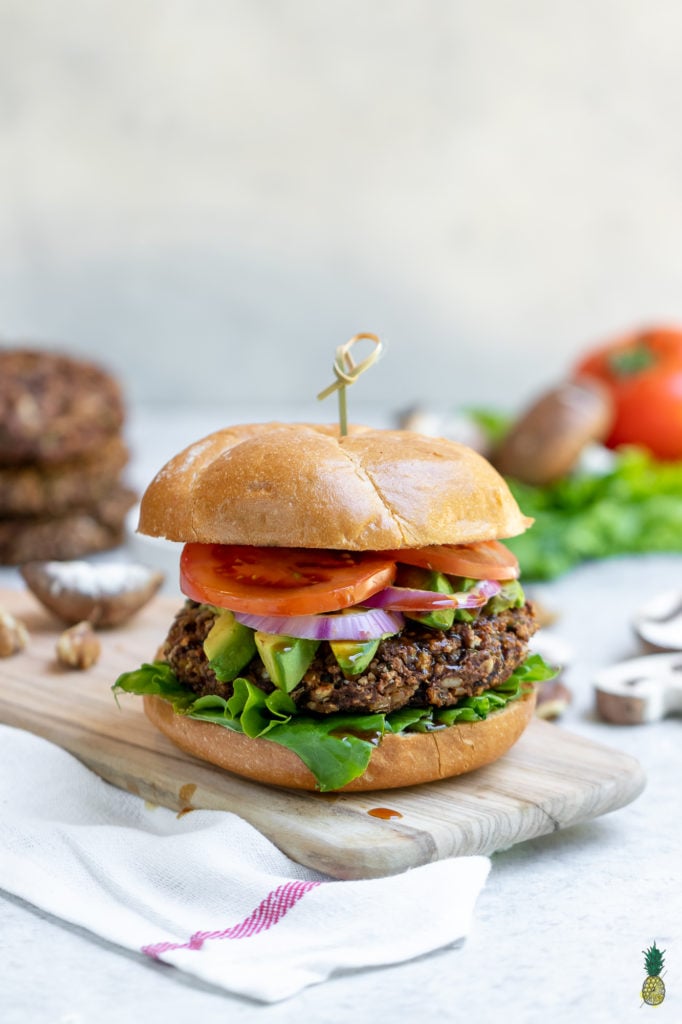 These vegan burgers are easy to make, require simple ingredients and is jam-packed with plant protein. Plus, they are bursting with flavor and are perfect for your next summer party.
This Thai pineapple fried rice is one of my favorite recipes for busy days! It's super easy to make, healthy, and so yummy. Plus, it's SO colorful! Eating this pineapple rice will be like taking a trip to Thailand!
Leftover Rice Fritters / Pakoras are crispy and crunchy, irresistibly delicious snack prepared in less than 30 minutes. This is one of the best ways to use any leftover cooked rice. The recipe is customizable, vegan and gluten-free.
These are gluten-free and oil-free. These healthy, 20-minute vegan tacos are so easy to make!  The filling is made with seasoned pinto beans and rice. The tacos are then topped with a tangy cilantro-lime sauce, diced onion, and fresh cilantro.
Loaded with vegetables, this flavorful vegan Kimchi Fried Rice comes together quickly, making it a great option for busy weeknights!
This is an easy take on the classic Italian appetizer arancini. The recipe includes a DIY mozzarella which only takes 15 minutes to make. Dip these crispy rice balls into your favorite marinara sauce. Perfect for parties! Gluten-free option as well.
Flavor-boost your rice dishes with this super-simple but super-flavorful spicy green rice sauce. Blends up in minutes and goes great with Mexican and Thai dishes … or when you just need a little tasty carby comfort.
Vegan pesto rice is the perfect weeknight meal. It uses just 10 ingredients & takes about 8 minutes to make. Eat it on its own, as a side dish, or as a base for delicious pesto rice bowls with your favorite toppings!
This Easy Vegan Mushroom Risotto saves so much time by using pre-cooked rice and creamy hummus.  It's an easy and healthy meal when you need dinner on the table fast.
Mover over pineapple fried rice! Get ready for rice taken to a whole new level with mangos! This rice is very easy to make and tastes delicious! It requires simple ingredients and just 30 minutes of your time.
Vegan Stuffed Mushrooms are filled with rice, fresh spinach, and garlic and topped with vegan cheese. They are a delicious and naturally gluten-free appetizer perfect for all occasions.
This Vegan Peanut Butter Fried Rice is intensely savoury, so satisfying, veggie-packed, and super easy to make.
This Vegetable Bean Casserole is creamy and delicious. Filled with brown rice, broccoli, carrots, and celery, you'll love this hearty meal.
We hope that you can try out some of the recipes from this roundup or that will inspire you to get creative with your leftovers and create new recipes in the kitchen!
xo Jasmine & Chris