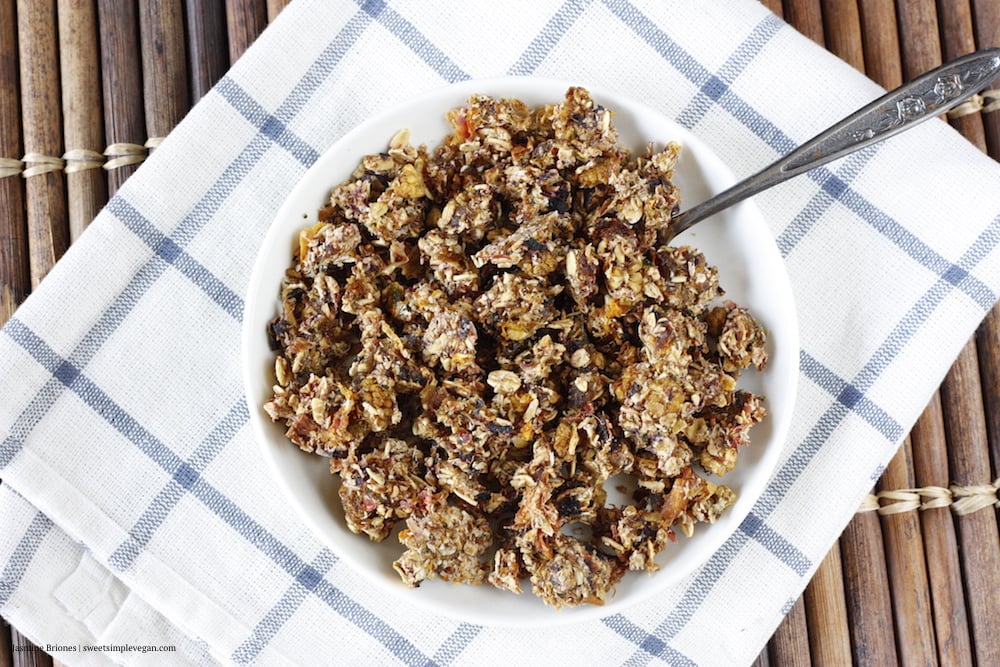 I love making fresh juice, but the question that always comes up is what the heck do I do with the juice pulp? I have cooked the (vegetable) pulp into soups, added it into cookies and crackers, and (when lazy) simply composted the pulp,  but I wanted to try and create something new!
As I had posted a few weeks ago, my cousin and I went on a juicing spree for her and her family during the week, and I ended up saving all of the pulp from the three juices we made. My Favorite Sweet Berry Juice had pulp that contained 100% fruit, so I decided to play around with that and create something sweet, hence this recipe.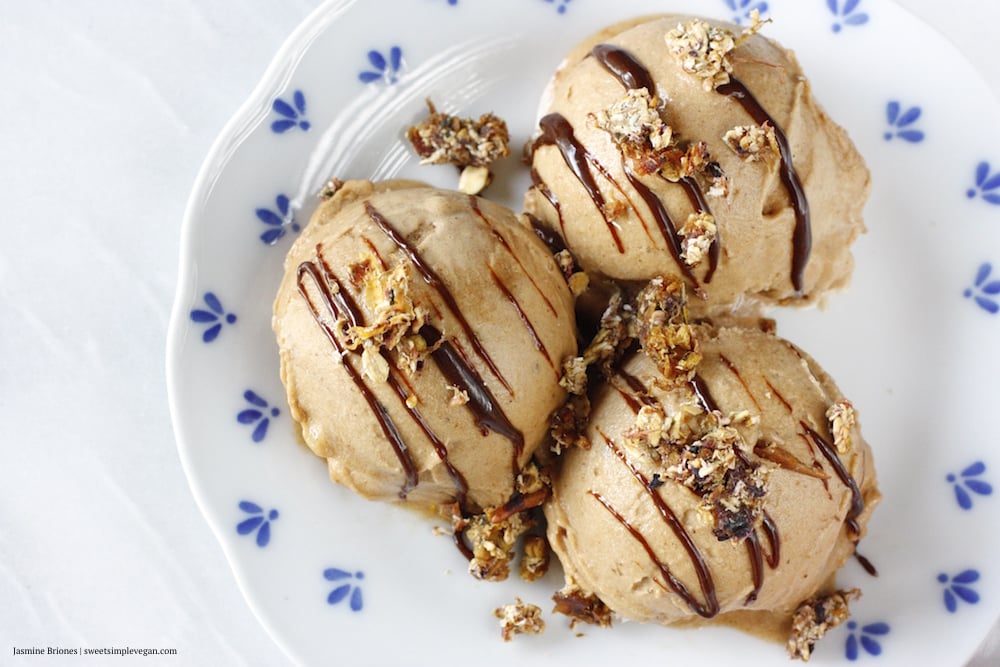 This Leftover Juice Pulp Granola is sweetened with nothin but fruit, is refined-sugar free, raw, gluten-free, oil-free and low in fat! I was really surprised by the end result, and pleased with the taste of the granola. My favorite thing about this granola is that it is buttery (for lack of a better term). I really have no idea how or why that is, but I'm 100% okay with that 😉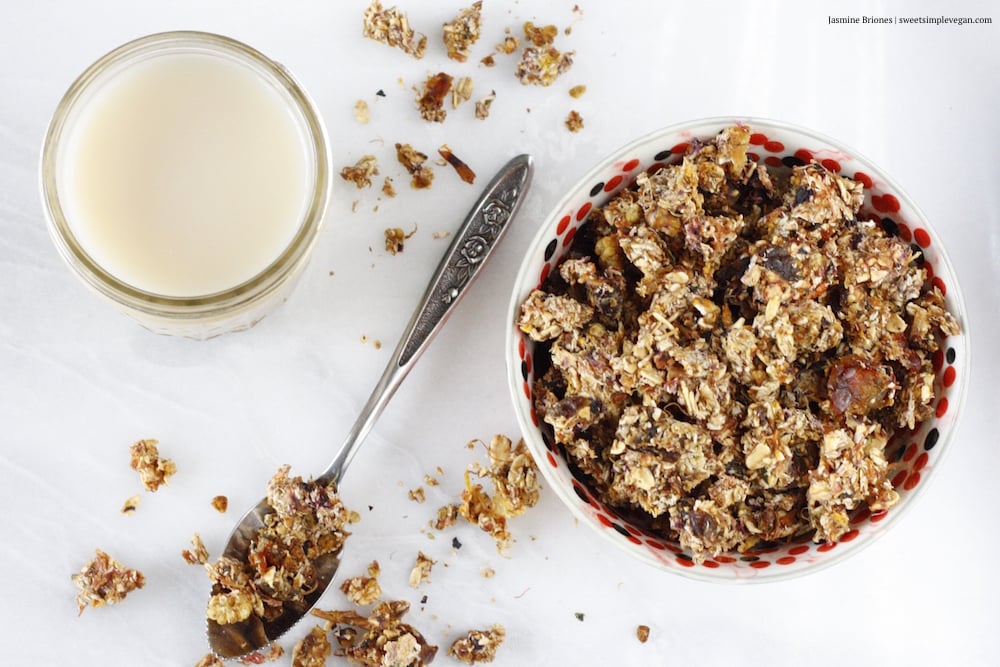 Serve this granola with a side of your favorite nut milk, I love almond and macadamia nut milks best! If you want to make a delicious nut milk of your own, check out my Ice Cream Milk recipe. That + this granola will be mind blowing, guaranteed!
OR, even better, serve it atop my 2 Ingredient Cacao Banana Ice Cream (raw, low-fat) w/ Raw Chocolate Drizzle. It adds the perfect crunch to compliment the creamy ice cream. It tastes so naughty, but is most definitely guilt-free!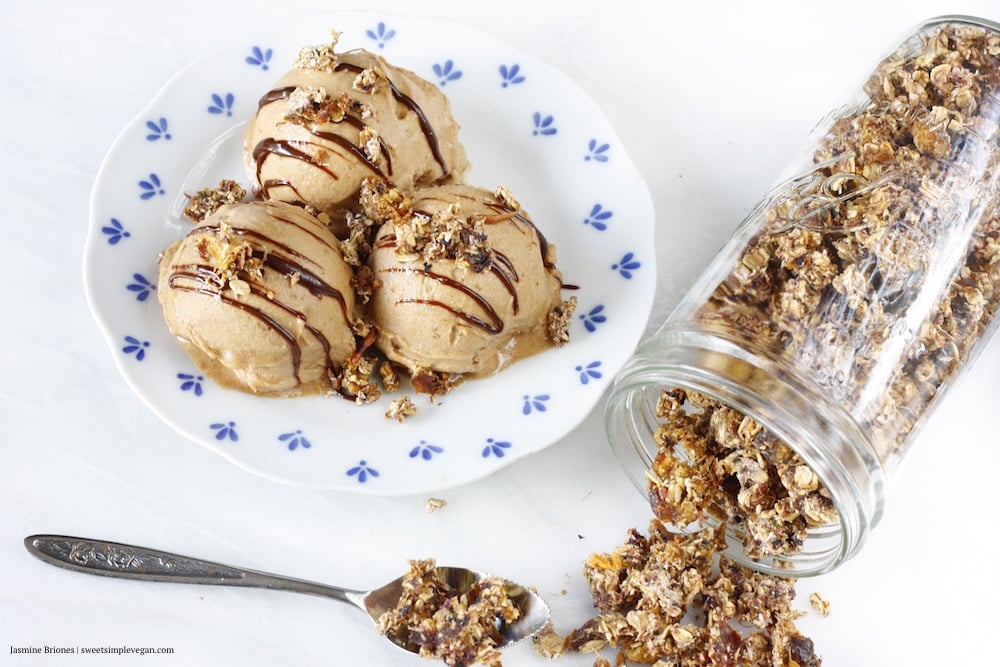 The ingredients of this recipe are pretty simple, and all of the ingredients are good for you: Medjool dates, oats, mulberries, unsweetened coconut and juice pulp, that's it! I made this in a dehydrator, but don't worry, I gave the option of using an oven in the recipe below, too.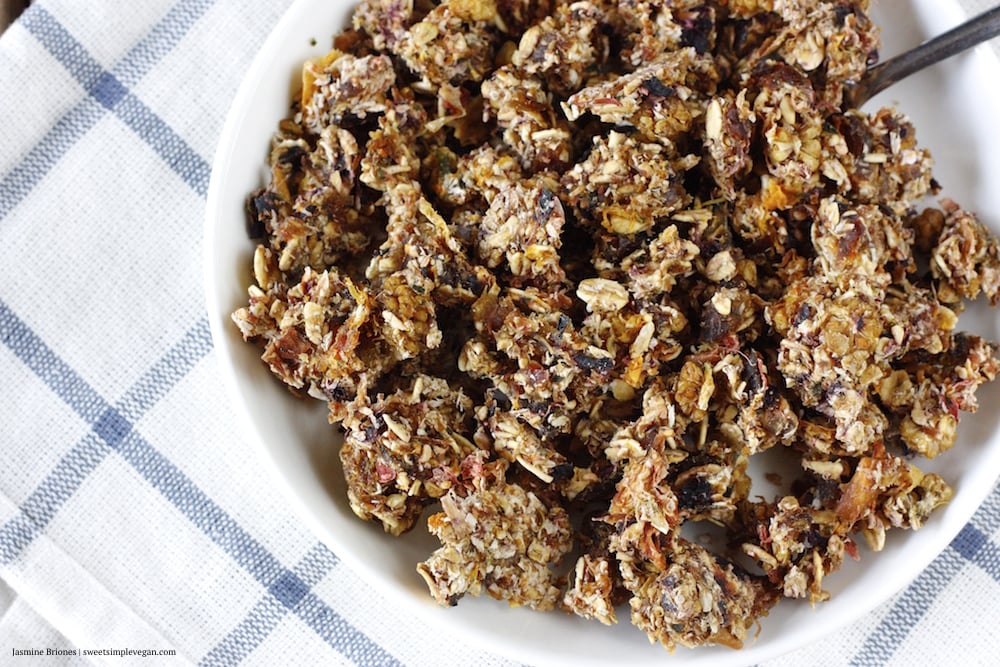 Make sure you tag me on Instagram @sweetsimplevegan or tweet @sweetsimpleveg and hashtag #sweetsimplevegan if you recreate any of my recipes, I love to see your photos!
Print
Leftover Juice Pulp Granola (raw, refined sugar-free, gluten-free, low-fat)
Author:
Prep Time:

10 mins

Cook Time:

8 hours

Total Time:

8 hours 10 minutes

Yield:

4-6

Category:

Snack

Cuisine:

Raw Vegan
Ingredients
10 medjool dates
1 cup raw oats
1/3 cup mulberries
1/4 cup unsweetened coconut flakes
1 1/2 cup sweet juice pulp (from this juice)
Instructions
Add the medjool dates, juice pulp, and coconut into a food processor or blender and run until everything is well combined and as smooth as you can get it.
Add in the remaining ingredients and pulse until slightly broken down and uniform throughout.
Dehydrator
Place into a dehydrator in a thin layer at 115 overnight, or about 8-10 hours, until dry and crumbly. Be sure you stir the granola halfway through.
Oven
Preheat oven to the lowest temperature you can get it.
Place the granola in a thin layer on a parchment lined baking sheet and into the oven.
Grab a wooden spoon/serving utensil. Keep the oven door cracked open with the wooden spoon so the moisture can circulate out.
Allow it to dry for 8-10 hours, or until dry and crumbly. Be sure you stir the granola halfway through.