COMMUNITY is one of the most important aspects when transitioning into veganism. I chose to be vegan when I was 18, and I had no friends or family to help me, guide me, or to share my experiences with. The only reason why I was able to stay strong was because of the online communities I discovered. Youtube, Instagram, everything helped so much. Being able to know that there are people out there who love what I love and support what I do was really comforting and encouraging.
Last weekend I attended the Los Angeles Vegan Potluck! This was the first time I had ever attended an Instagram meetup event, I was so nervous but I am so glad that I went. As none of you know me personally, I would like to share that I am not the most sociable/outgoing person. I get very nervous and I am definitely shy, but as I warm up I promise I am a fun person, lol. I challenged myself to step outside of my comfort zone and go.
This event would not have been possible without its beautiful hosts! I am so grateful that you put it together. Thank you (from left to right) Shannon, Miranda, Yvonne, André and Jazmin! I had never met any of the hosts, or anyone attending the potluck, but it was like we were all already friends. Everyone was so friendly, happy, and genuinely kind.
The three girlies that I got to spend most of my time with were Zee, Yvonne and Sarah. Three of the sweetest girls I've met and all so inspiring!
Zee is all about fitness and her page definitely is going to get mad back on track! I was able to relate with her in the difficulties we have and still are living through in regards to our vegan lifestyle, and we were able to offer each other information on oour experiences and connect on a level that I have no really connected with any one else on. I mean, no one in my life is vegan, so I blabbered on about all of the problems and lack of support that I have had to live through and what do you know, she agreed with having had almost all of the same experiences. We developed a friendship instantly and I am glad I have her now to turn to when similar situations will occur in my future.
Yvonne has an amazing recipe app, My Eclectic Kitchen, that you need to check out! All of the recipes I have made so far are beyond delicious. I never really knew of her background and where she came from but once I got to sit down and talk to her, she is really truly something, let me tell you. Her passion shines through all that she does and she is so dedicated to promoting health and plant-based diet for all of the right reasons. I am honored to have met her and glad I will be able to seek advice from her (and Sarah!) as I grow through this journey. I brought Yvonne a sample of the fruit and veggie accessories I am making, so look out for that on her feed!
Sarah is the funniest person, seriously. She is so confident and comfortable in her own skin. I sat with her when I first got there and she eased my nerves completely. He boyfriend and my mom also hit it off really well and they kept each other company while we were socializing with the other guests.
I was also excited to meet Diem, a hugh inspiration on my page, especially in regards to photography! She is so cute and sweet. She brought Rambutan and everyone was so intrigued! It was the first time I had tried the fruit and I ended up taking some home as leftovers, which my cat stole and thought was a toy!
Al was just as awesome as you'd think him to be. I had never met him before but he was talking to me as though we had been acquainted for years. He shared information on his experiences expanding and what I should and should not do business wise. He also just helped me realize that I really do have to enjoy all that I am doing and working towards because if not, what is the point? Oh, and I got some Vegan Food Share stickers! Definitely sticking them on my car and laptop 🙂
I ended the night in a long chat with Cyrus. He's the brains behind Rawvana's App and is doing some awesome things with his business, Touch Zen Media, a mobile application publishing  company. Definitely contact him if you are interested in more info on what he does and how he can work with you! He told me funny stories from the Woodstock Fruit Festival and I was bummed that I won't be able to attend this year. My conversation with him yielded useful advice and really helped out a lot in my confidence towards my future. 
There was so much food. So much. ALL the food. About 60 people RSVP'd for the event, and with everyone bringing at least 1 dish (some brought 2!), it was quite the spread. I had forgotten my camera in the car so I didn't get a shot of all the food before it was eaten, but I have gathered pictures here from those that attended so you can get an idea of why you need to be at the next event!
I brought two yummy dishes to the potluck. The first was my Summer Squash Pilaf from my Lunch & Dinner Ebook. My mom was actually the creator of this dish. She made it for me as my Raw Till 4 dinner entree when we visited my grandparents a few weeks ago. Everyone loved it at the dinner so I knew it had to be brought to the event.
The second was a Gluten-free Triple Berry Crisp with Sweet Vanilla Raw Cashew Cream.
I believe they both were a hit, as they were gone by the end of the event!I have to thank my mom for all of what she did this day. We were frantically cooking before we headed to the event and I could not have finished without her. Here are some of the yummy dishes that were on the table. Keep in mind that there were at least 40 dishes, I just did not get a shot or list of them all. These photos are from the Instagram accounts on the captions. Click on the photo to visit the users account!
The hit of the potluck was Hiram Camillo's Compressed Watermelon Poké. It seriously looks like tuna, it's crazy! I only saw photos, as I arrived after they were all gobbled up, but I keep seeing them all over Instagram and I wish I had gotten there at 6pm on the dot so I could have tasted them. I can't wait to try his food at the next event! If you are not already following him, you must check him out, especially if you are a foodie! I had no idea who he was honestly, but I started following him after the potluck when Sarah showed me his feed. The most beautiful work I have seen on Instagram, and it is all plant-based foods!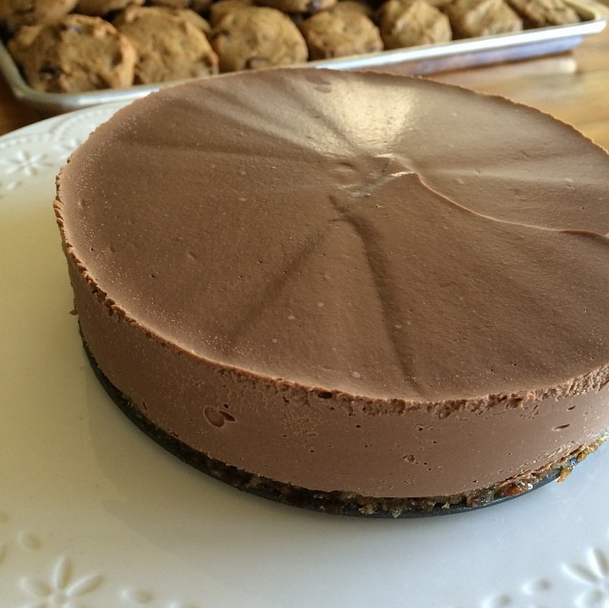 The one aspect of this all that I took to heart was the fact that everyone has a story. All that were present turned to this beautiful lifestyle of abundance, health, and happiness for different reasons, but we all are in it together and thriving on this lifestyle in the same light. I learned about people I had already knew of, and about people that I had just that day met, but everyone touched me equally. I was able to open up about myself and my journey with complete strangers because that is how loving and accepting this community really is. Thank you all for the event, and I can't wait to see you at the next one!
xo,
Jasmine
Here is a full list of the (Instagram) attendees. I got this list from Miranda. If anyone is missing let me know so I can add you.
@unhealthyvegan @wonderfulvegan @veganfoodshare @10ftdoll @hiramcamillo @yvonne_deliciously_vegan @comfortingvegan @jttagrl @health_through_food @chris.rivera @thepersianvegan @77zee @annieup424 @xenglish_muffinx @andrea_veganlicious @peoplesvegan @tpierce202 @whoskimbug @ahnestveggie @dsamento @klean_slate @serzils @buteebsful @karynaduran @dltvo @marababies @btringali99 @rebekahpowell @tannakey @luavluna @dee_dee_bee13 @dreashere @glennthevegan @captainjack10730 @cbc_photography @plantstrong_mom @josie_duran @ashcachom