Every year I put together a gift guide for the holiday season, and I am excited to share with you all some of my favorite, some deals that are happening + 3 HOLIDAY GIVEAWAYS as well!
GIVEAWAYS will be hosted on my Instagram:
November 29-Dec 3: I am collaborating with The Jewelry Box, a vegan jewelry brand based in Canada. I connected with Sue via Instagram, and she had the amazing idea to share her jewels with you all this holiday season. All of her pieces are 100% cruelty free, ethically crafted and made with love <3
December 7-9: I am collaborating with Bare Bones Body and Daily Harvest to giveaway the FULL Bare Bones Body including deodorant, muscle soak, muscle balm, moisturizing stick, and a sun stick, 6 Daily Harvest Smoothie packs + my Green Juice totes & Dat Hass tee. So excited!! 
A cruelty-free brand, where all products are certified by Vegan.org and PETA <3
All of their products are 35% until November 29 using the code FALL35OFF.
If you miss this sale, no worries! You can use my coupon code: SWTSIMPVEGAN25%OFF for 25% off the entire site!My pick from their site is the Stevie Backpack 🙂 
I haven't ever really been the handbag/purse type of gal. I actually used to just carry around my rectangular wallet with me because that is all I really needed! Now with both my vlogging camera and our doggy Berry, we need some extra things when we go out (poop bags, chargers, treats, sanitizer, etc.), I needed a little more room. I like how convenient and comfortable this bag was and I can tell you by experience that this is the bag I definitely recommend from Urban Expressions. All of their bags are amazing quality (I gifted my mom one as well and one for a giveaway (see the bottom of this post), and I would definitely say this is a gift you must consider for any special ladies in your life!
The gift of a vegan cooking class @ Spork Foods
Earlier this year, Chris and I took a vegan cooking class at a place called Spork Foods in West Hollywood.
The class we took was a pizza focused class, and every week/month they have differently themed classes depending on the season, popularity, etc. Some of the current classes include: Southern Comfort, Vietnamese, Aphrodisiac Italian, Taco Tuesday, Detox Cooking Class + more!

So for those of you who have friends and family in the LA, a gift certificate for an all vegan cooking class makes for a great gift. Giving someone skills that will impact their cooking forever is invaluable!
Vegan Apparel
Nowadays it's awesome to see that there is an ever growing amount of cruelty-free apparel options to choose from, so I am going to try my best to highlight the best of the best, or at least my favorites from my experience owning items from each 🙂
Taryn has funny, punny & playful vegan tees and sweatshirts that are humorous and options for almost everyone you know. I became friend with Taryn after I was introduced to her brand, and helping support her small business grow while also growing a long lasting friendship with her has been honestly priceless. Her apparel is not only affordable but amazing quality!
My pick from her line is her Fruit Mandala tee, it is absolutely beautiful! I wear a size XS 🙂
You can use the code "SWEETSIMPLE30" until Monday 11/28 for 30% off EVERYTHING!
Beet x Beet
Beet x Beet brings forward more edgy vegan apparel. Her sayings are more vegan-centered and are perfect in putting out a powerful message. Jacky is also a friend of mine that I have met through the Los Angeles community, and I am so grateful that she has created an easy way to share such an influential message 🙂  
My pick is the "It's Not You, It's Meat" women's off the shoulder tee. I sized up so I could have a looser fit as it is true to size!
I have not seen any sales yet, BUT I am assuming she is going to have something up for Cyber Monday on 11/28!
Brian Turner of Humerus Fitness just launched his new vegan clothing brand and I am LOVING their products! They have fruit printed clothing which honestly is what won me over 😉 + they have other vegan tees such as "Animals Are Friends, Not Food". What I love most about this brand is Brian's story! He went vegan as a high influencer on YouTube and uses his platform to now spread the message in a passive way that I think it appealing to his non vegan fans. 
My pick is their Fruit Bowl Leggings. Not only do they fit perfectly but come on, who could pass on a print like that! They have it in black as well if you don't want something so bright 🙂
Two of my good friends, Anji and Ryan, created the brand Happy Healthy Vegan to share their life with the world and show that veganism is easy, enjoyable, and beneficial in so many ways. Their goal is to show others just how accessible and approachable the lifestyle is, similar to that of myself and my partner Chris. They decided to take a leap and launch a merchandise line, and I am loving how their tees are released in waves, in that each round of tees seems to be its own "special edition run" and there is always something new and excited coming after. They actually recently launched some tie dye tees which are so rad and perfect for their brand. 
My pick is their "Keep It Carbed, Baby" tee! It's their channel slogan and honestly so true 😛
As I discussed on a previous blogpost, Thrive Market is like a Costco meets Whole Foods — it's a place where you can find products you normally buy at health food stores at wholesale prices up to 50% below retail! Thrive also works with nonprofit partners like Feeding America to distribute free memberships to the families and individuals they serve.
You can even gift one to yourself and then buy gifts from it for your loved ones 😉
I'm excited to share that I have teamed up with Thrive Market to give you all the chance to receive a FREE product when you sign up PLUS + a 30 Day Trial + only $1.95 shipping! You have the choice of the four items listed below, just click on the image to take you there <3
If you already have a membership, last I checked, Thrive Market was giving 25% off for the holiday weekend, so make sure to check that out before it ends!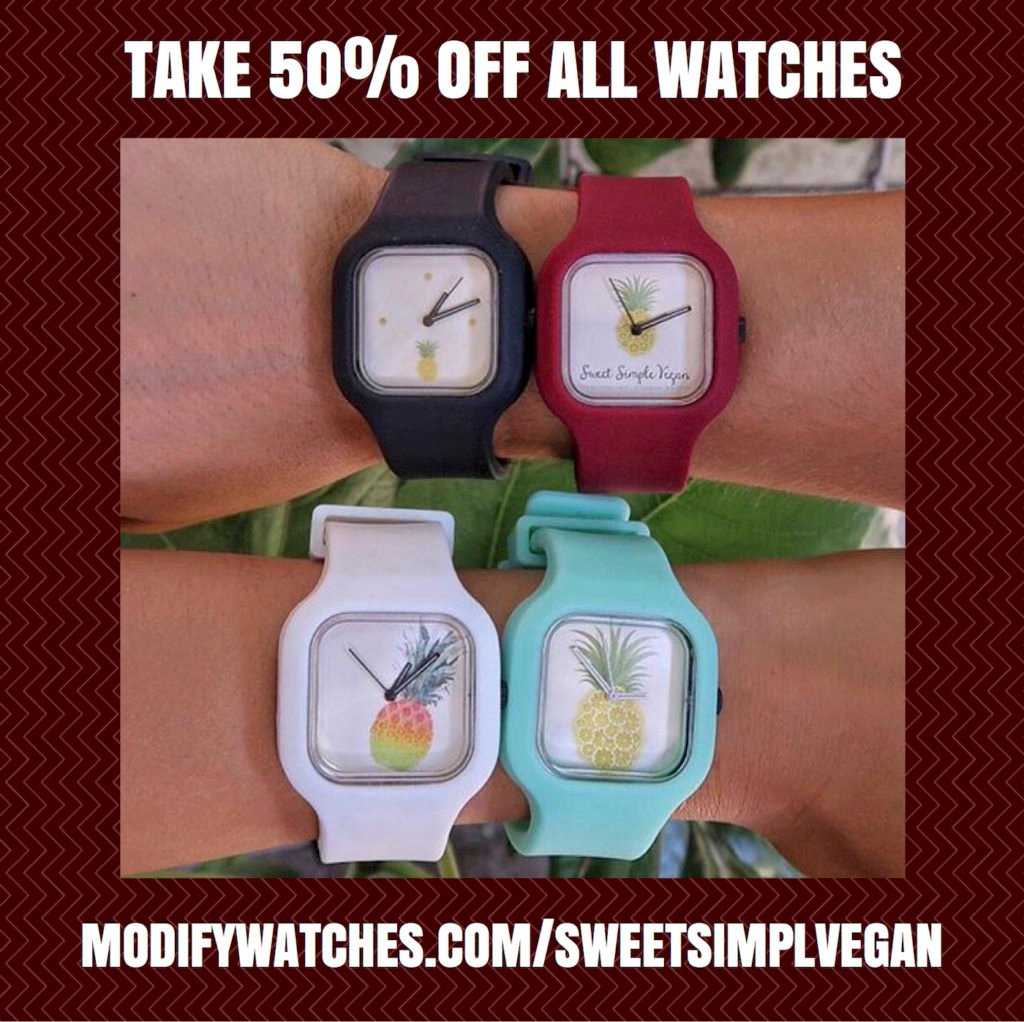 I am having a huge holiday weekend sale until monday 11/28 and offering my sweet simple vegan watches for 50% off using the code "5DAYSALE"! I now have both silicon AND metal watches in case you want something a bit more sleek 🙂
A Specialty Vegan Box
Check out Vegan Cuts for their awesome specialty boxes. They have a Snack Box, Beauty Box, Men's Box, Chocolate Box, Coffee Box, Yoga Box and even a  Combo Box that includes snacks AND beauty products. 
Vegan Cuts is having a 10 Days of Holiday Sales that ends on Monday, so make sure to check out their deals!
If you're not into this or want to make it more personalized, you can also put together your own DIY Snack Box by filling a box with vegan snacks you think your loved one would enjoy! For discounted items to include in your box, check out the Vegan Cuts Marketplace and/or Thrive Market (see #4 on this gift list)!
Handmade jewelry from an inspiring vegan mama from Canada. Each piece from The Jewelry Box is 100% cruelty free, ethically crafted and made with love 🙂
She has everything from chokers, cuffs to crystal necklaces.
My pick is the Y Lariat Necklace in Sterling Silver, the perfect pairing to a choker and and edgy piece that can spice up any outfit!
Vegan Natural Body Care from Bare Bones Body
Because what you put on your body is as important as what you put in it. Not only should we be conscious of avoiding animal products on our plate, but we should also be conscious of them in all aspects of our life, including the products we use in and on our bodies.
I know this may be a bit TMI, but growing up my dad and I struggled to find a natural deodorant that did not give us rashes, to the point where we just accepted the rashes as what we felt would be a part of our lives forever. Bare Bones was the first ever brand to help us change that!
Monica is another great friend of mine, and all of her products are locally made in Los Angeles by hand by her and her team. There is so much love that goes into her brand, and I love being able to support!
Bare Bones is having a 20% off sale this weekend, just use the code "SHOPSMALL" at checkout!
AND from December 7-9 I am collaborating with Bare Bones Body and Daily Harvest to giveaway the FULL Bare Bones Body including deodorant, muscle soak, muscle balm, moisturizing stick, and a sun stick, 6 Daily Harvest Smoothie packs + my Green Juice totes & Dat Hass tee. So excited!! 
A Stone or Crystal
A gift with a deeper meaning and intention 🙂 Each stone and crystal takes millions of years to come into existence, and each has a deeper meaning, beneficial for a specific need/desire. If you need some direction in choosing a crystal or stone for your loved one, crystal shops always have information next to each to help you out. For Christmas last year, I gifted Chris with prehnite, the stone of unconditional love 🙂 Earlier this year, I connected with Deanna of Spirit Fox Crystals and she was a great inspiration and educator, and helped instill much more positive energy into my life through the help of these beautiful gems. Below is a little summary of some of the stones I own, but there are still soooo many others you can discover aside from these!
Quartz: Master stone of enlightenment, gives off lots of energy.

Amethyst: Calming, relaxing, spiritual

Red Jasper: Grounding, confidence, back bone, wisdom

Citrine: Happiness, joy, cleanses other energy

Carnelian: Motivation, energy, creativity, sexual energy

Sodalite: Peace, finding your voice, helps with writers block

ShivaLingham: Balance, fertility

Rose Quartz: Self love, beauty, romance

Green Aventurine: Healthy new growth, abundance

Kyanite: Cleaning, energy, magnifies the energy of other stones, finding your way

Black Tourmaline: Shields from negative energy, grounding

Tiger's eye: Lucky, concentration,  protection

Unakite: Letting go of past hurt, stone for pregnant women and mothers
Unicorn Goods: The World's Largest Ethical Vegan Catalog
A PETA-Approved Vegan vendor that archives tons of vegan products available into one place. It's an easy way for you to see almost everything available at once 🙂
Disclaimer: This page may contain affiliate links, which simply means that I earn a commission if you purchase through those links, but your price remains the same. Thank you for supporting Sweet Simple Vegan!