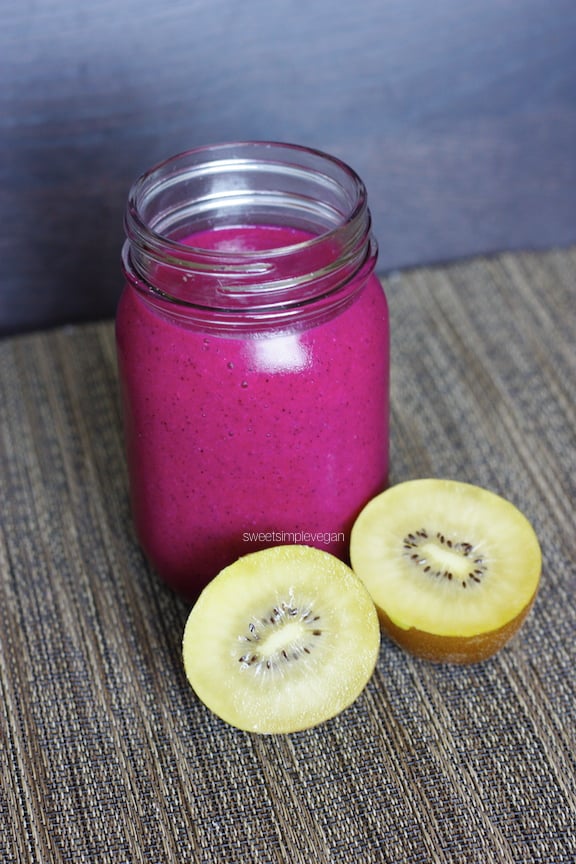 I always love visiting the asian market by my home and picking up a few fruits/vegetables that I do not normally eat or that I have never tried. If you are looking for something new, definitely try this out. I know that these markets do not sell organic produce, but once in a while I like to visit them and get a taste of something new. Plus, they always have jackfruit and durian, so it is worth the trip.
I picked up these golden kiwis my past visit. I have tried them before at my auntie's house, but I never was able to get my hands on some individual ones of my own, as they always sell them in large bulk boxes. Well, this time they had them out with all of the other produce. I grabbed a few and when I got home I discovered that my Pitaya Plus smoothie packs had just arrived in the mail, so I decided to combine the two into a smoothie and see what happens.
What I created this beautiful smoothie that will definitely now be one of my favorites. If you do not have golden kiwi, use a green kiwi, as I am more than sure it will still be delicious.
A lot of people don't know this, but you can eat the skin of the kiwi! Fruits hold the highest amount of nutrients right under the skin, plus the extra added fiber is great for your digestion. I usually only do if it is organic, so that is what I recommend to you as well. I know that for some it is a texture preference to remove the skin, but when blending it into smoothies it will just disappear into it and more easily be consumed.
Print
Golden Kiwi Pitaya Smoothie
---
Author:

Total Time:

5 minutes

Yield:

1
2

Pitaya Plus smoothie packs

3/4 cup

coconut water (or regular water or almond milk)

2

golden kiwi, peeled if not organic

1/2 tbsp

unsweetened coconut
---
Instructions
Allow the smoothie pack to thaw a bit to ease blending,
Place all of the ingredients into a high speed blender and process until smooth.
Prep Time:

5 mins

Category:

Smoothie

Cuisine:

Vegan, Raw Vegan
<a href="http://www.bloglovin.com/blog/12034355/?claim=cmg4k29eqbu">Follow my blog with Bloglovin</a>