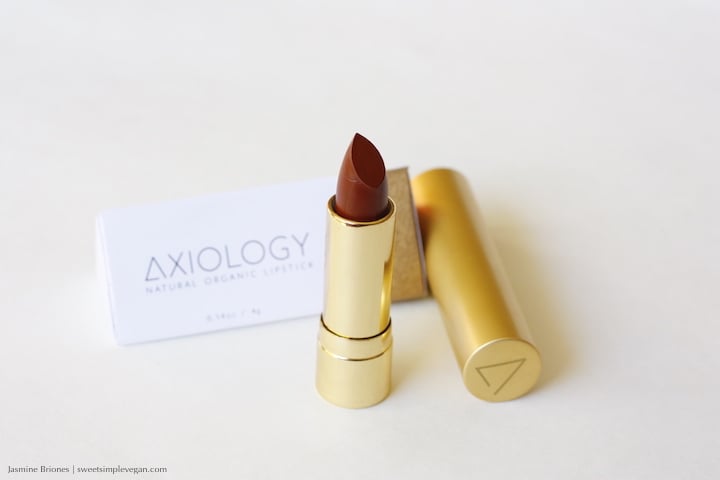 A few weeks ago, I received a Christmas present from my friend Ericka Rodriguez. She sent me a vegan lipstick from her line, Axiology Natural Organic Lipstick, in the color "Elusive", which is one shade above the darkest. You can see all of the shades here. I am so overwhelmingly pleased with this lipstick that I decided I would do a blog post on it so that you all can consider giving these a try.
No Harsh Chemicals, No Animal Testing!
The ingredients are all natural, organic, vegan and most importantly, pronounceable. There are not random fillers, non-vegan coloring or harsh chemicals, and these babies are pigmented by fruit and other earth pigments, like avocado butter and orange oil. I will discuss the ingredients below 🙂
Makeup by: Rovelyn Jane | Hair Color: Brandy Nolan Hair  | Lipstick: Axiology Natural Organic Lipstick
Ingredients:
Raw, Organic Mango Butter
100% pure and unrefined, made from the seed of mango fruit. It i beneficial for skin softening, soothing, and is rich in antioxidants and nutrients. This lipstick is not just to look good, but it helps keep your lips vibrant and healthy.
Organic Avocado Oil
Cold-pressed and organic, loaded with nutrients and vitamins, helps cleanse and aid stressed out skin and protects against factors such as pollution, smog.
Organic Grapeseed Oil
Cold-pressed from the seeds of organic grapes, it is a great source of omega 6 fatty acid, antioxidants, provides a natural shine and gloss and helps lubricate and moisturize lips.
Organic Castor Seed Oil
Cold-pressed and GMO free, created from the seeds of the Castor plant, it is loaded with triglycerides, and fatty acids, including ricinoleic acid which helps keep your lips bacteria free.
Raw, Organic Coconut Oil 
Our raw coconut oil, moisturizes, conditions and softens lips, clears away dead skin cells, and is a natural antibacterial and antifungal agent.
Vitamin E Oil
An antioxidant powerhouse, protects against environmental damage, and strengthens and heals dry/chapped lips.
Orange Essential Oil
Helps keep your lips smelling naturally sweet, which also helps to calm and relax the mind and allow deep relaxation, as well as soothes dry, irritated and chapped lips.
Organic Candelilla Wax
A vegan alternative to beeswax (score!) from the Candelilla shrub, retains lasting moisture and keeps both your lips and lipstick smooth.
Mineral Powder Pigments
Pigments are naturally sourced, from the earth 🙂
My Personal Experience
Long lasting: Even after eating and drinking at a dinner party, this lipstick kept well on my lips! I was so surprised, and actually raced to the restroom after I ate, but I found that I did not even need to touch up my lips.
A great shade for my skin tone: I was a bit nervous when putting this color on at first, for it is definitely outside of my comfort zone, but now that I am comfortable wearing it out, I love it!
No irritation: I am very sensitive to beauty and skin products, sometimes breaking out or getting itchy with certain products, and I am happy to say that this lipstick was well received by my lips/skin.
I definitely recommend you try Axiology Natural Organic Lipstick in one of their amazing colors! And let me know what you think What are your other favorite vegan beauty products ad brands? Let me know in the comments below, and let me know if you want more beauty posts!
Thank you Ericka for the chance to review your product, I love it! <3