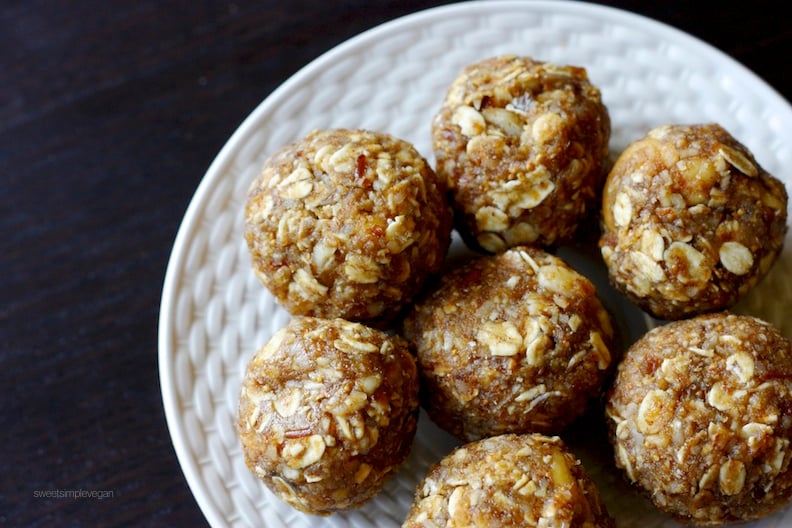 After posting a photo on my Instagram of my breakfast the other day, which included these power balls, I got a few reqests for the recipe, so I decided to create a post to share with everyone!
These were inspired by the ingredients in my Apple Rose Caramel Tart, a low fat raw vegan dessert I served for my birthday guests this year. I took the same basic ingredients and added nuts and oats into the mix and voila, power balls were created.
I found that these went well with tea, as they are pretty sweet. They are a great mid-day treat, perfect for that pick me up some of us may need to fuel the second half of our day or even for a grab and go breakfast. These are so versatile! You can even use them for a healthy, no bake crust recipe for a tart/pie by simply pressing the dough down into a pan instead of rolling it into power balls.
The caramel used in this recipe is a raw vegan caramel. It has no milk, butter, or refined sugars, and is actually fat-free, guilt-free, and tastes like heaven in your mouth.
I added an apple to the caramel for the flavoring of the power balls, but you can sub in any fruit, or even replace the fruit with a touch of water, just until a caramel consistency is reached when processing.
Here is the breakfast I mentioned above from my Instagram. I had about 5-6 frozen bananas blended with carob (or you can sub cocoa) to form banana nice cream, then I topped it off with some fresh organic blueberries and a caramel apple oatmeal power ball.
I'm excited to share that the apple I used in this recipe was grown in my very own backyard! Last year we only had 2 apples grow during the season, but this year we had about 15! I hope the squirrels don't beat me too them. Someone on my Instagram suggested that I sprinkle cayenne on them, then rinse it off when eating. I've never tried this, but I think it's worth a shot. Have any of you?
Make sure you tag my Instagram and hashtag #sweetsimplevegan if you recreate any of my recipes! I love to see your photos and share them!
Print
Apple Pie Oatmeal Power Balls
---
Author:

Total Time:

10 minutes

Yield:

10-12 power balss
Dry Ingredients:
4

dried calimyrna figs, destemmed and chopped

1/4 cup

almonds

1/4 cup

cashews

1 cups

gluten-free rolled oats*

2 tbsp

goji berries

1.5 tbsp

mulberries

⅛ tsp

cinnamon
Pinches of ginger, cloves and nutmeg
Caramel:
10

medjool dates, pitted and chopped

1

apple of choice, decored and chopped (I used Fuji), divided

⅛ tsp

vanilla powder or extract (optional)

⅛ tsp

cinnamon
Pinches of ginger, cloves and nutmeg
---
Instructions
Dry Ingredients
Place all of the dry ingredients, except for the oats, into a food processor and run until roughly chopped. Add in the oats and pulse to combine.
Pour into a bowl and set aside.
Caramel
Create your caramel by placing the caramel ingredients and only 3/4 of the apple into a food processor and process until smooth.
Add in the remaining 1/4 of the apple and pulse until combined and chunky.
Assembly
Pour all of the dry ingredients into the wet in the food processor and either mix or pulse until combined.
If it is too sticky, pulse in or mix in more oats until it is sturdy, at a crust like consistency. If it is too crumbly, add more dates.
Take about 1 1/2 tablespoon sized pieces and roll into balls.
Will keep in the fridge for about a week, and may even be frozen for longer.
Notes
I ended up having to add in a few tablespoons more of oats as mine was a bit too sticky.
To make these raw, use raw oats or sub in a dry ingredient, like more nuts, sunflower seeds, or sprouted buckwheat groats.