Hi everyone, happy Monday! Today I am coming at ya with a highly requested post — my vegan skincare routine. I have tried a ton of different products on my skin throughout the years and I have finally found what works for me. I have also shared my top 10 tips that have helped me keep my skin clear.
I also want to mention that all skin is different and that just because all of this works for me doesn't necessarily mean it will work for everyone. I want to be able to share my routine to help you try out new products or make new habits if that is what you are looking to do. I hope this helps!
So without further or do, Let's talk about SKIN!
1. Wash your face every day
…even if you don't put any makeup on! There is a ton of gunk that can build up on your face throughout the day, so it always beneficial to give it a thorough wash and rinse every day. I wash my face two times a day– before bed and when I wake up in the morning. I use the Bio Clarity 3-step system and I swear by it. This is not sponsored, I just love their stuff because it not only works well but is vegan & cruelty-free + doesn't contain any gluten, parabens, fragrance or sulfates. You can check them out here and use SSVEGAN for a 50% discount!
Bedtime routine: I remove my makeup with the Frank and Whit Cleansing Serum I rub the serum all over my face and use an old t-shirt or a reusable makeup pad to wipe off all of the makeup. Then I use the Bio Clarity Cleanser, followed by the Bio Clarity Complexion Perfection on any blemishes I have. I don't use it every day as it can dry out my skin. I move on to the Cocokind Rosewater Toner and either spray it on my face or use a makeup pad/t-shirt to put it on, then I move onto Bio Clarity Restore which is a floralux gel with chlorophyll. I love their cleanser especially because it is foamy, I am not a big fan of oil-based cleansers. After I apply all of this, I then put on a layer of Shea Butter, which I have found to be an AMAZING overnight moisturizer, especially since I have skin on the dry side.
Morning Routine: I use the Bio Clarity Cleanser, I skip the Complexion Perfection (it can dry out my skin so I only use it once a day if I do), then I go in the Cocokind Rosewater Toner, and then with the Restore floralux gel. I don't use shea butter in the morning because it does not work well with makeup, so instead, I use a moisturizer from Bioclarity called Hydrate (Skin Smoothie). It is lighter than the shea butter and sits better on my skin through the day.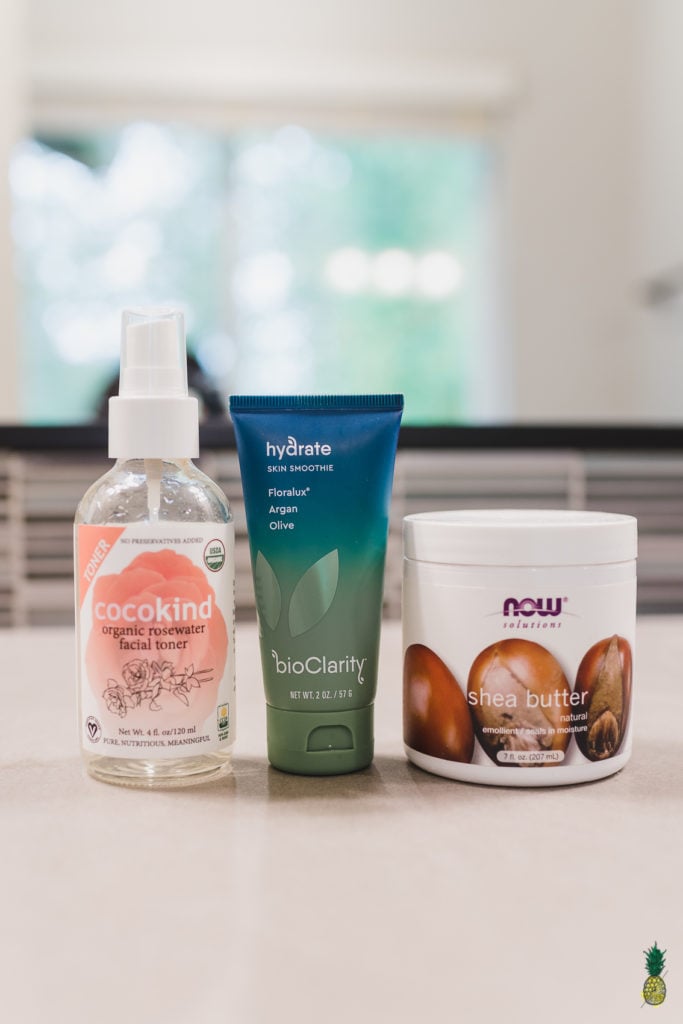 2. Be gentle
There is no need to scrub your skin too hard when washing. In fact, I only scrub my skin once a week as I feel that it does more harm than good when I do it more often. I use a charcoal konjac sponge with the Bio Clarity cleanser and then rinse it off and leave the sponge on a towel to dry.
Along with being gentle, I recommend looking to using products that are gentle on your skin as well. make sure there are no harsh chemicals or ingredients, and that the products are all natural. My cleansing routine is listed above in #1, and I will list some of my favorite makeup products below.
3. Eat Healthfully
I aim to eat a whole food plant-based diet as best I can, avoiding oily and fried foods. What has been easiest for me is to stay track when I am at home and then indulge when I am out. It really helps me stay balanced and I have found that 2-3 meals out a week doesn't do much harm on my skin. When I consistently eat unhealthfully, I see it in my skin!
I am vegan so I don't consume dairy, but I just wanted to share that if you do, you should consider avoiding it for your skin. Of course, ethically dairy is never a great choice, but also healthfully as well. So many studies have shown a link from dairy to acne and other skin problems. What can come along with dairy when consumed are steroids, (naturally occurring and synthetic) hormones, pesticides, herbicides, fungicides, fertilizers, antibiotics, veterinary medications, synthetic preservatives, additives, and (possibly most disturbing) white blood cells (aka pus).
4. Stay hydrated
Hydration is key! I have relatively dry skin and when I drink enough water throughout the day, it is reflected on my skin. I aim to drink about 2 liters per day.
A good tip is to keep a water bottle with you at all times. I have a 64 oz insulated water bottle that I like to fill up at the start of the day and make it my goal to finish it at the end of the day. If you have a smaller one, just aim to fill and finish it a certain number of times and you will be on top of it!
5. Stop touching your face!
…or at least wash your hands before doing so. Our hands come into contact with so many surfaces (and germs) throughout the day, so not touching your hands or at least washing your hands before you do so will help prevent you from causing any unnecessary harm to your skin.
6. Clean your phone
If you're like me, my phone comes everywhere when I am out and about. Try and wipe down your phone as often as possible so those germs don't transfer to your face.
7. Wash your sheets and pillowcases once a week
Our beds become FILLED with dead skin cells, oils from our skin, saliva, sweat, pet hairs, dander and dirt (if you sleep your pet). It is a good idea to wash your sheets pillowcases each week to rid of these things and get a fresh new start for your (face and body) skin. Plus this build up can be a dust mite heaven!
8. Wash your makeup brushes once a week
Brush cleaning should be an essential part of your skin routine. Residual makeup, dirt, oils, etc. can build up on your brushes and cause acne and breakouts. You can use shampoo, Castile soap, or a brush cleaner of your choice.
Here is how I wash my brushes:
I run my brushes under water to get them damp.
I grab one brush and then using either my shampoo or Castile soap, I apply a small dot onto the brush. I rub the cleanser into the brush with my hands until it is soapy.
I grab my brush cleansing palette, run the sink lightly, and scrub the brush onto the palette with water running over it to rinse. I continue doing this until the water runs clean.
I set my brush on a clean towel to dry overnight. If you are using it sooner, you can blowdry the brush as well.
Repeat with all of your brushes.
9. Whatever you do, don't pop it!
Let your pimples be and allow them to heal naturally.
Popping them pimples is actually really bad for our skin. Pimples exist because the pore becomes engorged with things like excess sebum, dead skin cells, bacteria, and pus; the pore is swollen and under a lot of pressure. When you pop your pimples, you can actually be pushing infected material deeper into the skin below even while pus is being extracted from the pore. Popping pimples can also cause scarring and have a bigger effect on your skin rather than just waiting for it to heal.
10. Try a face mask once a week
I used to think face masks were a luxury, things that I would only do on special occasions or when I would have spa nights with my mama. Once I started incorporating a face mask into my skin routine, I noticed a HUGE change. I feel like it is a great way to clear your pores, reboot your skin and get anything that isn't removed with the cleanser. There are a few face masks that I love, and I will list them below.
And there you have it, my vegan skincare routine + top 10 tips. I hope that this post can help you out in some way, I really enjoyed putting it together. If you have anything you want to add, share below 🙂