Super tasty vegan Cuban sandwiches stacked with veggie ham, mojo marinated seitan and all the
fixin's
. This is a recipe worth making and something you need to try ASAP!
This recipe is from the 10th Anniversary Edition of Veganomicon: The Ultimate Vegan Cookbook by vegan powerhouses Isa Moskowitz and Terry Romero. We are excited to share that we have partnered up with them to give you the chance to win a copy of their cookbook!
It was definitely tough to choose just one recipe to share with you from their cookbook — we are hooked on so many! From their chocolate chip brownie waffles to the Jamaican yuca shepherd's pie, there is too much goodness in one place for us to choose a favorite.
The vegan Cuban sandwiches stood out to us because we are big fans of a restaurant here in Los Angeles called Equelecua. They are an authentic vegan Cuban restaurant that serves up some of our favorite sandwiches, and being able to make them at home was a dream of ours! After putting this recipe to the test, we are SOLD on making our own. Not only was it so easy to make, but it was also spot on with the sandwich we fell in love with. 
The original Veganomicon cookbook was one of the first cookbooks Jasmine owned, and the recipes and knowledge within it helped her out when she first went vegan. We are especially excited to giveaway a copy of this book because we want it to do the same for you!
The cookbook includes meals for all occasions and soy-free, gluten-free, and low-fat options! PLUS the anniversary copy has 25 brand-new dishes, updates throughout for more than 250 recipes, gorgeous color photos, and tips for making your kitchen a vegan paradise.
GIVEAWAY IS NOW CLOSED.
Congrats to Briana, you are the winner! We have sent you an email and will get the book to you ASAP 🙂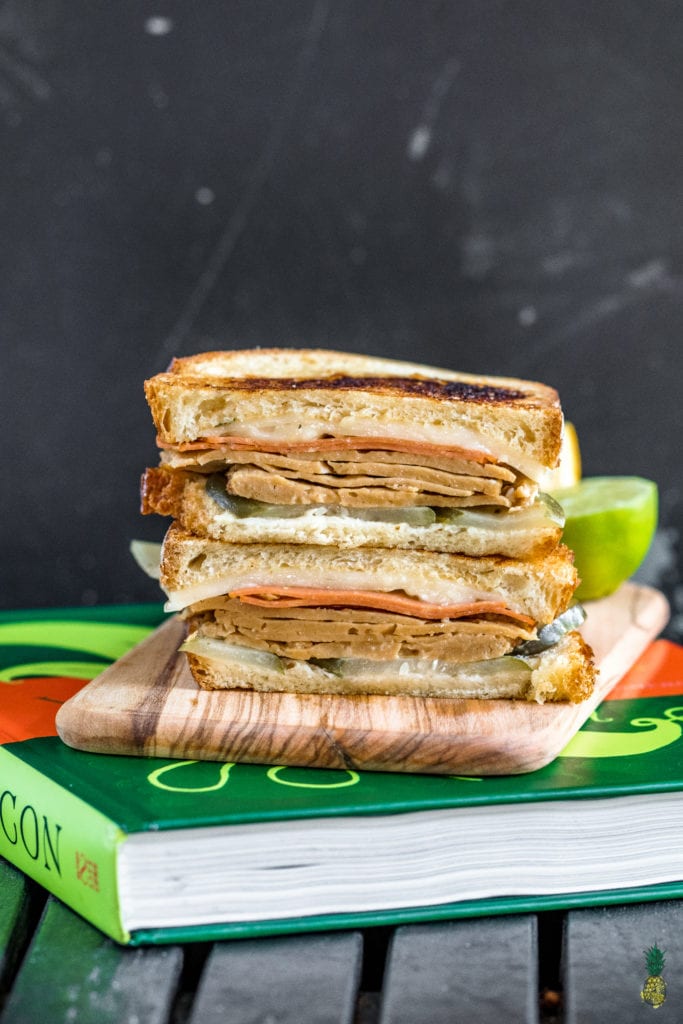 Make sure you tag us on Instagram @sweetsimplevegan and @consciouschris and hashtag #sweetsimplevegan if you recreate this recipe, we love to see your photos!
Print
Vegan Cuban Sandwiches
Super tasty vegan Cuban sandwiches stacked with veggie ham, mojo marinated seitan and all the fixin's. This is a recipe worth making!
Ingredients
Mojo roasted seitan:
3/4 cup fresh orange juice
3 tablespoons fresh lime juice
3 tablespoons olive oil
4 cloves garlic, minced
1 teaspoon dried oregano
1/2 teaspoon ground cumin
1/2 teaspoon salt
1/2 pound seitan, sliced into 1/4-inch-thick slices
For assembly:
4 (6- to 8-inch-long) vegan submarine sandwich rolls, or 1 soft vegan Italian loaf, sliced widthwise into 4 pieces
Vegan butter, at room temperature, or olive oil
Yellow mustard
1 cup bread-and-butter pickle slices 8 slices store-bought vegan ham
8 slices mild-tasting vegan cheese (American or yellow cheese flavor preferred)
Instructions
Prepare the seitan: Preheat the oven to 375°F. Whisk together all the mojo ingredients except the seitan in a ceramic or glass 7 x 11-inch baking pan. Add the seitan strips and toss to coat with the marinade. Roast for 10 minutes, then flip the slices over once, until the edges are lightly browned and some juicy marinade still remains (don't overbake!). Remove from the oven and set aside to cool.
Assemble the sandwiches: Slice each roll or piece of bread in half horizontally and generously spread both halves with the butter or brush with olive oil. On the bottom half of each roll, spread a thick layer of mustard, a few slices of pickle, two slices of the ham, and one-fourth of the seitan slices, and top with two slices of the cheese.
Dab a little of the remaining marinade on the cut side of the other half of the roll, then place atop the lower half of the sandwich. Brush the outsides of the sandwich with a little more olive oil or spread with the butter.
Preheat a 10- to 12-inch cast-iron pan over medium heat. Gently transfer two sandwiches to the pan, then top with something heavy and heatproof, such as another cast-iron pan or a brick covered with several layers of heavy-duty aluminum foil. Grill the sandwich for 3 to 4 minutes, watching carefully to prevent the bread from burning; if necessary, lower the heat slightly as the sandwich cooks.
When the bread looks toasted, remove the pan/brick and use a wide spatula to carefully flip each sandwich. Press again with the weight and cook for another 3 minutes or so, until the cheese is hot and melty.
Remove the weight, transfer each sandwich to a cutting board, and slice diagonally with a serrated knife. Serve hot!
Nutrition facts label provided by Nutri Fox.
Disclaimer: This is not a sponsored post. We were provided with a copy of Veganomicon to review but all opinions remain our own. This page also contains affiliate links, thank you for supporting Sweet Simple Vegan!
Excerpted from Veganomicon, 10th Anniversary Edition: The Ultimate Vegan Cookbook by Isa Chandra Moskowitz and Terry Hope Romero. Copyright © 2017. Available from Da Capo Lifelong Books, an imprint of Perseus Books, LLC, a subsidiary of Hachette Book Group, Inc.