Meatball subs were a childhood favorite of mine. I had them often, and they were always reminiscent of times with family and friends. Growing up in an Italian household, they were pretty much a staple. Thankfully, we've created a vegan alternative, and in my opinion these vegan meatball subs are way better as they are free from cholesterol, saturated fat, and any of the harm associated with its counterpart.
Our vegan 'meatballs' are made from eggplant, chickpeas, and tempeh, and are ones you can feel good about making and enjoying. Paired with a fresh sourdough hoagie, a heap of caramelized onions (no oil needed!) and our homemade cashew parm, this sandwich is sure to be a favorite among family and friends.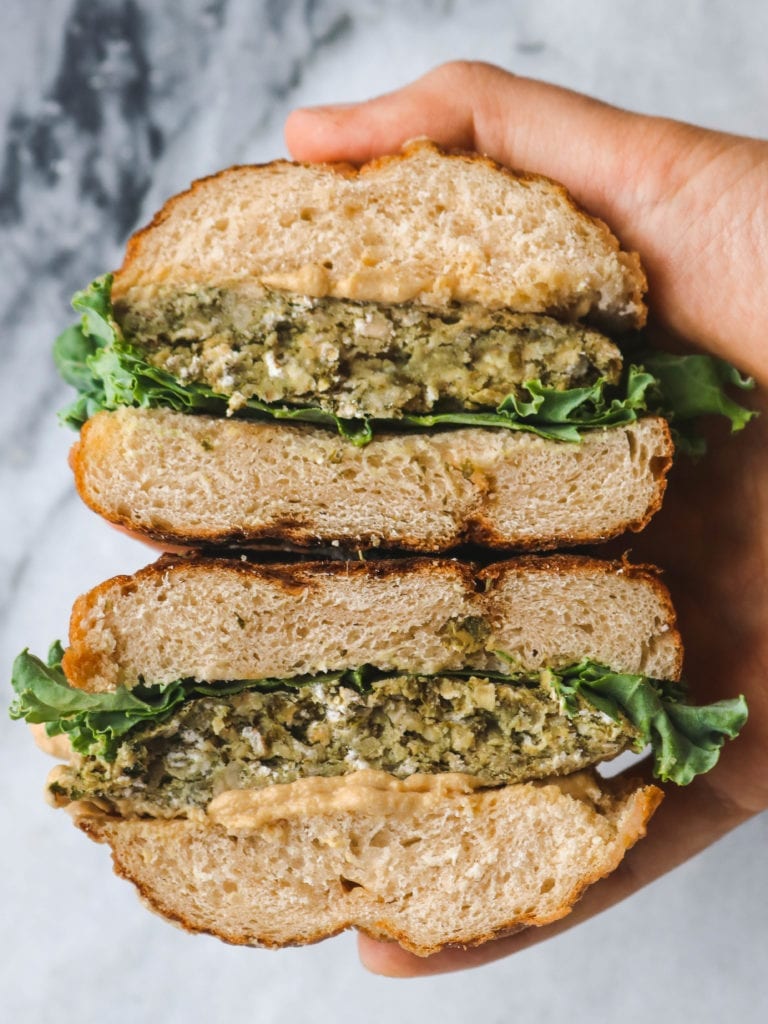 This recipe is part of our monthly collaboration with our friend Caitlin, From My Bowl. The challenge was to make sandwiches, which are pretty much my favorite thing in the entire world, so I was super excited about this one. Caitlin made these epic Kale Pesto Burgers on homemade pretzel buns, talk about drool worthy!
Who's do you prefer? Our Eggplant Meatball Sub, or Caitlin's Kale Pesto Burgers? This is gonna be a close one, for sure!
Next month's recipe collaboration will consist of either watermelon or corn, in celebration of summer! Help us decide in the comments below! 😃
Print
Vegan Eggplant Meatball Sub w/ Homemade Cashew Parmesan (oil-free)
A hearty vegan meatball sub sandwich that does not skimp out on flavor OR nutrition! It is packed with veggies and herbs, PLUS doused in marinara and a super easy parmesan, you don't want to miss out on this!
Author:
Prep Time:

50

Cook Time:

42

Total Time:

1 hour 32 minutes

Yield:

3
Ingredients
Cashew Parmesan
1/4 cup raw cashews
1 tablespoon nutritional yeast
1/4 teaspoon sea salt
1/8 teaspoon garlic powder
Pinch of chili powder
Oil-free Caramelized Onions
 1 cup sliced white onions
~1+ cup low sodium vegetable broth
Pair with:
Three 6″ sourdough hoagies
1 cup oil-free marinara sauce (we use Engine 2) or pizza sauce
Instructions
Cashew Parmesan
Add all ingredients to a food processor and mix/pulse until a fine meal is achieved. Store in the refrigerator to keep fresh. Lasts for several weeks.
Oil-free Caramelized Onions
Add 1/4 cup vegetable broth into a pan over medium-low heat. Once warmed, add in the onion and cook down, stirring occasionally, about 15-20 minutes.
Add more broth as needed to prevent burning, but don't add more until it has cooked off.
Assembly
Preheat the oven to 350° F. Slice open your bread if it is not already cut, and place into an oven on a baking sheet to toast for about 8-10 minutes. Make sure you keep an eye on it to prevent it from getting burned! remove from oven and allow it to cool a bit before handling.
Gently add your meatballs into a large mixing bowl, and pour over the marinara (or pizza sauce). Toss gently (to avoid breaking the meatballs) until they are all thoroughly coated with sauce.
Divide you meatballs amongst your bread, then top with the onions and a sprinkle of parmesan. Dig in!
Notes
If you would like to make this recipe gluten-free, simply sub gluten-free bread and breadcrumbs.
You will probably have extra parmesan– it can be used on pizza, sandwiches, macro bowls, etc!
Nutrition facts label provided by Nutri Fox.
If you like sandwiches, check out our other recipes below!
Disclaimer: This page may contain affiliate links, thank you for supporting Sweet Simple Vegan!