As some of you may have seen on my Instagram and Twitter accounts, I attended this year's Natural Products Expo West, which is the world's largest natural, organic and healthy products event! I went through my photos from the event, and I ended up taking around 200, WHAT?! I definitely could not post them all here, so I decided I would share with you all some of the highlights of the event, and products that stood out to me most. Since we looked at thousands of products throughout the 3 days, I narrowed it down to quite a few, but I promise you I made this worth the read! I categorized everything as best I could, so head to whichever you are most interested in <3
(There is no particular order for everything that is listed).
Of course I had to rock my Green Juice Tote at the expo, SSV represent 😉 I made sure I packed fruits for the weekend, and they really helped since I was on the go. The expo had a lot of sweets and snacks throughout, but nothing that I would want to make a meal out of. The one things I suggest to you all is to be prepared! You never know how your day is going to play out, and is better to be safe than sorry.
Beverages
Snacks & Bars
Ingredients In The Kitchen
Perfect For Kids
Condiments/Add-Ons
Desserts

Vegan Cheese
Beauty and Hygiene
Superfoods
Raw Vegan Wraps
Appliances
My Favorite Displays
This is in no particular order <3
Follow Your Heart Vegan Deli and Cheese Platter
Beyond Meat Mc Donalds Parody
Vegetable Wall by Naked Juice
Lettuce Wall
Pallet Planter: I repinned something similar on my gardening board on Pinterest, I neeeeed this in my home!
One of the booths was releasing a new jackfruit "meat", so they decided to have fresh jackfruit on display! At the end of the expo, they cut it and I was in heaven <3 And a quick acai bowl break was necessary, thank you Sambazon!
Yeah, so I scored this banana costume and it was AWESOME. It was too hot for me to rock it on the expo floor, plus but this halloween, oh be ready for this.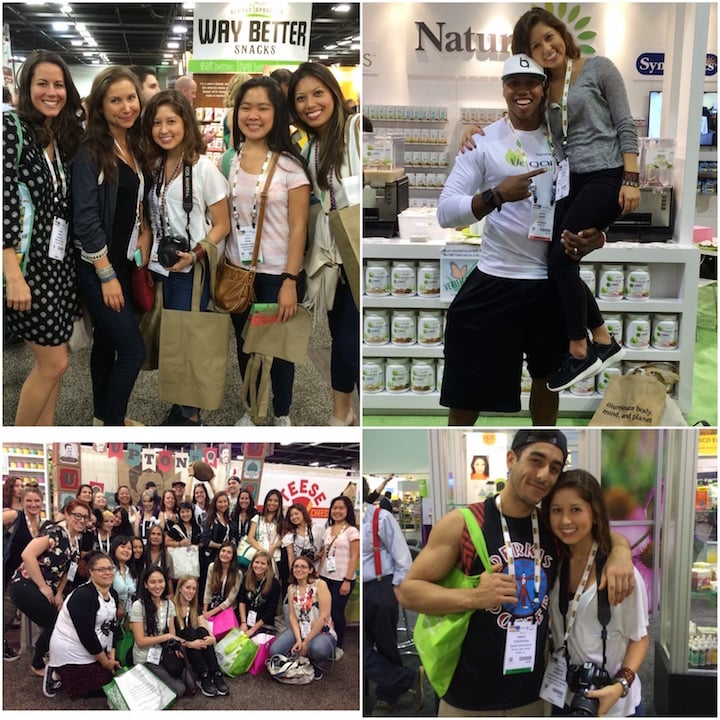 The highlight of the event was the social aspect of it all. I got to connect with so many like-minded people, and meet a lot that I admire on social media as well. Here are some that I met at the expo, a lot being vegans and bloggers! There was even a huuuuge meetup during the expo, as you can see in the photo. It got crazy, the aisles were filled, and we definitely caused quite a bit of traffic just for instagram lol!
John and Chris of The Vegan Zombie
Chef Mary Mattern of Nom Yourself
Kathy of Happy Healthy Life
Christine of Just Glowing Withj Health
RG of Astig Vegan
Rosie of Rose_Petalz
Yvonne Deliciously Vegan
Allie Cooper TV
Cobie of Veggietorials
Catherine of Rabbit Food for My Bunny Teeth
Chris of Vegan Veg Out
Another Hungry Vegan
Tess of The Blender Girl
Jazmin of Wonderful Vegan
Al of Vegan Food Share
Tim of Vegan Fat Kid
Jackie of Vegan Yack Attack
Simon of Nutrition Stud
John of Bad Ass Vegan
Gluten Free with Emily
Jenna Marbles!
Jason Wrobel
Whitney of Eco Vegan Gal
Pure Vegan Food
GMO Free Girl
Andre of Unhealthy Vegan
There was honestly no way that I could have covered all of the ground at the expo. We were there for three whole days, almost 8 hours per day, and still missed SO MUCH. Luckily, we were able to use maps and online resources to scope out which booths were worth seeing. The event had an app but I wasn't fond of it, it was slow and did not work well for me at all. What I took from this is to plan ahead. We planned the nights before, but next year, I will plan once the booth list is up online, as soon as I possibly can.
Dinner Ideas Near The Anaheim Convention Center
One of the highlights of the expo, as all of the attendees would know, are the samples! However, there were way TOO MANY samples. Haha I know that people are going to say what, there could never be too many! But there were! I had to sort through what I brought home for myself and what I brought home for you guys (oh yeah, giveaway below ;)), and it was tough, toooo much to choose from! Here are my favorite samples that I took home 🙂 Not to say that these are the only products I liked, but these were the only ones I could get my hands on haha! Everything I mentioned in this post is worth checking out, as it is all VEGAN! <3
…Oh but I didn't forget about you guys!
I got my hands on TONS of vegan products for you all as well! I am giving away THREE vegan snack boxes from the Natural Product Expo West 2015! 
What you are entering to win is one of the three snack boxes pictured above + 1 box of Peace Cereals (either non-GMO Blueberry Walnut or non-GMO Vanilla Almond) 🙂
How To Enter
1. Head to my Instagram @sweetsimplevegan and follow me!
2. Repost this photo OR any of my photos from my Instagram onto your feed.
3. Include @sweetsimplevegan and #sweetsimplevegan in the original caption.
4. Bonus entry: Comment on my photo and tag your friends!
THREE WINNERS will be chosen. This giveaway is WORLDWIDE, ends 4/13/15.
No purchase necessary. Your Instagram account must be public on the day of the drawing in order for me to see your entry.
This post is NOT sponsored <3