If you follow me on Instagram or Twitter, you may notice that I have a variation of banana ice cream 4-5 times a week, minimum. This is a recipe that I make almost every single day because it is easy, delicious, and extremely versatile.
I purchase 40lb boxes of bananas at the wholesale produce market once or twice a month, and since I can't get through all of the fresh bananas before they spoil, I freeze them when they are ripe and spotty. From this, banana ice cream ensues 🙂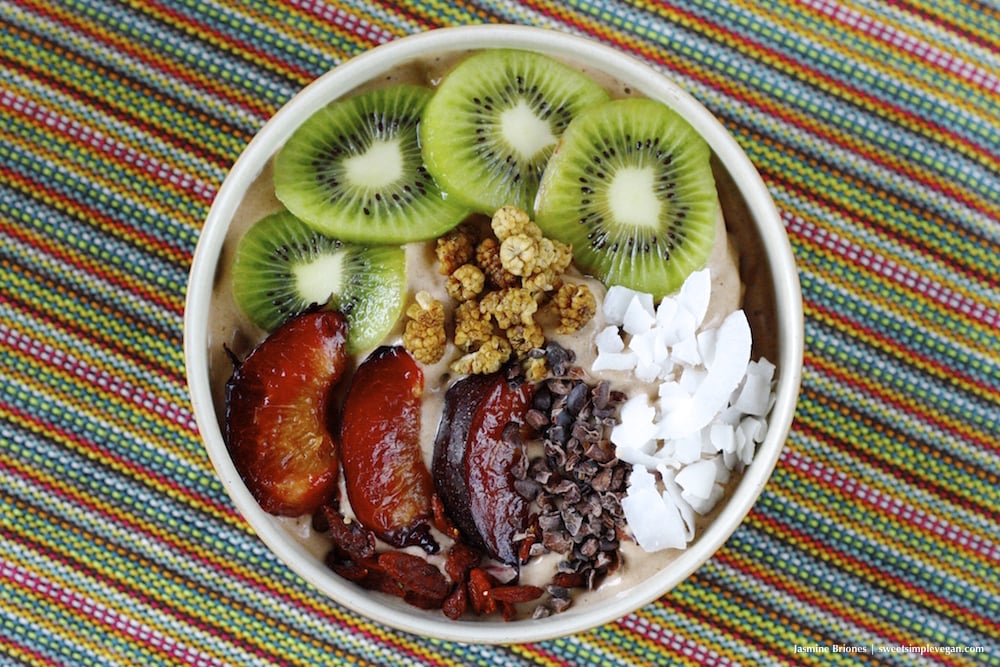 My favorite combo is what I am going to share with you today, cacao banana ice cream. It is raw, vegan, gluten-free, low in fat and something that I never get tired of, or at least not yet, even after 3 years of eating this way.
As for toppings, I always just use what I have in my home. Don't stress about using particular toppings for this recipe. I encourage you to have fun with it, and design a beautiful and unique bowl of your own. At the bottom of this post, I have included a ton of variations I have made over the last few months, check those out if you want more ideas 🙂
If you make this recipe, snap a photo and tag me on Instagram @sweetsimplevegan or tweet @sweetsimpleveg and hashtag #sweetsimplevegan, I'd love to see your photos and nice cream designs!
Print
Cacao Banana Ice Cream (raw, low-fat)
Author:
Prep Time:

10 mins

Total Time:

10 mins

Yield:

1-2

Category:

Breakfast

Cuisine:

Raw Vegan
Ingredients
Banana Ice Cream
Toppings of choice, such as:
Instructions
Place bananas and cacao poweder into the food processor and run until smooth and fluffy, scraping the sides down as needed.
Add toppings of choice.
Notes
You can also make this in a high speed blender. I have made it successfully with a Vitamix, but you must use a tamper in order for it to work. Just be sure to thaw the bananas for about 10 minutes prior to ease the blending.
Try and use organic wherever possible! 🙂
Here are variations of my recipe from my Instagram!
Topped with kiwi, cacao nibs and coconut flakes!
Topped with coconut flakes and strawberries. To scoop banana ice cream this way, I scoop the initial soft ice cream it into mounds with an ice cream scooper, place onto a plate and into the freezer for 15 mins. Remove and place into your serving bowl individually
Topped with passion fruit, a jujube, baby kiwi, and strawberries.
Topped with raw chocolate drizzle and berries that were simply warmed over the stove until bubbly.
Topped with raw chocolate buckwheat granola, blueberries, strawberries and raw chocolate drizzle. This was actually also featured in The Huffington Post for their 17 Vegan Instagram Accounts You Should Definitely Be Following 🙂
Topped with pomegranate arils and blueberries.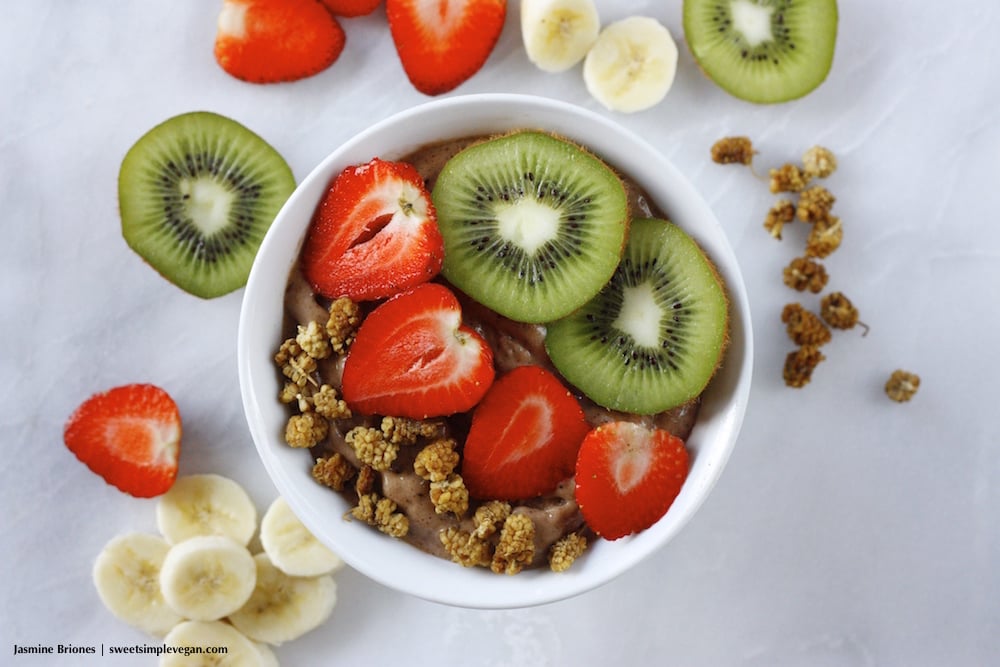 Added in some acai powder and topped with kiwi, raw mulberries, strawberries and a side of banana.
Made with a few tablespoons of orange juice and topped with dried orange slices.
Topped with a Cocoa Crunch Square Bar and raspberries!
Topped with cacao nibs and blueberries.
Topped with strawberries, blueberries and coconut flakes + a side of dates.