"Eat Smart, Get Healthy and Feel Beautiful
Inside & Out"
Today I am going to review for you another resource that I recommend as part of my How to Adopt A Plant-Based Diet and Succeed. What I have here today is Veganish: The Omnivores Guide To Plant-Based Cooking.
This book is definitely something I wish I had had while transitioning into a plant-based diet from a standard American diet. It covers literally every aspect of plant-based cooking, both nutritionally and culinarily. It basically helps you transition with no fears, worries or temptations. It covers any and every type of recipe you may be craving, and will help you prove to yourself, and the world, that living this lifestyle is not only easy, but it is enjoyable and such a beautiful way to live.
If you have ever dreamed of having a personal chef  to provide you with not only a healthy diet, but one that is great tasting, this book will do just that. Veganish offers a holistic approach to food that will make you healthy AND satisfied. This book will be your go-to guide. 
What you will find in Veganish:
Facts, facts and more facts. This book has tons of information that will help you get all of the nutrients you need while on a plant-based diet, a factor that is often of most concerned to those starting out.
"About" Sections that include topics such as:
Plant-Based Nutrition: healthy fats, restrictive dieting, the independent, personal side of nutrition…
Animal-Based Foods: The truth about ethical vegetarianism?…
Organics: Understanding labeling, GMOs?, Why Organic?…
What determines quality ingredients? Ingredients to avoid…
Salt
Cooking Oils: What's the difference?
Cooking Materials: What you should use and why
Techniques: my favorite section!
Basic cooking tips: Reminded me to enjoy my time in the kitchen + how <3
Essential techniques: Definitions and uses
Special techniques: How to handle specific ingredients
Menu Planning: Recipe pairing and the different types of cuisine
Recipes
Salad Dressings
Sauces
Dips and Spreads
Soups
"Roasties"
Vegetables
Nuts and Seeds
Legumes
Grains
Desserts
Breakfasts
Snack Ideas
The only thing I did not agree with in the book is its use of oil, especially since the dressings included a large amount of it. BUT I encourage you to do what I always do, and sub other things into it. Fruit juice, water, avocado, vinegars, etc 🙂 I easily left out the oil in the pilaf recipe (below) and it was still damn good! A lot of people have differing opinions on oil, I understand. But my own personal belief is that we do not need refined fats, AT ALL. I get my fats from whole food, plant-based ingredients such as avocado, coconut, nuts and seeds.
This book also includes a section on animal ingredients and also its recipes have vegan AND non-vegan options for ingredients. This way, those that are still transitioning can see what they can substitute into recipes to replace animal-based ingredients and eventually go full vegan! From this, I can definitely say that this book is especially for those who are weaning into a plant-based diet. I always tell people to take it slow, and this is a great way to guide you.
About the writer:
Mielle Chenier-Cowan Rose has been a vegan chef and advocate for natural living for over 15 years. She studied healing foods and culinary nutrition at Bauman College and has worked with some of the most prominent vegetarian restaurants in the San Francisco Bay Area, including the raw food restaurant phenomenon Café Gratitude. Readers of her culinary writing can almost taste the uncommon reverence she has for her ingredients, for cooking, and for every being on the planet. She lives in Nevada City, CA.
Of course I had to review some of the recipes within the book as well for you all. Today I am sharing with you one of the two recipes I have made, the Wild Rice Pilaf.
Since I did not have any wild rice in my pantry at the moment, I opted for Black Rice. It turned out deeelicious, and I would definitely recommend the substitution if wild rice is unavailable to you.
I also made an Organic Dried Fruit Compote from the book as well! The recipe is more of guidelines that allow for you to make this compote to your liking. I used 2 types of dried figs, cranberries and apricots + cinnamon, vanilla and a secret ingredient you'll have to head over and see!
So make sure you enter the giveaway, so you too can get your hands on Veganish and this Black Rice Pilaf plus 100+ more recipes to help you get started or to help you maintain a plant-based diet!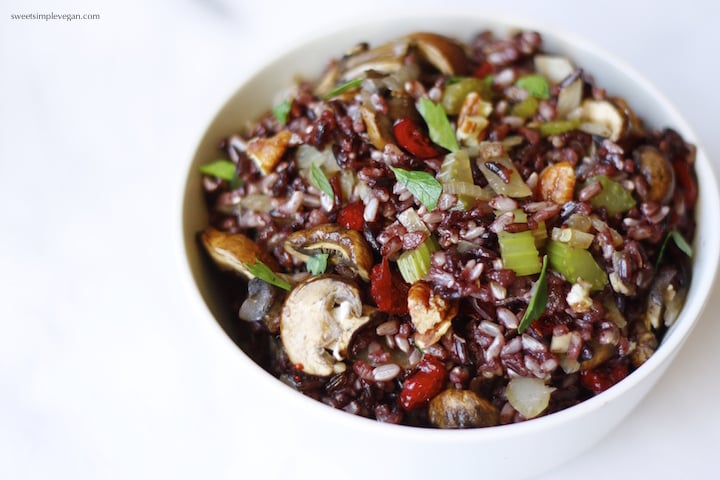 This recipe is simple, easy, and will take you about 35 minutes to make! It is perfect for lunch or dinner, and is a great dish to bring to gatherings, especially something like Thanksgiving.
Make sure you tag me on Instagram @sweetsimplevegan or tweet @sweetsimpleveg and hashtag #sweetsimplevegan if you recreate any of my recipes! I love to see your photos and share them!
Print
Black Rice Pilaf + Cranberries and Pecans
Author:
Cook Time:

35 mins

Total Time:

35 mins

Yield:

2-3

Category:

Entree

Cuisine:

Vegan
Ingredients
3/4 cup brown rice. rinsed
1/2 cup black rice, rinsed
2 1/2 cups water or low-sodium vegetable broth
1 yellow onion, diced
1 stalk celery, diced
1/2 tsp healthy green salt substitute
1 clove garlic
2 cups brown mushrooms, sliced (will produce 3 cups after sliced)
1/2 cup white wine (optional, I omitted)
2/3 cup pecans, toasted and chopped
1/4 cup organic dried cranberries
1/4 cup italian parsley, chopped
+ a bit of fresh sage, rosemary, savory, marjoram or thyme
Freshly ground black pepper, to taste
Instructions
Rice
Combine the rice and water in a medium pot. Cover and bring to a boil, then reduce to a simmer for 35 minutes.
In the meantime, move on to the vegetables.
Vegetables
In a wide pan, combine the onion, celery, and salt substitute + about 1/4 cup water, adding more as needed. Continue to cook over medium-low for about 10 minutes, or until onions begin to color.
Add in the garlic. Continue to cook 3 minutes more, or until fragrant. Add water as needed.
Add in the mushrooms. Saute over medium heat about 8-10 minutes, or until the mushrooms are cooked. Add water as needed.
Optional: Add in the white wine and deglaze the pan and simmer for about 7 minutes until nearly dry again.
Assembly
In a large mixing bowl, add in the warm rice, pecans, cranberries, herbs and vegetables.
Remove from heat and fluff with a fork, then allow it to stand, covered, for about 5 minutes.
Fold to mix and adjust seasonings to taste.
Disclaimer: This page may contain affiliate links, which simply means that I earn a commission if you purchase through those links, but your price remains the same.  Thank you for supporting Sweet Simple Vegan!