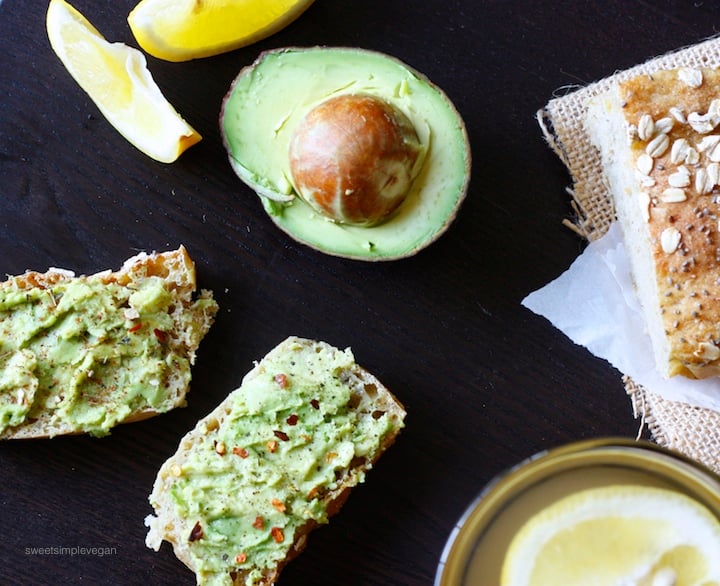 The other day when my mom and I were making my Quinoa, Lentil and Arugula Salad together, we got a little carried away in our conversation and we forgot about our red lentils cooking on the stove. If any of you have ever cooked red lentils, you will know that they will turn into mush if overcooked. We were going to make the salad with red lentils for the first time but, well, that didn't happen.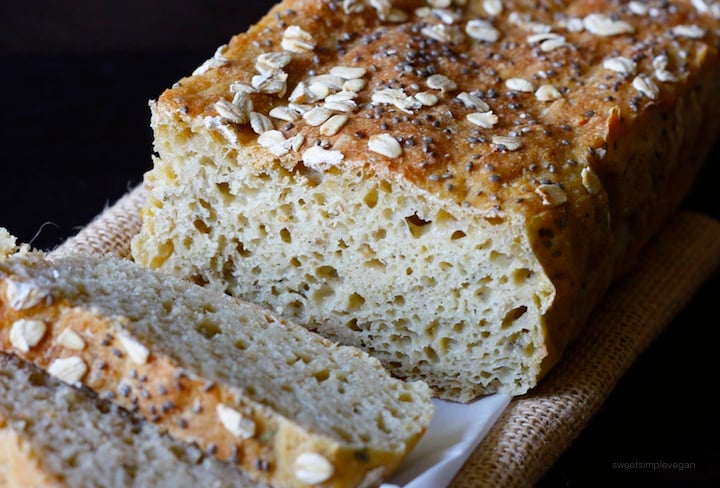 I didn't want to waste the lentils that we had, so I googled what to do with leftover lentils, and a Lentil Wheat Sandwich Bread by Vegan Richa came up. SCORE! The recipe was mouth watering and was the right fit for my home as my parents like grab and go foods, especially for their breakfasts before work.
I added in some of my favorite herbs and seasonings, and created this version of the lentil sandwich bread. I should add that this bread is not your typical airy piece of wonder bread. It is slightly dense in texture, but that is based upon my personal preference 🙂
How to serve this bread?
With all of the herbs and spices included in the recipe, this bread is great alone, but I also suggest you make avocado toast with it, it's phenomenal! I made avocado toast two ways.
This is also great for sandwiches, with hummus, pesto, to dip into a creamy garlic soup (from my ebook) or morning toast! Depending on how you choose to season it, there will be so many different options you can choose.
Make sure you tag my Instagram and hashtag #sweetsimplevegan if you recreate any of the recipes! I love to see your photos and share them!
Print
Leftover Lentil Sandwich Bread
Author:
Prep Time:

20 mins

Cook Time:

40 mins

Total Time:

1 hour

Yield:

4-6
Ingredients
1/2 cup of mashed cooked lentils red / pink*
1/4 cup water
2 teaspoons active yeast
1 tablespoon raw turbinado sugar or coconut sugar
2 cups bread flour
1/2 cup water
1 tablespoon wheat germ
1 tablespoon coconut or olive oil (optional)
3/4 teaspoon oregano
1/2 teaspoon onion flakes
1/2 teaspoon garlic
1/4 teaspoon salt
1/4 teaspoon cumin
Variations: Use any cooked mashed lentils or beans. Add any herbs, spices, nutritional yeast etc.
Instructions
In a large bowl, add warm water, yeast and sugar. Stir and let stand until foamy, about 10 minutes.
In another bowl, mix flour, gluten, salt and spices, and add it to the yeast mixture.
Add the cooked lentils and water and knead to a smooth dough. (Use more flour or water if necessary.)
Knead for 6-8 minutes.
Sprinkle water on top of the dough, cover with a towel, and let stand for 2 hours or until doubled.
Punch the dough and knead for 1 minute. If too sticky, add 1-2 tablespoons of flour to help reduce stickiness.
Shape into a loaf and place in loaf pan greased or parchment lined . Spray water on top.
Sprinkle oats and chia seeds on top. Cover with a towel and let rise for 40 minutes.
Bake in a preheated oven at 375F for 40-45 minutes, or until golden brown. Cool completely before slicing.
Notes
Adapted from an original recipe by Vegan Richa.
If using uncooked lentils: 1/4 cup dry lentils and 1/2 cup water. Rinse and drain the lentils. Cook in a covered pot over medium-low heat until tender, about 12-15 minutes. Don;'t worry if it over cooks, you need it mashed anyways.
Disclaimer: This page may contain affiliate links, which simply means that I earn a commission if you purchase through those links, but your price remains the same.  Thank you for supporting Sweet Simple Vegan!