How do you stand out from others? One very important aspect of blogging and a recurring question.
Designing a logo and 'branding' my website, to me, seemed to go hand in hand. The first thing I see when arriving to someone's page and from thereon associate with their website/brand is almost always their header text and logo.
I wanted to show you where I started with my logo, and where I ended up. It was a frustrating process, yes, but in the end it was worth it.
>> Quick Review
If you're not up for reading this whole post, which I know some of you won't be, I can just tell you here where I ended up. After an ad on craiglist and google searches, I ended up using Little Guy Logos. I highly recommend them. They are who created the final logo (at the top of my page). They are affordable ($89) and offer you 3 designs with unlimited revisions until you get what you want.
>> Inspiration
If you already have an image or style in mind, this may not be necessary. Some of you might already have an associated image or style to your website/brand, but a lot do not.
Scope around the internet, and get a feel of what is already out there. This is not for you to copy others, but simply get an idea of what is possible, and what could work for the letters in your name, the number of words in your name, or color even schemes that you are drawn to.
Do you want all text? Do you want it black and white or including color? How loud should you make it? All of these come to mind, so it really helps to look outside of yourself for inspiration. Here are a few examples of blog logos/headers I was looking at. You can click on the header to be redirected to the blog. I'm not sure if any of these sites have changed their headers/logos since I had screenshotted these, so just keep that possibility in mind.

>> Drafts, drafts, drafts!
You need something to start off with, no matter how horrible it may look to you later on. I originally just wanted text, and I wanted color, but I had no idea where to go. So we started playing around with colors, fonts, and images.
I didn't like only having text, I wanted something cute and fun. Fruit and vegetables HAD TO be included in my logo. I wanted my logo to be more inviting and happy looking, and a tad more subtle color wise.

After this, we sort of knew we were in a slump. Nothing looked professional, and we were running out of fresh ideas. From here, I decided I needed some outside help.
>> Looking For A Designer
I scoped google and added an ad to Craiglist. Not even 15 minutes after I posted my craiglist ad for a logo designer, I got 10 replies. Within a few hours I had about 30 replies, and I ended up removing my ad as I was overwhelmed by the emails.
I don't say this to discourage you from a craiglist ad, as this is where you can find amazing freelance designers, and maybe even someone local to you, but I just say it so you can be warned.
This is, however, how I discovered Little Guy Logos (more info below). After some emails with a few dozen designers and companies,they are the company that I settled with. Why? Because  in my budget I felt that they were most affordable without compromising quality and I was happy with their policies.
I definitely can't post ALL of what we did because I will overwhelm you, but I wanted to let you know that my email thread with the company had about 30+ emails from the both of us. It was a long process, but they listened ti and considered every word I said.
The initial three designs:
I definitely wanted more fruit, so we worked from that idea more. I told them that I liked the position and size of the first carrot logo but I did not like the carrot itself. This is when I suggested a pineapple. I told them I wanted a mashup of different fruits to make a pineapple shape. The next changes on the rest are pretty self explanatory. I am just going to do a mashup of the images we worked with and you can see how we progressed from there.
The Final Product: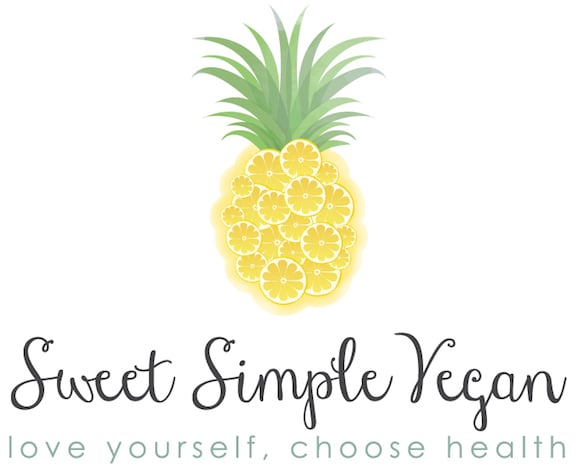 Breakdown:
Cost: 3 logos for $89. They send you 3 logo samples, then you pick one and go from there. In my case, I actually wasn't happy with any of the three, and worked off of them to create a whole new draft. They didn't mind at all and they designed it within a few days!
Testimonials: Their site is filled with examples of logos they have designed along with testimonials. They have posts on the evolution of different logos as well (like what I am posting).
Ordering process: The order form asks for logo text, a tagline if you have one, and allows for a detailed description of what you want, with the option of adding images. This was super helpful and helps get the ball rolling. I believe they do experience a large number of orders, so after I placed my logo request on their site, it took a week and a half to get started. It wasn't a big deal at all for me, but if you are in a rush I think that should be included in your order info.
Communication: After the order, it took 8 days for me to be contacted. After that, besides a slight email mistake (on my end) where I had emailed them with an email I was not frequent on, they did not ever take more than 2 days to reply, but it was usually only 1 day.
Disclaimer: This page may contain affiliate links, which simply means that I earn a commission if you purchase through those links- thank you for supporting Sweet Simple Vegan! Let me know if you have any questions.