This summer in LA has been unbearably hot most days. I feel like I always say this, but summer seems to be getting hotter each year. This is actually probably true, and I have been told it is caused by global warming and the destruction of our atmosphere, but I don't really want to get into that here. Besides, this drink is what you're here for, right?
I was given the opportunity to try out the Kiss Me Organics Matcha last week, and I came up with this as my taste testing recipe! I tried the matcha alone, but I am not a matcha expert and honestly could not judge it based upon that tasting. So into a recipe it went!
This organic matcha is very fresh and has a naturally strong aroma to it. Don't be frightened – that's how all the antioxidants say hello!
I was inspired by my favorite Moroccan Mint Latte from Urth Caffe. For those if you in California, I definitely recommend you try it out when you're by an Urth Caffe! They have them all around LA and in Berkeley as well (which is where I first tried it). I wanted to recreate the drink in my kitchen, but in a more weather-friendly form. The drink is warm, but I wanted something cool. I originally was going to just make  an iced latte with coconut milk, but I also wanted to decrease the fat without compromising nutrient density AND flavor, so I went with fresh young thai coconut water.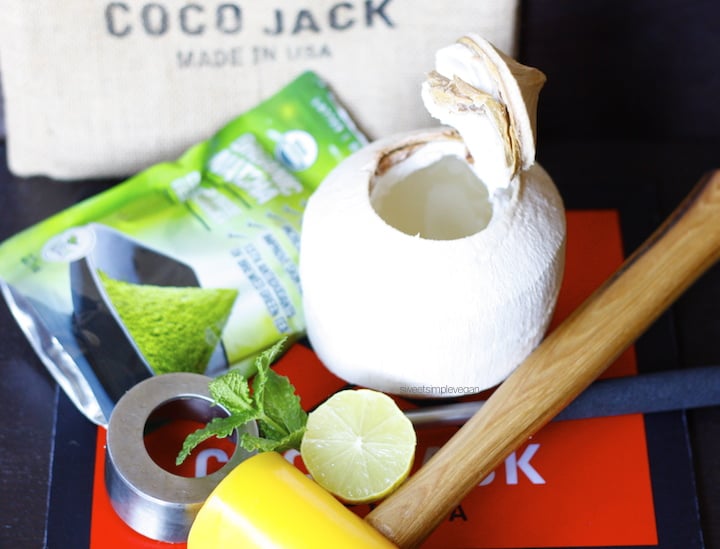 For some, fresh coconut water is out of the question because of the difficulty harvesting it, right? I know because I was there not too long ago. I actually avoided buying coconuts for this reason. They are more affordable at certain times of year, but the idea of taking out a butcher knife and risking the lives of my little fingers was not an option. This is where The Coco Jack comes in. 3-5 wacks and your coconut is opened, SAFELY. I suggest you go check them out, your mind will be blown, I guarantee. Plus, you can get a discount at checkout with my code "sweetsimple". Do it, do it!
Moving on..
The only matcha I have tried to date was a cheap brand from an Asian store, Urth caffe, and Kiss Me Organics. I knew off the bat that this Matcha was the good stuff I've been missing out on. It was very pungent when opening, and as the bag says "this organic matcha is very fresh and has a naturally strong aroma to it. Don't be frightened – that's how all the antioxidants say hello". The flavor was strong and it tasted authentic to me, easily comparable to that used at Urth caffe, which I have heard is great culinary matcha quality. Plus, it's USDA certified organic, very pleasing!
So what the heck is matcha anyways?  Matcha is defined to be milled or fine powdered green tea.  It is the only form of tea in which the whole leaf is consumed. It delivers more healthful elements than green tea than other forms. 
All day energy and increased focus: provides 4-6 hours of mild steady energy as it acts as both a stimulant and a relaxant
Improved skin health: has been shown to protect the skin from UV rays and to improve blood flow and oxygen levels lifting the overall quality of the skin
Metabolism boost: can increase thermogenesis
137x the antioxidants of brewed green tea: antioxidants are essential as they increase the body's dense against oxidation
Ways to use: Mint matcha coconut coolers (duh!), lattes, baked goods, oatmeal, smoothies, you name it! Salad dressing? I don't know about that one, but if you come up with a recipe, please share it!
Storage: Matcha is extremely sensitive to light and heat. Once it is opened and exposed to light and heat, the tea will begin to oxidize. Keep your Matcha in an airtight container in a cool dark place.
Where to buy: Kiss Me Organics Matcha Green Tea Powder is available on Amazon. Plus, you get a FREE matcha recipe ebook with 50+ recipes emailed to you after purchase.
Whether it is blazing hot where you are or if I am reaching you in the middle of winter, this drink is definitely one that you will be pleased with. Give it a try, and let me know what you think! Make sure to tag me and #sweetsimplevegan if you recreate any of my recipes on Instagram, I would love to see!
Print
Mint Matcha Coconut Cooler
Author:
Prep Time:

1 hour 10 mins

Total Time:

1 hour 10 mins

Yield:

1

Category:

Beverage

Cuisine:

Vegan, Raw Vegan
Instructions
In order to prevent clumping, a matcha whisk* is recommended.
Place all of the ingredients into a large jar or cup (that is larger than its volume) and stir vigorously until the matcha is combined and there are little to no clumps.
It is best if allowed to sit in the fridge for at least 1 hour and served over ice.
Notes
*Matcha whisks are periodically available at iHerb. Use my code VSZ844 for a discount!
Disclaimer: This is a sponsored post in that Kiss Me Organics sent me product to use for a recipe. All opinions are honest and my own. I wouldn't share a product with you if I was not satisfied!